Interview: Kevin McKidd of 'Brave'
'I didn't have a sword -- I just got to wave my pencil around ...'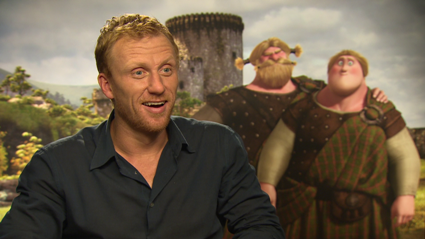 As a working actor, Kevin McKidd's performed in everything from "Trainspotting" to "Grey's Anatomy"; in Disney/Pixar's "Brave," the Scottish actor gets to voice not one but two roles -- that of Lord MacGuffin and the thickly-accented, incomprehensible MacGuffin the younger. We spoke with McKidd in Edinburgh about heritage, hilarity, and acting for animation.
MSN Movies: I can imagine as a working Scottish actor, a director will say now and then, "Can you bring down the accent a little bit?" This time, did they say, "Just roll the R's and round off everything?"
Kevin McKidd: Oh, yeah. They were the ones saying "More, more, more. Make it bigger, make it bigger, make it bigger," which was great. Most of the time in the roles I do have to be quite minimal and kind of very precise. I just got to scream and shout and act like a crazy Scotsman, which is kind of what I am in real life. It was great.
The younger MacGuffin speaks in this very thick dialect, which is a Doric dialect from where you grew up.
Yes, it is. From the area of the Northeast of Scotland, they  have a dialect called Doric, which is quite hard to understand. It's almost Nordic. Its got a very Nordic sound to it. My grandfather spoke it. Many people up there speak it. They wanted Lord MacGuffin to be unintelligible as kind of a comedy element of the film. Instead of making up nonsense words, I suggested to them that we listen to this dialect, and they listened to it, and they thought about it, and I started to do some of the lines, and they started to laugh, because I couldn't understand what the hell I was talking about. It stuck. So I was proud that I was able to get my home dialect from my home area into a Pixar movie.
Does it feel weird to turn your hometown heritage into hilarity?
Oh, no. They'll be delighted, I think. I think it's going to be a lot of fun for people in my hometown. I don't think we're going to be seeing much Doric. There's not going to be a flood of Doric movies after this, sadly.
You feel like the world box office isn't sitting on the edge of its seat, waiting for more Doric?
I'm not sure if the Doric dollar is a big dollar.
When you're doing a film like this, and it's all vocal work, but you're doing these battle scenes and fighting sequences, how much do you physicalize it?
Oh, you jump around like a complete idiot. I'm sure somebody has a videotape of us all in a booth jumping around. You feel ridiculous, but you're kind of just like a kid in a sound pit at that point. It's a little joy to do that stuff, because you can just make a fool of yourself and not care, because you're not actually on screen, you know. 
When you're doing the battle stuff, do they have a load of like Nerf swords around?
They should have! They don't actually. I had my pencil. I just got to wave my pencil around and all that stuff.
Technically, it is mightier than the sword. Obviously, this is a very idealized representation of an era in Scottish history, but does it still feel good to see those expanses rendered so lovingly in computer-generated animation?
Yeah, when you look at the landscapes, it's just kind of ravishing. You can't really improve on Scotland unless you're Pixar. They've taken all of the best bits of Scotland and thrown it into this movie. They've been very respectful. Even though it is a fantasy, it's a fairytale portion of Scotland essentially, but they've really caught the essence of the wild, fun, warm, crazy Scottish people. I think they've kind of fallen in love with Scotland. Its kind of a love letter to Scotland this film.
It's well established that there are few things funnier to an American audience than a good hearty Scottish accent. It just makes everything funnier. Why is the inverse not true?
I don't know. I don't know. Maybe you should try it. Have you done that?
I think Scottish people are just much nicer than we are.
Yeah. We're more forgiving ...
("Brave" opens this Friday.)