Interview: Guy Pearce of 'Lockout'
'I don't think Snow is a hero. I certainly buffed up for the job to make him look like one ... and they gave me a really cool looking vest.'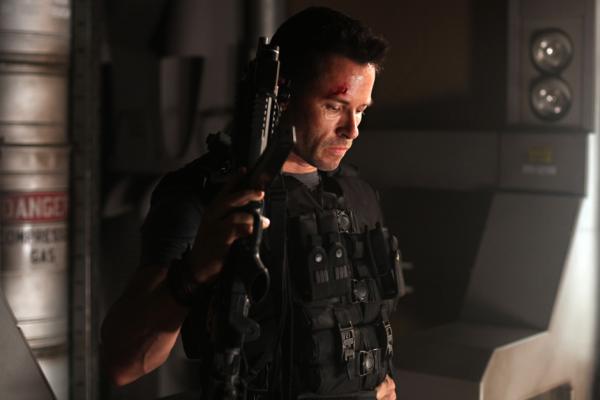 Meeting the press in Beverly Hills, Guy Pearce has tousled hair, a striped sweater and round glasses -- he looks like some director were casting a gritty re-boot of "Where's Waldo?" more than he does Snow, the lone-wolf loose-cannon cliché cop he plays -- and plays perfectly -- in "Lockout." Starring Pearce as the one-man army sent to save the President's daughter, Maggie Grace, from an outer-space prison, "Lockout" is both lightly ridiculous and ridiculous fun from producer Luc Besson. We spoke with Pearce about sweaty action heroics, his past films like "Memento" and "L.A. Confidential" and answered the question of if Belgrade is, in fact, a party town.
MSN Movies: When you're shooting a film like this, at what point do you realize you're going to be doused regularly in fake plasticy testosterone sweat? I mean, did you have a mister?
Guy Pearce:  I don't know. I can't remember if I did. No, I think I was quite sweaty. We were in a studio in Belgrade, Serbia, and I was quite active. I'm just trying to remember now if I had someone misting me. I might've occasionally. I think I was mostly conjuring my own sweat.
When you're reading this and you think, "My character has one name. He's the best there is at what he does ... " and all of that, do you get immediately into that matinee/fun at the movies mental tone?
Look, it's not usually where I hit, as far as character that I find. Having sat down with Luc Besson to discuss it first, and then when I met Stephen and James, the two directors, they really made it very clear that the humor and the reverence of the character was what they wanted me to inhabit and they wanted to make sure was present. That seemed quite appealing to me. I've been asked to do action-type films before, and I've find them -- unless the story is really super clever -- a little earnest and they don't really do much. I just tend not to believe them so much. With something like this where its kind of feasible, I guess, even if not a little unbelievable, at least it's fun and its entertaining. The idea of doing something that really was about finding a piece of entertainment, I found quite appealing at the time. Generally I'm usually more attracted to things that are a bit more of a head f**k.
When you're sitting down reading the script and its like "Snow does this, and Snow does that," do you have that brief insecure moment where, "I'm not a bad a** like that?"
"How am I going to do this?" Yeah I do, but I often do. I'll read things and go, "Okay how am I going to make that work? How am I going to make that work?" I sort of thought in a way that his attitude to everything he was doing was what enabled me to see that I was going to get through all that stuff, because he kind of says, "I'm too old for this. I can't do this sort of s**t anymore. I'm not interested. This is too difficult these days." I think I could relate to that on some sort of level, being afraid of heights and this that and the other. As I said, I found him a little different to other action heroes that are out, like real heroes. I don't think Snow is a hero. I certainly buffed up for the job, and tried to make him look like one ...  and they gave me a really cool looking vest.
How much of it is the clothes making the man?
Very much so. There's a lot of hours I spent in the gym, I needed to exhibit that as much as I could, because that was going to go as soon as the movie finished. There's a certain macho kind of heroism that a lot of guys live by that philosophy. They live by that particular kind of survival technique I think. I don't, but a lot of guys do. I think it was about tapping into that, a lot of guys constantly kind of sort of just machoing themselves.
The one thing that I really loved about Snow was that like all classic film noir heroes, he takes far more beatings that he dishes out. When you go through the script and you do that math, does that make you go, "Oh he spends more time spitting out blood than making other people bleed. I can get behind that?"
Yeah, look, absolutely. I think, as I say, I found that kind of funny. I found it funny that he's somebody whose naturally tough enough to cop that, to actually be beaten up or get hit in the head with a fire extinguisher by Maggie Grace or whatever it happens to be, to still exhibit the pain of that, to still kind of go, "Why me? Why is this happening?"
A lot of people joke about how Ms. Grace has become Mr. Besson's professional abductee. She spends a lot of time being kidnapped and/or taken. But as for the actual work from her, she's got great timing, she's got great chops, and you believe her in every scene she's in.  ...
Yeah she's a very smart girl. She's got this beautiful face. She looks great on camera, and she was a lot of fun. The moment she arrived, we both sort of quickly got together as actors tend to do and go, "Are you feeling okay about everything? These are the things I'm not feeling so okay about. Let's talk about these." She was very keen to do that as well, just make sure we were on the same page. We sort of understood everything that we were sort of getting ourselves into. I think we created a nice little bond. In fact I haven't seen her if she's here, but I'm having to seen her soon. We had a fun time together. I think the relationship that was important, which she pretty much discovers right away, which is that I'm not there for her at all. I'm really there to rescue my friend. I think it plays beautifully, "They've sent you the older guy?"
Well, its this weird mix of "Escape from New York" and "Roman Holiday," because you're like the guy that's handling her roughly and introducing her to the real world, while you're also saying " We've got to save the President's daughter." Is it fun to do that comedy stuff, like  "Okay, I have to dye your hair with filth?"
Yeah, I think its fun if you can pull it off. I'm always nervous about not being able to do things well. It's hard to know whether it has worked or not. I think doing anything comedic -- and I wouldn't necessarily call it comedy as such. Will Ferrell is a comedian. What I was doing was just playing something kind of a bit irreverent with a certain amount of carefree attitude. You've still got to kind of tread that line and get it right. I think having worked with someone like Maggie -- she made it work. Her instant distain for somebody like me I think really helped in what we were doing.
Did she give you any hints on signing on with Besson incorporated? You're joining a very large firm there.
That's right. I think she kind of thought, "No, you're old enough to take care of yourself," and Luc wasn't really around much at all, so his presences has probably become more evident in the post production than in the production of the film.
Part of me is kind of taken aback, because your speaking voice is so completely different. In the film you have this whole Marlboro Man, masculine purr. Do you keep that up, or the second somebody yells cut are you back to this sort of very elegant more natural voice?
No, I think I tend to swim within the American accent more than I would be at the moment perhaps. Its like if you here a song on the radio, and you kind of just having it going through your head throughout the day. It just becomes a melody that sits with you and you sit within it. I don't try to do that, but I also don't try to go back to my normal accent, because its then too much of a leap. I just find that once I've got into that rhythm, you just naturally -- not completely and utterly the character, but in the same way of saying, "I'm just keeping the clothes on and keeping the voice close." It depends what you're doing as well. Some accents and some character personalities and traits, I really need to make an effort to hold onto. I can't really socialize with people in between scenes, because it throws me too much. It depends.
A friend of mine mentioned the other day that it was fifteen years since "L.A. Confidential" came out. A) That's a great movie, B) it holds up. It was your first big American role.
It was my first American role.
But at the same time, it's huge. You're working with these guys. How often do you go back to it as a film just for the pleasure of watching it? Is it more so something like your private memory warehouse, you wander around like 'That was a great scene with Mr. Spacey?"
I wouldn't go and get the DVD off the shelf and sit and watch it. Although, I did a couple years ago, because I had to make a reel, so I had to go back and watch all my films and try and pick some decent scenes out of all my films. That was an interesting experience. A couple of times my wife and I have been sitting up late talking and we've flipped through the television, and different films have come on. "L.A. Confidential" was on one time, and we just sat and watched the rest of it. We both kind of went, "Yeah its pretty good actually, isn't it?"
I always wonder that with actors, which film of yours when you run into it accidentally are you most likely to just stay with, because it's not a matter of thinking "Oh my hair looks like crap. Oh, that director was a bit of a goofball?"
I think with the benefit of time, you're also able to see something just for what it is and sort of forget that its even you to be honest. I can watch "L.A. Confidential" with a far more broad view than I could when I did it. It really is an extraordinary film.
It's a great adaptation, in terms of the book to the film and how cleanly they compress. There's a scene with Ed in the hospital and there's a young lady. That scene in the movie is very quick and very good, and in the book it's the beginning of a ten-year relationship.
Absolutely yes. I know. It's amazing. I think that Brian and Curtis did an extraordinary version of that, just everything about that film, the cinematography. I've seen a bit of "Pricilla" on television as well. I've seen a bit of "The Proposition," so there's a couple that I would see. There's a couple that I've turned off as well. Not because they're bad, but just because when you make a film and you through that experience, you're really expressing something and getting something out of your system. It's difficult to go back to any of them really to be honest. Unless they're super special like those four or five that I've mentioned, I would probably just flip channels and watch some sports. I think you get a bit over it after a while. I'm sure its true for directors, when they've edited and spent months and months and months.
Do you ever think to yourself, "Thank God Christopher Nolan changed my hair for 'Memento' or else people would just be walking up to me for the rest of my life going, "What was that movie all about?"


Well, first of all, Nolan didn't change my hair. I changed my hair. So I had to convince him, but I'm glad I did actually, because I like to change my look whenever I can. Speaking of my hair from "Memento," people still do anyway. People come up and say, "Can you explain?"
The whole thing of like the gym and the action and the stunts, is that "I'm doing this because its required" or are you able to find a sense of physicality and fun in it?
Well, it's both. It's part of creating the character. Its part of understanding what's there on the page, and its part of what I personally get out of working anyway, which is to morph as much as I possibly can I suppose, whether that's psychological or physical. I've done gym work in the past, so I'm quite familiar with it. As much as I can possibly do to feel like I've given as much thought and sort of credence to that character as I possibly can, I will always do, so the physical aspect of Snow was just as important as the humorous side I suppose. Going to the gym at ten o'clock at night in Belgrade pumping weights was hard work you know.
Are there a vast plethora of other social options in Belgrade at ten p.m.?
Yes.
Really? It's a fun town?
It's an extremely fun town. I was doing my utmost to avoid those other things and just go to the gym. I had many big hurly burly guys say, "Aha, movie star. You come with me. We're going out to pick up chicks." I'm like "No, buddy. I'm married. I'm doing a movie. See you."
"I have to add ten pounds of bulk and keep several years of marriage at the same time."
That's right. I can't be going out and doing that.
How hard is it to not crack up working with Peter Stormare? He's a great actor, he's been in so many things, but he's got that voice and manner.
Look, he's a funny guy as well. You're just trying not to take on the jokes that he's constantly coming up with. He's a really odd guy and fascinating. I tend not to crack up on set, because I'm too busy trying to make sure I'm doing a good job I think.
Liam Neeson finally had an action career thrust upon him rather late in life after his success with "Taken." Now he's like, "I've got a couple more in me, and then my knees are going to go," which is actually verbatim what he says. Are you fascinated and terrified simultaneously by the possibility that that might happen?
Someone said to me, "Oh wouldn't this be great if it was successful and there was a sequel," and I went "I guess?" I did manage to hurt myself every week, whether it was a bullet shell going down the back of my shirt and burning my back, because I couldn't get the f**king vest off in time, or pulling a muscle in my leg, or ripping my nail off trying to open a lift door or whatever it happened to be. It does seem more difficult as you get older obviously to repair from various injuries. It's not something I look forward to.  
("Lockout" opens this week.)