Interview: Writer/Director David Ayer of 'End of Watch,' Pt. 2
'Maybe familiarity with the neighborhood has somehow tripped the switch on my political correctness ...'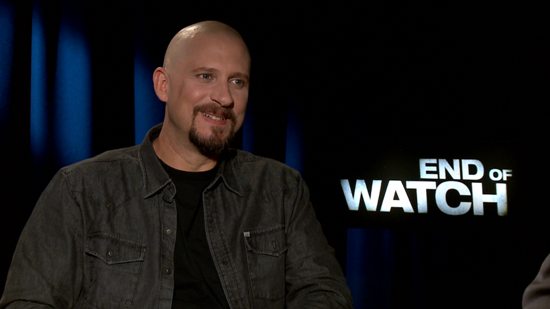 In Part Two of our interview with "End of Watch" writer-director David Ayer, we talk about policing, the realities of street crime, some of the criticism aimed at '"End of Watch" and more; Part One is here ...

MSN Movies: Just out of curiosity, what do cops mention as the number one thing that would make their lives easier? Aside from a better salary, but I don't mean better salary or better equipment, better manpower. I mean: If a cop could wave a magic wand and pass one thing into law ...
David Ayer: I think they'd give people jobs.
Yeah.
They want people in the neighborhoods they police to have jobs. It's that simple. Jobs equal people working and having money and not doing bulls$%t on streets to make money. It's that simple. You hear that all the time.
BING: 'Found Footage' l David Ayer 

How much of it's own pain in the a%& could America take away by legalizing some drugs, do you think?
Well, one thing…
You're a fiction filmmaker, not a documentarian, but I'm just curious.
Yeah ... one third of the cartel's income comes from the sale of marijuana, so if marijuana were at least Schedule 2 and legalized in some limited manner, you would take away one third of the cartel's power overnight. And then, conversely, by removing marijuana from the underground, the public would no longer need to access underground dealers where they come in contact with other underground narcotics like cocaine and methamphetamine and heroin, and then that would cause marijuana to cease being a gateway drug.
Right. And also I think you…
Having said that, if my kids grow up to potheads I would kill them. (Laughs)
Right, but there's an equal chance your kids will grow up to alcoholics.
Yeah.
And that would be somehow more respectable? Does that mean a more optimal outcome? More Don Draper-y?
No, that would not be a good outcome, and I would definitely encourage a 12-step program.
I love talking to really super-committed and well-researched directors, because that means that you can give them just a little bit of s%&t. So allow me to do that. ...
(Laughs) Okay, no worries.
A lot of the reviews of this film have come back saying that there's some slightly racially problematic stuff in it…
Oh, wow, I didn't see that.
There's a real split between the "ordinary, decent" African-American criminal class of South Central played by Mr. Tre, I believe it is…
Yeah.
…and these sort of faceless, Latino monsters who come out of nowhere like ghosts and have no real ... we don't get to see their real motivations and who they are and what they want.
Right, right.
I mean, are you prepared to talk about that?
Well, I mean in my mind I didn't realize I needed to create some sort of good/bad taxonomy in the criminal underworld.
(Laughs)
I thought that I wanted to show a really positive Latino role model. I mean you have Michael Pena who's a lot like, my wife's Mexican…
Right.
…and I grew up in a Mexican neighborhood, and I know that culture. I lived in Mexico, and it's a world I'm very comfortable with so maybe that familiarity has somehow broken the trip switch of (my) political sensitivity.
You don't feel a burning need to (meet a) ratio: "If I have four Hispanic killers, I must have four decent Hispanic characters."
Yeah, yeah. I mean I just never lensed it that way. In my mind, Mike Pena does such a fantastic job of representing the best of the Hispanic community and his wife Natalie Martinez is ... so it's really interesting that people are keying in on that. I didn't even realize that.
I have another follow up which is, I mean I live in LA. I used to live at the intersection of Judaism and homosexuality, West Hollywood…
(Laughs)
…and now I live at the intersection of freeway and taco, between Culver City and Venice.
Yeah, yeah.
Am I not reading the right paper to miss the stories about body parts being pulled out by the hundreds from homes?
I mean, just a few weeks ago there was a raid on the Inland Empire in Pomona. You know major warrants served against (the) La Familia cartel and the Mexican mafia, you know, major interdiction. ... I mean ,I don't know, I got to be careful here because I get sources of information that I have to protect.
Right.
And so I can say the cops I know are interdicting cartel runners on a regular basis in South Central, you know? And pulling AK's off the streets and pulling big drug seizures off the streets on a daily basis, you know? I'm talking about like ... there's a specific guy I know and about every couple weeks he seems to take out a cartel runner and a large amount of dope in South Central. So you know, I didn't want to do the thing of sort of personifying the bad guys in this and having this sort of well-articulated "Wire" chart of the boss and…
A "Wire"-esque (visual device of a bulletin board with photos/lines on it) you mean?
Yeah, and I just wanted keep the thread amorphous, which I feel like it is to law enforcement because you don't know who the bad guy is.
And if you have a scene of somebody stroking a cat going, "The law officers must die," then it turns into a Bond film.
Then it turns into a Bond film. In my mind it's just these two guys, two cops, two best friends who are often at the end of the underequipped to deal with the evolving nature of the streets. Streets are evolving faster, I think, than sometimes the forces of good ... or at least the forces of social triage that are our policemen.
Do you think being a scumbag generally involves less paperwork -- there's less departmental approval of new procedures?
(Laughs) Being a scumbag cop?
No, being a criminal.
Being a bad guy?
Yeah.
You would be f&$king surprised.
Well, 'cause the cartels are arranged like violent Amway organizations right? Very much a pyramid, all the money flows (up)…
Yeah, it's a pyramid structure. But you take like the street gangs or the Surenos or the Mexican mafia organizations or street gangs and it's extremely hierarchical. And if you're a Sureno and you get arrested, when you walk into jail you're going to be handed a multi-paged document with all the rules and how everything works and how everything is to be shared and the timetables and organizations, but it's your duties.
Is that from the police, or is that from your fellow Sureno?
That's from your fellow Surenos. That's from your fellow gang members, and that's what people don't understand is that the Hispanic street gangs are organized under paramilitary lines, very specific lines, to control. That's why there's barely any Hispanic-on-Hispanic​ crime in L.A. anymore because you need permission from the shot callers in the prisons to kill anybody now, because they realized that the murders are bad for business and drawing police scrutiny. So if they can keep the police out of the murders, if they can keep murders from happening, they can keep the police out of the neighborhoods. And they really self-police these neighborhoods too and interdict problems that might cause law enforcement attention and these are the guys who are the retail network for the wholesale networks that the cartels are now.
Do you ever think "I want to make my L.A. cop epic, but about like Beverly Hills or Pasadena where the biggest threat to man is bad taco meat? Or like a lack of Pilates classes ..."?
I think that "Reno 911" covered that territory.
(Laughs) What do you consider a great cop film? What do you consider a great police…
Is it entertaining? Bottom line, is it entertaining?
Right, but specific examples though, specific examples.
One of my favorite cop movies is "Q &A."
By Lumet.
Sidney Lumet, Nick Nolte. It shows ...what I love about it is this young prosecutor learns how the world works and has this sort of innocence destroyed, you know, and learns that his father was a cop and maybe wasn't such a good guy. And it was very  East Coast, very sort of Boroughs and old school corruption-based, but it's riveting. And it is very dated because it does deal with all these racial issues and he has a Hispanic girlfriend and it's very much, you know those elements are of its times but there was sort of a timeless element in it, too. I was trying to think ... actually, a fantastic cop movie is "Cruising" with Al Pacino.
That's a rough movie.
It's a rough movie, but it profoundly shows that element of law enforcement. A cop who's willing to find out and discover the truth no matter how painful to himself and the sacrifice and it really does sort of explain this idea of sacrifice. And it's like I've said that our troops, you know we go the airport and shake their hands like, "Hey, thank you for your service," but nobody does that for cops even though they're going into harm's way on a daily basis on our behalf, and that daily deployment -- go to work, come home, go to work, come home -- takes an incredible psychological toll on them and not just them but their families, you know? And I try and address a little bit of that in this movie. I think we fetishized the scandals and the errors and where they go wrong to the point where we have lost touch with the true service that they are exercising on our behalf.
I was talking to Mr. Gyllenhaal about how George Orwell has that great line about how we sleep safe in our beds because of rough men stand ready…
Stand ready to…
…do us harm.
Yup ... on our behalf, you know? And that's the thing. We don't like to see how the sausage is made, but you got these guys standing on the ramparts between murder and chaos and that's why the big joke in policing is, "Hey, did you make a difference?" Because you don't make a f$&king difference no matter how many bad guys you arrest, it's still the same problems tomorrow. And you're going to arrest the same bad guy day one as a rookie that you're going to arrest as your last day as a cop.
("End of Watch" is in theaters this Friday. Find out more about movies on MSN Movies Facebook or through the MSN Movies Twitter.)