Exclusive: 'Toys in the Attic' Poster Premiere
Audiences are enchanted by this award-winning stop-motion feature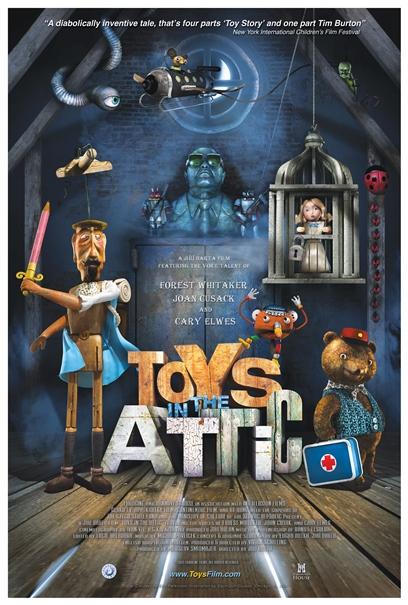 It's with excitement that we bring you this exclusive poster from "Toys in the Attic" an enchanting and fantastic animated adventure for the entire family.
Bing: 'Toys in the Attic'
Facebook: 'Toys in the Attic'
Set in a magical world of toys and knick-knacks stored in the attic of a home in Prague, this award-winning stop-motion animated feature was inspired by the cultural and political contrast of the Cold War era and its impact on director Jiri Barta and the Czech Republic.  The world of the attic is divided into the land of happy toys in the West and the Land of Evil in the East.  The despotic Head of State rules over the Land of Evil with a band of sinister minions, insects and rotted vegetables. 
When the lovely Buttercup (Vivian Schilling) is kidnapped and held prisoner by The Head (Jiri Labus, with voice by Douglas Urbanski), it is up to her friends - a teddy bear (Forest Whitaker), a mechanical mouse (Joan Cusack) and marionette puppet (Cary Elwes) to cross the international boundary and attempt their daring rescue.
Want more Movies? Be sure to like MSN Movies on Facebook and follow MSN Movies Twitter.
"Toys in the Attic" is out in theaters September 7.