Watch Tom Hanks' Eulogy for Michael Clarke Duncan
Hanks' words at his former co-star's funeral produced both laughter and tears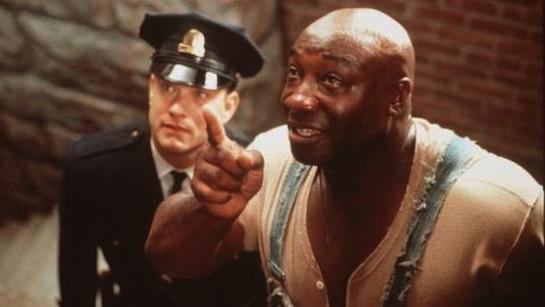 Following the death of 54-year-old Michael Clarke Duncan, his former co-star Tom Hanks said in a statement: "I am terribly saddened at the loss of Big Mike. He was the treasure we all discovered on the set of 'The Green Mile.'  He was magic. He was a big love of man and his passing leaves us all stunned." At Monday's funeral, Hanks had the mourners laughing through their tears as he shared a  story that Duncan had told him about growing up in a tough neighborhood in Chicago. Take a look:
In addition to "The Green Mile," for which he was nominated for an Oscar and a Golden Globe, Michael Clarke Duncan appeared in such films as "Armageddon," "The Whole Nine Yards," and "Daredevil." The 6-foot 5-inch actor had suffered a heart attack in July and died from natural causes on September 3. 
Mr. Duncan's performnce in The Green Mile was so amazing as the gentle giant on death row who had the gift of a "healer" for people and creatures alike as he healed the pet mouse of another innmate who was going to face "OId Sparky". When the vindicitive guard smashed his mouse and killed it, Big Mike had the dead animal brought to him in his cell and he pet and cradled it until he saw it's heart beating. He returned it to his friend.  He heals others in this movie before he has to go to the chair but the words he says made me cry: " I want to go to sleep now. So much bad  in the world that I've seen. It's time for me to go". WONDERFUL FILM   . R.I. P. Mr. Duncan. You will be missed.
Loved you in Armageddon too. Have that one but need Green Mile. Such an Exellent Movie.
 



This man had the MOST magical voice, and was WAY handsome!  I watched "The Whole Nine Yards" today, and I was just mesmerized by that deep, sensual voice. WHAT a MAN he was!!  And then my Husband came home from work and told me he had died.  I cried.  Quietly and to myself. but still!  The world has lost a handsome male, a good man, according to his friends, but I for one, will miss that MARVELOUS voice and commanding presence.  What a  MAN he was!!!  May God keep him in his hands, and ease the sorrow of all those who were fortunate enough to know him as a colleague and the blessed ones who had him as a family member.  May he go to that great studio in the heavens and lend his wonderful voice to God's heavenly Choir.
Are you sure you want to delete this comment?