New on Netflix Instant: Tom Cruise on another 'Mission: Impossible'
Plus 'Nowhere Boy,' 'Butter,' 'October Sky,' TV mini-series 'World Without End,' and much more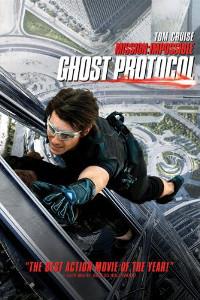 "Mission: Impossible – Ghost Protocol" (2011), the fourth in the big screen series with Tom Cruise as agent Ethan Hunt and the first live-action film from animation auteur Brad Bird, is brisk, spirited, clever, and more fun than it ought to be. MSN film critic Glenn Kenny writes that Bird "paces the story with substantial resourcefulness and stages multiple action scenes that are not only very suspenseful and thrilling, but also kind of newfangled, if not actually innovative." Videodrone's review is here.
"Blue Valentine" (2010) - Michelle Williams finally got her deserving nomination for Best Actress for her emotionally naked performance opposite an equally intense and committed Ryan Gosling as young marrieds in an unraveling relationship. Videodrone's review is here.
"Nowhere Boy" (2009) stars Aaron Johnson as the young John Lennon in a lovely drama about his troubled youth, his life with his Aunt Mimi (Kristin Scott Thomas), his reconnection with his estranged mother (Anne-Marie Duff) and the first shows of his proto-Beatles band, the Quarrymen. Director Sam Taylor-Wood doesn't mythologize the formative life of a star, he offers the emotional life of a creative boy dealing trying to find his identity.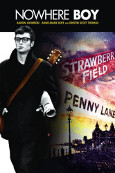 "The Company Men" (2010) are Ben Affleck, Chris Cooper and Tommy Lee Jones, white collar workers downsized from the companies they dedicated themselves to, in the drama of life in the recession from TV veteran John Wells. More at Videodrone here.
More New Releases:
"Butter" (2012), a red-state political satire set in the world of a butter carving competition and the dirty tricks played to assure a win, stars Jennifer Garner, Ty Burrell, Olivia Wilde, Rob Cordry, Ashley Green, Alicia Silverstone, and Hugh Jackman. Reviewed at Videodrone here.
Horror anthology "V/H/S" (2012) pays tribute to the horrors of the videotape age with a collection of five short "found footage" films. Designed to look aggressively scruffy and scrappy, the shorts are sometimes creepy, sometimes clever, often just shrill and annoying. More at Videodrone here.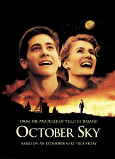 Back catalog:
Jake Gyllenhaal stars in "October Sky" (1999) as a coal miner's son in a small West Virginian mining town in the 1980s who experiments with building rockets. The drama, co-starring Laura Dern and Chris Cooper, is based on the true story of Homer Hickam, who went on to build rockets for NASA.
"Searching for Bobby Fischer" (1993) is fictional but no less inspiring, the story of a young boy with a natural talent for chess and the father (Joe Mantegna) who encourages his son's potential while trying to give him a normal childhood. They make a solid pair of intelligent dramas of smart kids who continue to challenge themselves and the adults who make a difference in their lives.