Would you watch a 'Girl With the Dragon Tattoo' sequel without Daniel Craig?
Or, would you even watch one with him?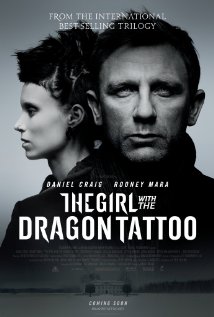 Hey, remember way back in 2011 when Stieg Larsson's wildly popular novel, "The Girl With the Dragon Tattoo" made the leap to the big screen? In English? After Larsson's native Sweden had already made an entire, perfectly serviceable trilogy of films based on the author's series, films that featured rising star Noomi Rapace in the lead role? Yes? You remember how unnecessary that all was? Good, we do, too.
While the English-language take on the material certainly had plenty to offer - the film was directed by David Fincher and starred another rising starlet (Rooney Mara) and James Bond himself, Daniel Craig - it underwhelmed audiences across the globe. Sure, it made $233 million at the box office, but it also took $90 million just to make (budget numbers don't usually include marketing, which can be steep), certainly not the major haul that Sony was probably banking on when they took on such well-loved material. So is that why we haven't gotten a sequel yet? Well, maybe.
Bing:
'The Girl With the Dragon Tattoo'
|
Daniel Craig
THR
reports the that studio is still interested in making "The Girl Who Played With Fire," but that they are also "hellbent on reducing the cost of the next chapter." And just where could they cut some of the costs? Unfortunately, when it comes to Craig. While many thought the hold-up on the project was due to Fincher's attachment to a "Gone Girl" adaptation, the outlet holds that Craig wants a pay raise, mainly thanks to his helping Sony make over $1 billion with "Skyfall." Hey, can't blame the guy.
But what if Sony can't raise the funds? THR also reports that "sources say the studio could write the character out of the sequel." Oof! Even if they did cut Craig, that would also mean an expensive script rewrite from scribe Steven Zaillian, and who wants that?
However, "a Craig source says negotiations have yet to commence but the actor wants to return to the role" and the studio
does
have options with Craig for not just the next sequel, but
both
sequels. Mara is also set to return.
Are you sure you want to delete this comment?