A New Kind of Substance: First Trailer for 'Dredd' Arrives
Wait, Olivia Thirlby is in this?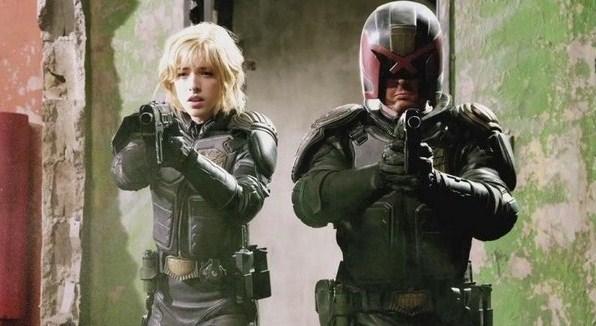 Apparently Pete Travis is a big fan of Gareth Evans' "The Raid: Redemption" because his take on "Judge Dredd (just "Dredd," please) hews much closer to the plot of last year's indie action hit than it does to the nuevo-classic that starred Stallone back in the day. And that is, shockingly enough, not a bad thing, not at all.
In the new film, Karl Urban slides into the helmet of a future world's "ultimate" Judge, one of many new school cops that are granted the rights and powers of judges, juries, and executioners. Paired up with a new recruit (played by Olivia Thirlby, whose involvement with this project somehow escaped me until today's first trailer), the two have to take on Ma-Ma (Lena Headey), an evil drug dealer and slum lord who controls both a massive "vertical slum" and the pushing of the nefarious new drug "Slo-Mo" in "Mega City One."
If you're familiar with "The Raid," you probably understand where this is all going. And, yes, it looks awesome. Perhaps remakes aren't a bad idea after all.
"Dredd" will open on September 21. Check out the film's first official trailer, thanks to
Machinima
and
ComingSoon
, after the break.

The original failed for several reasons, the biggest one being ROB SCHNEIDER.  You don't need "comic relief" in a movie like this.  Of course thats the not the only reason it failed , but Stallone did nail the role really well.  The lawmaster, lawgiver and the uniform in the original mirrored the comic pretty well.  I just dont think the U.S. understands Judge Dredd though.  Its like they look at the character and then say, ok lets change this, this and this and make a movie..... not realizing that what they are changing are CORE values and integral to the character of Judge Dredd.  I will say, though, that this movie (from the trailer) doesnt look too bad, but again, it looks like they're changing things to try to give it a 20th(21st) century modern appeal instead of realizing the film for what it should be.
Well it can't really be a different story because its all the same. Judge Dredd.  The uniforms look more like what I would expect a paramilitary state's officers to wear. The helmet does seem sort of ungainly and out of place in the ensemble.  Ah well, let see how they did this time. At least they didnt let Depp turn him into a dandy fop.
Are you sure you want to delete this comment?