Preview of visit to the set of 'Jack Ryan'
Actor Chris Pine takes the reins of the famous Tom Clancy character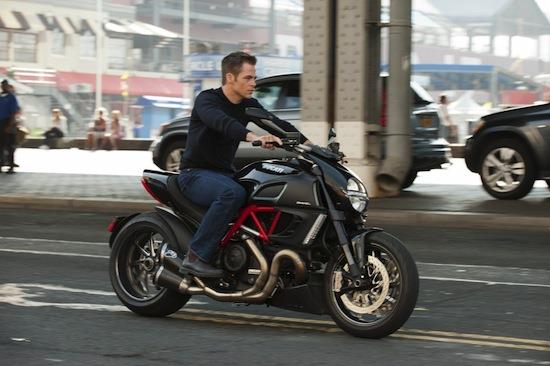 Four films have been made based on Tom Clancy's popular Jack Ryan novels. And three different actors have portrayed the CIA analyst: Alec Baldwin in "The Hunt for Red October" (1990), Harrison Ford in "Patriot Games" (1992) and "Clear and Present Danger" (1994), and Ben Affleck in "The Sum of All Fears" (2004). Does the world need another Jack Ryan? Based on my recent visit to the London set of the new Kenneth Branagh film, starring Chris Pine as Ryan, my answer would be an unqualified "Yes!"
More a prequel than a reboot, "Jack Ryan" takes place before the action of the other films, but it sets up a new cast of characters that we may well see again. These include Kevin Costner as Jack's CIA mentor, Keira Knightley as Ryan's love interest, and Branagh as Russian villain Viktor Cherevin. On the day we visited the set of this exciting action-thriller, an office building in London's financial district had been transformed into Cherevin's Moscow headquarters. I'll post a detailed account of the visit closer to the Paramount film's release, including interviews with Pine, Costner, Branagh, and producers Lorenzo di Bonaventura and Mace Neufeld, but here's a little preview.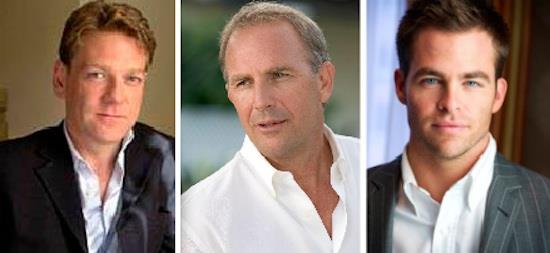 When asked how he got involved in Tom Clancy's world, Kenneth Branagh said, "The script arrived and it was 'unputdownable!' I knew the previous films, I'd read some of the books, and it's as simple as that! It came out of the blue, I was going to be making another movie, it went away, and this one came. I read it and responded very strongly, it's the kind of film I go to see! The world of the film has antecedents in those 1970s movies of great style that I very much admire. I always liked Bond, I like Bourne, I like Mission: Impossible but this is distinct from all of those."
Bing: Tom Clancy's Jack Ryan | Kenneth Branagh
Kevin Coster has some history with the title character. "I was offered the Jack Ryan series back in the very beginning," he admitted, "but I couldn't do it. I had already postponed 'Dances with wolves' for a year and had assembled my crew to do that and then they offered me a whole lot of money to do 'The Hunt for Red October,' more than I had ever seen! I said, 'No doesn't mean more, it's just no!'" What about the rumors that Costner's character in "Jack Ryan" would also appear in another planned Tom Clancy film adaption, "Without Remorse," which will feature Tom Hardy as John Kelly? Costner can't think about that yet and just wants to focus on the film at hand. "I've heard that," he said, "but I really sincerely did not go into it—I have not sat down and said, 'So how is this going to work?' I've really tried to support Chris Pine in this one the very best I can, I'm a bit of his 'handler.'"
Bing: Kevin Costner | Chris Pine
Playing Captain Kirk in the new "Star Trek" films, Chris Pine obviously has experience taking on a role that was made famous by someone else. Was he finding any particular challenges in stepping into Jack Ryan's shoes? "With Bourne, for instance, he has his body, he's physically very adept at kicking ass," Pine explained. "And Bond looks great doing it, he's kind of brooding and complicated but he wears a suit well and drives great cars! I think the challenge with Jack is how do you make dynamic his smarts? His weapon is his brain, he thinks and moves with his mind faster than other people."
Check back later in the year to hear a whole lot more from these folks and to see how well London stands in for Moscow. For now, take a look (after the break) of Chris Pine and Kevin Costner filming a scene from "Jack Ryan."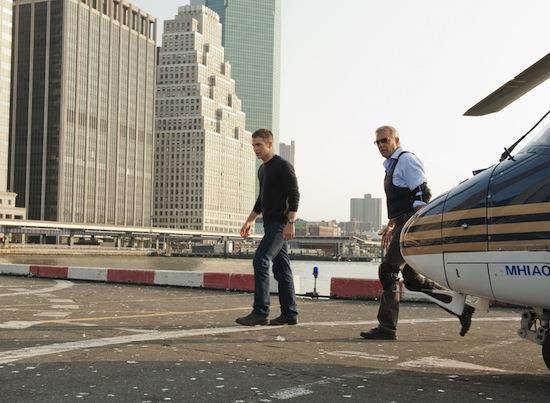 Photo credit: David Lee. First look at Kevin Costner (right) as a legendary CIA Field Agent with Chris Pine (center) in "Jack Ryan," from Paramount Pictures. The prequel will be out Christmas Day, 2013.