Interview: Andy Samberg of 'That's My Boy'
On the Sandler mafia, 'That's My Boy,' and leaving 'Saturday Night Live' …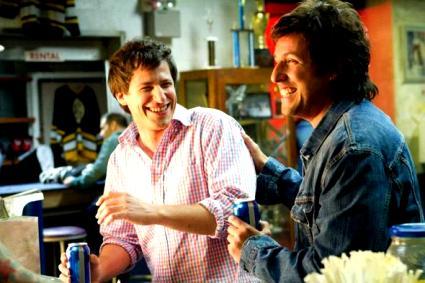 It's been a busy few weeks for Andy Samberg. The comedian and actor recently decided to leave 'Saturday Night Live,'  after 7 seasons; he's also signed on for a British sitcom, 'Cuckoo.' In August, his Sundance drama "Celeste and Jesse Forever" opens in limited release, and right now he's the co-billed star opposite Adam Sandler in the comedy 'That's My Boy," playing the estranged son the strange Sandler had when he was just a teen. We spoke with Samberg from New York by phone about "That's My Boy," working with Sandler and his rat pack of co-conspirators and about leaving SNL …

MSN Movies: How exactly did you come to this project?
Andy Samberg: I heard about the script. I heard the possibility of playing Sandler's son, if he'd a son at the young age of fifteen or so. I thought to myself, "Who better than I to play such a role?" So I called him and was like, "Please let me be in your movie," and he was like, "Maybe," and then I called him like ten more times, and he was like "Okay, fine."
It's not like there is some mythical meeting spot where all the SNL alumni hangout and give each other back-pats and jobs, right?
No, not since the Blues Bar (Dan Akyroyd and John Belushi's illegal post-show speakeasy during the show's early seasons).
You went through all the usual channels, and obviously there were auditions for other people, but they decided to go with you. The question is, what's it like joining what I can only call the Happy Madison Mafia?
(Laughs) Oh, so you're familiar.
There's like a gang of Happy Madison producers, actors, writers, all of whom get together. Is it just a big barbeque? Is it like a board meeting?
It's closer to a big old barbeque. It's a lot of fun time folks that are all friends and have been friends for a long time. From the producers that he works with and the writers that he works with, all the way down to the crew that he keeps working with, you know? He surrounds himself with real nice goodtime folks and its real fun. Everyone was real warm and inviting. It was defiantly a good environment for comedy. A lot of good jokes being pitched.
You have a script, but how much of it is "Hey, we're standing around with a bunch of professionally funny people. How can we juice this, or make it better?"
I don't know percentage-wise. There's a lot of both. The script was real strong coming in, David Caspe, and then it had a rewrite by Ken Marino and David Wain who are hilarious, obviously. Then everyday we'd do it as scripted and get version of that, and then we'd open it up to me and Sandler pitching each jokes or whatever producers or writers hanging out on set pitching jokes. It was definitely a collaborative effort the whole time.
Is it a relaxed working environment?
I would say so. No working environment is totally relaxed. It's work.
Right, because then it would be a napping environment.
Exactly. Certainly on this one in particular things were real loose, because Sandler's character is a maniac. He was able to try pretty much anything that somebody could come up with and it wasn't outside of the realm of believability for something his character would do or say. In that regard, it made it a lot more fun. It definitely felt more like a party vibe on set.
Were you relieved that you did not have to have a wicked haad Boston accent?
I was very relieved, because I don't have a very good one.
Doing the stuff for the "SNL Digital Shorts," which I'm imagining are super light on their feet, super cheap, was it a shift in scale to go to "Here's our beach house, here's Tony Orlando, here's Vanilla Ice, here's a helicopter?"
The main shift was in pace. The deadline is from a year from now instead of in twenty-four hours. The pace was much more leisurely. Obviously the sets were huge, and there's so much lighting. It's been a while since I've had a bigger part in a movie, and I forgot how much hanging out there is. He (Sandler) likes to watch a lot of playback and sort of examine the scene and make sure the comedy is working, so it took a little adjusting, getting back into the flow of that, but once I did I found it to be relaxing.
Mr. Sandler just holes up with the rushes?
Well, now with digital you just watch the playback after the take if you feel like it. Then you go, "Oh, I feel like we could top that joke," and then you go back in and bang out a bunch more.
There are a lot of cameos in the film. I'm wondering which one was the biggest "What the what?" moment? Was it Jimmy Caan as an Irish priest or was it Vanilla Ice as Vanilla Ice?
Man that's a tough call. Both are pretty "what the what"-y. Certainly I think Ice was the best sport. He's really taken the best out of his own career and life and stuff, and I think to great success. The audiences I've seen it with have been loving his stuff. I think more surprising than me finding James Caan on set was maybe for him finding himself on set, because it was such a ridiculous movie, and he's such an esteemed actor. He was hilarious and great to work with.
And throwing a mean right hook.
Yeah, he caught me for real a couple of times. He does pack a mean punch. Believe the rumors.
You don't want to mess with Jimmy Caan?
Yeah, you do not want to cross that man. He's got a temper and a cannon.
You just announced you're leaving "Saturday Night Live," you're signed on board for a British sitcom, which is a short season because of the way the British do television, but what's the split between "I want to get out there and show what I can do," versus "I have been working seven days a week for years, and now I want to nap and read a good book?"
A little bit of both. Definitely I haven't had any down time since I was working at "SNL." There's a part of me that's looking forward to say going out to dinner at night, instead of being in an office until 6am every night of the week.
Are you going to still begin the week by having Lorne Michaels disapprove of everything you pitch him?
(Laughs) I might still call him to get some disapproval, just to keep me honest. I don't want to overwhelm him. I know that he will remain busy, but no I'm hoping to stay in touch with Lorne in any capacity. He's given me quite a bit.
That decision it had to be tough or was it more like "Okay, I'm out. I'm burnt out. I've done seven to eight tours in Comedy Vietnam. I just want to come home and kiss my wife?"


No, it was very tough, very tough, very bitter sweet for me. It was the only job I ever really wanted, and I consider myself incredibly lucky to have had it. I definitely imagined what it would be like to stay. That didn't sound too bad to me either, it was just I felt like I had reached my moment, and then things I had wanted to do there I felt like I had done. It was just time.
Was there a concern about turning into the "Saturday Night Live" version of Wooderson, where you get older and the next new cast members stay the same age?
I mean, I think that happens a little bit to everyone, but that's the beauty of the show. That's why it's such an iconic institution now instead of just a show. It's like a big academy of comedy at this point.
What is your unsolicited public recognize, like when you're shopping?
Probably mostly "Dick in a Box." I would say that's the most, but a lot of people say, "I'm on a Boat." People yell that at me. Young children will yell "Jizz in My Pants" at me, which is always disconcerting.
Obviously the "Hot Rod" guys, Jorma Taccone, Akiva Shaffer, working with them is a huge priority or have they sort of spread their wings and are now flying around MacGruber Land? Does it not look especially likely or is it something that is being sort of pushed back more and more?
It's still I would say my main priority and I believe theirs as well. It's really just been about timing. They sort of left the show before I did, but both came back and helped me out with the shorts, because they're good dudes. Everybody is definitely spreading their wings and doing different stuff, but at the same time I think all of us are excited to do another album hopefully and keep working together on more movie stuff if we can.
Obviously asking someone to watch their own performance is a film is like asking someone to read something they've written about a thousand times. At a certain point your eyes just go dead, but what for you is the funniest moment in "That's My Boy?"
Gosh, I don't think I narrow down just one thing. Overall I would just say Sandler's performance in general. He's in a mode in this movie that I really enjoy watching him in. there's a running joke of him pulling beers out of strange places that makes me laugh a bit. Yeah, just seeing him kind of off the rails, and doing a hard R, and sort of returning to his form of some of his earlier stuff, his albums and his earlier movies. Those are the things I fell in love with him watching and listening to in my formative years. It was exciting to witness that first hand.
You grew up watching Adam Sandler, and appreciating Adam Sandler, and certainly being inspired by Adam Sandler's comedy, and then you're in a movie with him. Is there a pinch me factor or is there just like "Of course this is prophecy in the destiny of Andy Samberg?"
Never expected it in a million years. I would say right up there with getting hired on "SNL" in terms of how happily shocked I was that it actually happened. It's the kind of thing that I would always think about how awesome it would be, but never dared to dream that it actually would.
I had a chance this week to actually see "Celeste and Jesse," which you're in with Rashida Jones. It's a smart really well-tuned film, and you actually play a character. It's more of what might be called classical acting. Was that a welcomed change? Was that a welcomed challenge?
Yeah, I mean obviously the difference in those kinds of performances is the intent of the movie itself. "That's My Boy," the goal is just to make people laugh as much as possible. It was a welcomed change for me just to try something new, and I really liked the script that Rashida wrote with her buddy Will McCormack. I never have really thought of myself that way, but when I read the script I thought there was a character I really connected with and had a take on, and I felt safe trying it, because I know her and I'd met Lee, the director, and really liked and trusted him. It was something I just kind of went for, because I thought it was creatively something that was very interesting and cool. I was happy with it. I watched it at Sundance and I loved it.
Are you somebody who thinks, "Well my next move will be to write a feature length screenplay" or "My next move will be to direct?" Are you someone who thinks about things in that calculated fashion? If so have you made a choice?
Not that calculated. I definitely don't think I'll direct. I definitely think I'll be involved in writing and developing some movie stuff in hopes to be in it. As far as just being an actor, I take things as they come to me, like the BBC series is something that I was offered, and it sounded really cool. I read the script and loved it, and was like "Yeah, screw it. Why not? Let's do this."
Is that one of the best things to come out of "Saturday Night Live," is just this resume and name recognition where people find you?
Sure. There's infinite good things that come out of working there. My entire career has the foundation of having done that now. The fact that anybody knows who I am, enough to ask me to do something, is cool.
Longest day on the set of "That's My Boy." Was there a day that just turned into a series of nightmares where they just couldn't get the artificial urine machine to work?
We spent a lot of time in the strip club. There was like a whole week of just shooting in the strip club. On the first day there was a lot of crew guys winking at each other and by the ending day everyone was like, "I need a shower."
Because they didn't build that, that's an actual gentlemen's club.
We shot in I believe, I don't know if it was a fully functioning or (decommissioned) gentlemen's club, but it certainly had the feeling of many ghosts of lap dances had within those hallowed halls.
And you were just wondering if it was possible to apply a layer of hand sanitizer before you put on your clothing every morning?
I sprayed myself down with Purell every morning before I went in.
When you're doing comedy math, your character does a "Beep-Boop-Beep-Beep​-Bloop" thing; is that something you do in your life when you're adding large sums of numbers?
(Laughing) It is not, but I'm hoping to try and incorporate it into my math life.
So doing your taxes this year will be " Beep-Boop-Beep-Beep-​Bloop; Here's what I made …"
And then, "… That's what the government's taking out? America..."
("That's My Boy" is playing in theaters.)
For Andy Samberg to step into an Adam Sandler comedy like "That's My Boy" as his first project seen after leaving "SNL" seems a double-edged sword.  Samberg needs a high-profile comedy to stand out from the crowd, but Sandler hasn't been funny in a movie for at least a decade.  Better luck next time, Andy.  Maybe you'll put Sandler out of our misery.


Sandler might be the worst actor in Hollywood for all time. How he keeps producing his film crap might be an eternal question. Hopefully, some major film producer will take this idiot aside and clue him in that he is an embarassment to the film industry. My 11-year-old grandsons watched his latest "Jack and Jill" and turned it off atfer 10-12 minutes as being the worst movie they ever saw.
Are you sure you want to delete this comment?