Interview: Melissa McCarthy and Jason Bateman of 'Identity Thief'
When McCarthy wreaks havoc on Bateman's life, he doesn't take it lying down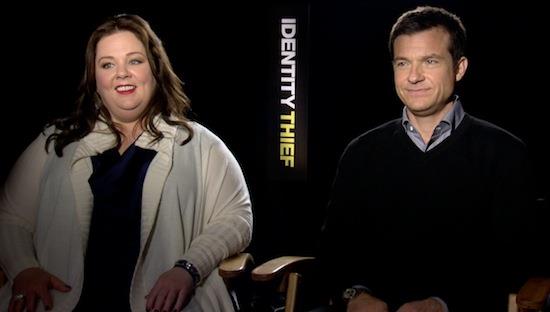 Jason Bateman and Melissa McCarthy are two of the funniest actors on the planet—their ability to commit to their crazy characters and put themselves in truly insane situations while keeping a straight face is unparalleled. In "Identity Thief," the new film by Seth Gordon ("Horrible Bosses"), Bateman discovers that his identity has been stolen and that he's suddenly up to his ears in debt…and worse. Because the Denver businessman has been saddled with a gender-neutral name, Sandy Patterson ("My parents named me after Sandy Koufax," he defensively repeats whenever people lift an eyebrow), professional con artist McCarthy has no trouble traipsing through every mall in Florida with her newly minted Sandy Patterson IDs and credit cards. As a result, Bateman's job is threatened, he's wanted by the local police, and his life is close to falling apart. Taking the matter into his own hands, he's determined to find McCarthy and drag her back to Denver for a name-clearing mea culpa. He manages to locate the out-of-control woman, and quickly finds out that she's mixed up with some dangerous characters who are now out to get both Sandy Pattersons. Thus begins a frantic road trip that is full of high-adrenaline antics from corporate espionage to a racy three-way encounter with a lusty Texas millionaire played by Eric Stonestreet ("Modern Family").

Bing: Melissa McCarthy | Jason Bateman
I've actually experienced the headache of having my identity stolen and, with the help of my bank, followed the trail of the criminal who had checks made up with my personal information and then forged my signature all over California. I never met the guy, who did wind up getting arrested, but I'm pretty sure he wasn't anywhere near as unique or colorful as Melissa McCarthy's character. Check out the video (after the break) in which I talk to Bateman and McCarthy about the serious injuries they sustained during the making of this action-packed film! I also talked to rapper T.I. and Genesis Rodriguez (Will Ferrell's love interest in "Casa de Mi Padre") who, along with Robert Patrick, are among the shady characters out to get our bumbling stars.
"Identity Thief" opens in theaters on February 8, 2013.