Weekend box office: Christmas in Middle Earth
Hobbits beat Tom Cruise, Barbra Streisand, and Judd Apatow among holiday shoppers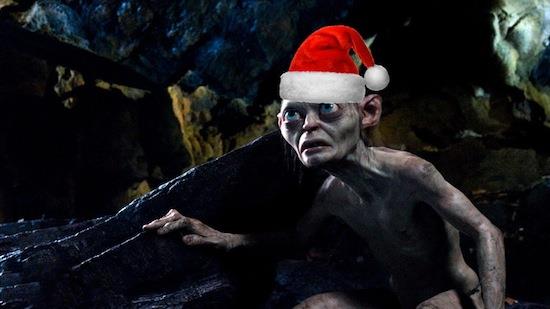 Despite several new film offerings on the last weekend before Christmas, "The Hobbit: An Unexpected Journey" handily won the weekend at the North American box office, earning more than twice as much as the next film on the Top Ten, Tom Cruise's new crime drama, "Jack Reacher."


Though its numbers are way down from last week's record-breaking opening, "The Hobbit: An Unexpected Journey" shows no signs of budging from the #1 spot at the box office, with a $36.9M take over the three-day weekend (at 4,100 theaters) and as astonishing $150M domestic total in only its second week. Paramount's new "Jack Reacher" was the #2 film, earning $15.6M (at 3,352 theaters) while Judd Apatow's new comedy, "This is 40," opened at #3, with $12M in ticket sales (at 2,912 theaters). "Rise of the Guardians" is showing impressive staying power in its fifth week. The #4 film brought in $5.9M (at 3,031 theaters) for a new domestic total of $79.6M, and is sure to get more family traffic over the upcoming holidays. At#5, Spielberg's "Lincoln" earned $5.5M (at 2,293 theaters) for a domestic gross of $116.6M.

At #6, Paramount's "The Guilt Trip," starring Barbra Streisand and Seth Rogen as mother and son, opened with a disappointing $5.3M (at 2,431 theaters) while Disney's new 3D version of "Monsters, Inc." had a $4.7M first weekend (at 2,618 theaters), making it the #7 film. In its seventh week, the phenomenally successful "Skyfall" slipped to #8, adding $4.7M to its staggering $279.9 domestic total. At #9, "Life of Pi" earned $4M in its fifth week (at only 1,750 theaters) for a new domestic gross of $76.3M while "The Twilight Saga: Breaking Dawn, Part 2" finally fell to #10, with $2.6M in ticket sales added to its remarkable $281.6M domestic receipts.
While it's only in a five theaters nationwide, Kathryn Bigelow's much-acclaimed and somewhat controversial "Zero Dark Thirty" ruled the box office in terms of per-screen numbers, with each of its five theaters averaging $82,000 in ticket sales over the weekend. Tomorrow's holiday will see the opening of two much-anticipated films, Quentin Tarantino's violent and entertaining look at the pre-Civil War south in "Django Unchained" as well as Tom Hooper's rousing musical "Les Misérables" featuring an all-star cast with rotting teeth and 19th century woes. For audiences who have a hankering for the 21st  century stories, "Parental Guidance" features Billy Crystal and Bette Midler as the grandparents of an unruly brood. Have a great Christmas, moviegoers!