Interview: Michael Peña of 'End of Watch'
'We shot for 22 days and rehearsed for five months; usually, it's the other way around ...'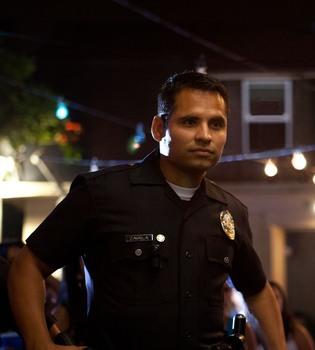 With his powerhouse build and quick smile, Michael Peña has had the good fortune to be in the supporting cast of a number of films, from "Crash" to "30 Minutes or Less." Now, Peña steps into his biggest role as Jake Gyllenhaal's LAPD comrade-in-arms in "End of Watch," the latest film from writer-director David Ayer; we spoke with Peña in Toronto.

MSN Movies: How exactly do you prepare to simulate the incredibly close relationship of two guys who work together in a car all day long … never mind with life and death stakes? How do you approximate that relationship?
Michael Peña: I think what you said -- like having the life and death stakes, having to go through ride-alongs, having that very much apparent. I don't know if you've ever gone on a ride-along but, you know some people do for like cop movies and stuff. They'll go on a couple, maybe three, four…
Did you go with the police?
                                                                                        BING: Michael Pena | LAPD
Yeah, yeah. We went through like 30,40. We went through a lot. And then after a while the cops are able to put their guard down and not give you the PR or whatever and like really do their jobs, and we were all buddies. But when you're thrown in and they have to make the traffic stop … and me and Jake have to get out of the car 'cause if not, we're sitting ducks? We are definitely looking out for each other. And five months of that and also weapons training, really you just can't help but it brings you together. And it's one of the hardest things that I think to pull off, you know? Like the real brotherhood in a movie. It's hard enough to get a real good friend in Hollywood…
Right.
…let alone like in a thing like this. But we just kept at it, we kept rehearsing, we kept talking about it, talking about it, talking about it, talking about it, what we're up against, and then rehearsing like crazy. Like we rehearsed some of those scenes hundreds of times, like literally over a hundred times.
I was talking to Mr. Gyllenhaal and he said that he did weeks of fight training even though he never actually physically fights anybody. I was wondering if there was anything that you learned that you didn't actually wind up using in the film.
Oh man, well I grew up fighting. I grew up doing muay thai and boxing since I was a kid, but the thing. I remember when Jake … he didn't grow up doing that you know? Like, if some guy was getting the better of him like after a while, the instructor, Richard Mesquita, kept us apart and would be like, "Jake, fight David," and then with David I'm like, "Ka-POW!" Like you really want to root him on.  I was like, "C'mon Jake." And when you're tired and the other guy's like getting in on you, you really have to root for your buddy. Like me too, I was out of shape, you know? And it really does something to you when your buddy's rooting you on and you get on another adrenaline (boost)  and that's a lot of it. Like, a lot of it actually.
A lot of the film is like that adrenalized camaraderie you two guys have …
Yeah, yeah.
How weird is it when you're doing these scenes and it simulates life or death action or life or death stakes and then somebody goes, "Cut" and you go to the snack table over there?
We did have that stuff. In this movie, we shot 22 days, rehearsed for five months; usually it's the opposite.
Right.
"This one, do it again. Let's do it again. Let's do it again. Okay, c'mon, c'mon. Do it again, do it again," because it was shot digitally. So we kept doing it and doing it and doing it and, "Cut. Let's go." And then we had to rush on to the next location …
Running too fast to slow down.
Yeah,  exactly. So I mean, I think everything fell together. Regardless of what happens with this movie, it's one of those movies that's definitely close to my heart. And last time I was here, you know, I was here for "Crash," and this has always brought good luck to me, so we'll see. …
("End of Watch" is in theaters today. Find more about movies on MSNMovies Facebook and MSN Movies Twitter.)