'The Avengers': Is the Bloom Off the 3D Rose?
Many moviegoers are bypassing the clunky glasses to see the film in traditional 2D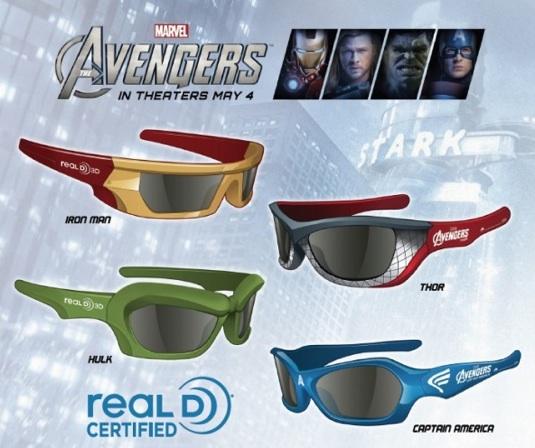 Following an intensely unscientific study involving my own network of friends and acquaintances, I'm here to report that 3D movies are on their way out. Well, OK …maybe not. But I was surprised to learn that among the countless people I knew that hightailed it to their local multiplex to catch a weekend screening of "The Avengers" (contributing to its crazy record-breaking opening), the vast majority of them went out of their way to see it in a regular theater, not in one of the film's 3D venues. What gives? Didn't that used to be the other way around? Weren't people waiting in line to don 3D glasses when there was a choice just a short time ago?

Personally, the only movies that I've truly enjoyed seeing in 3D have been "Avatar" and "Hugo," probably because both films were cutting-edge examples of that technology and were committed to that format from the very beginning. As far as I'm concerned, the post-production conversions from 2D to 3D are never that effective and usually feel like a bald-faced excuse for higher ticket prices. I often feel like I'm wearing sunglasses in a movie theater and I'm constantly tempted to lift the spectacles off my head and sacrifice clarity for a brighter image.
In this weekend's staggering box office for "The Avengers," which surpassed $200 million domestically, about 52 percent of that amount was attributed to the higher-priced 3D tickets. Rich Trenholm, writing for CNET's Crave website, calls the 3D version of the film "curiously undercooked." In an article evaluating whether audiences should shell out the extra bucks for the added dimension, Trenholm writes, "There's barely any sense of depth during non-action scenes — which is a shame, as there are a couple of flashes of how good 3D can be when used in an understated and thoughtful way. These moments include Hawkeye as an isolated figure standing in the back of a gunship, giving us a sense of scale as he flies towards the S.H.I.E.L.D. Helicarrier, and Captain America running into a damaged engine room now yawning open to the sky." But despite his misgivings, the British journalist ultimately opts for 3D. "I usually tire quickly of gimmicky shots of stuff flying towards me, but when the stuff flying towards me is Scarlett Johansson sprinting out of an explosion pursued by a roaring Incredible Hulk, how could I not want to see that in three dimensions?"
How about you? Did you pay more for your ticket to the Marvel mash-up with the hopes of a richer experience? Or, like most people I know, did you think Scarlett Johansson in two dimensions was enough of an enticement?