Check Out This First Look At The 'Red Dawn' Remake
Thor, that guy from 'The Hunger Games,' and some other dude hold guns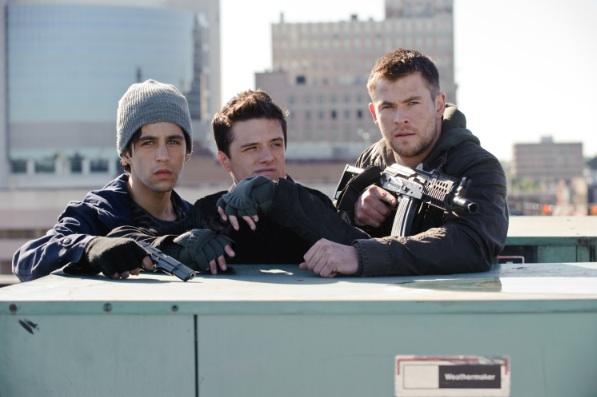 News flash! I've just had six cups of coffee, and I feel
amazing
. In slightly less interesting news, MGM is—finally!—getting around to releasing that "Red Dawn" remake that's been lying on a shelf somewhere, half-forgotten, collecting dust, since 2010.
Full disclosure: 1984's "Red Dawn"—starring a young Patrick Swayze, Lea Thompson, and Charlie Sheen—is one of our favorite movies of, well, that particular decade. It's face-meltingly awesome premise? When the Soviet Union (and Cuba!) invade a random small town in rural Colorado—but not Washington D.C. or New York City or any other strategically important, easily accessible area, because that makes so much sense—a group of resourceful high school kids valiantly fight back, using any and every means at their disposal. Sounds amazing, right? And totally relevant to today's post-Cold War, terrorist-infested world. No wonder they remade it.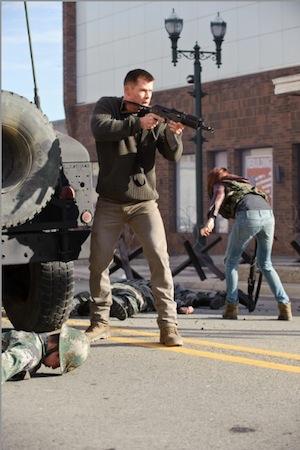 The original "Red Dawn" has all the ridiculous, bombastic, blow-em-up fun of "Rambo," only without all of that film's lamentable Vietnam baggage. Which, you know, is a total bummer. "Red Dawn" is also, of course, an objectively terrible movie. Its plot is completely asinine, its tone-deaf political message a sad relic of jingoistic Reagan-era America, its production values aren't especially great... We could go on, but you get the point. The film also essentially asks its audience to sympathize with—and root for!—a group of diabolical, remorseless insurgents, an unorganized cabal of terrorist killers who use hit-and-run tactics to slowly win a battle of attrition against a technologically superior foe. Sound familiar? Feel awkward yet?
The new "Red Dawn"—starring a pre-fame Chris Hemsworth ("The Avengers") and Josh Hutcherson ("The Hunger Games")—was delayed repeatedly by both MGM's financial woes and forced editorial re-edits. The film's villains were originally going to be Chinese but are now North Korean, for probably obvious reason. Long story short: China didn't take too well to being made the villain, and let MGM know their displeasure. And, for some reason, nobody seems to care about offending North Korea.

In any case... We've forgotten why we originally started writing this post, so just sit back and enjoy the (lovely) accompanying images from the forthcoming film. Which will come out sometime in the fall, sometime, probably. Oh, and let us know what you think of the project in the comments, and what your favorite caffeinated beverage is, and in the meantime, we're going to go have some more coffee.