'The Heat' is on between Sandra Bullock and Melissa McCarthy
A trailer hits for the buddy-cop comedy from the director of 'Bridesmaids'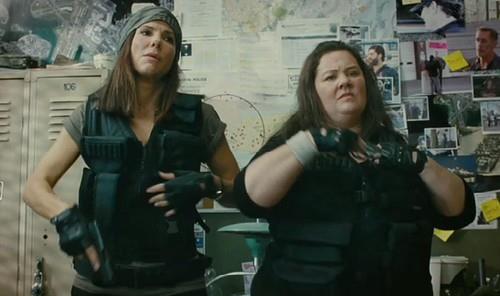 One's got a recent Oscar win, the other a nomination, and so naturally, here they are, Sandra Bullock and Melissa McCarthy, together at last... in a buddy cop movie. Mind you, "The Heat" marks McCarthy's reunion with "Bridesmaids" director Paul Feig, and I take the experience of writer Katie Dippold on the very funny "Parks and Recreation" as a strong sign after a "30 Rock" alum turned the potentially conventional "Pitch Perfect" into an utter delight last month.

With that said, the new trailer up on
Apple
seems to suggest the unironic embrace of the tried-and-true snob/slob routine by everyone involved. Bullock plays a strait-laced FBI agent forced to partner up with the bullish McCarthy to take down a drug lord, and other than the odd gag (that glass smash, for instance), little here is heartening, although I'm curious if they're trying to cut around a potential R rating.
Either way, "The Heat" opens on April 5th. Watch the trailer and share your own thoughts below.