Interview: Philippe Falardeau of the Oscar-Nominated 'Monsieur Lazhar'
Canada's nominee for this year's foreign language Academy Award shows the impact one caring person can have on a group of traumatized students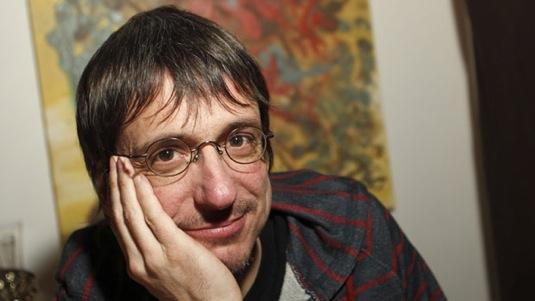 French-Canadian writer/director Philippe Falardeau is 44 but could easily pass for an earnest college student. In 1992, when he was 24, he was selected as a contestant on a popular Canadian TV series called "La Course Destination Monde" in which participants traveled around the world making short films. Falardeau won the competition and parlayed his victory into a career as a documentarian and then as a writer and director of thoughtful features. His films "Congorama" and "It's Not Me, I Swear!" were festival favorites around the world, but his current film, "Monsieur Lazhar," topped them all by being chosen as one of the five nominees for Best Foreign Language Film in this year's Oscar race.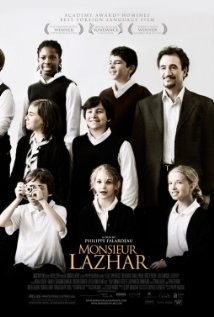 "Monsieur Bazhar" tells the heartwarming story of an Algerian immigrant (played by Fellag) who, despite his own troubles and secrets, manages to bring emotional stability to a group of Montreal middle schoolers who are badly shaken by the suicide of their regular teacher. I recently sat down for a chat with the introspective director.
MSN Movies: I know the film was based on the play "Bashir Lazhar" by Evelyne de la Chenelière. How did you come to adapt it for the screen?
Philipe Falardeau: I went to see the play in Montreal. I was not scouting for material at all that night, but as I watched the play, which was just one man on stage, I was so taken that I started imagining other characters and situations. I happened to be sitting with my producer and leaned over to him at one point and said, "This is our next movie!" He was very skeptical but I went to see Eveylne, the playwright, and she agreed. The only thing she was concerned about was the children. There were no children in her play and she was worried that their presence might make the story too cute and sentimental. I told her we were on the same page about that, it was the last thing I wanted.
Even though the play was a one-man show, was the basic premise the same?
Yes, it was the same character who came to this school because a teacher had committed suicide. But everything was revealed very differently. On stage, it wasn't until the middle of the play as the teacher reads a girl's composition where you learn about the teacher's suicide. In the film you see the actual body right at the beginning. And some characters, like, for instance, the young boy named Simon (Emilien Néron) didn't exist at all in the play.
Wow, and he's such a pivotal character!
In a way it's Simon who sustains the dramatic tension throughout the film. His guilt about the teacher who committed suicide is very much part of what's happening emotionally in the story.
I was so impressed by the performances of all the kids, especially Simon and Alice (Sophie Nélisse).  Was it hard to find such natural young actors?
It was a long process but it wasn't like we saw thousands of kids. Maybe 200 all together but we really to0k our time with them.  There's this idea that it's harder to work with kids than adults. It's not harder, really, it just takes a specific kind of work. When you look at a film where the kids are not good, I suspect the filmmaker was lazy and didn't take the time to help them.
So are you saying that with child actors, it's less about their innate acting chops and more about what the director is able to pull out of them?
Well, it's both. Take our two kids for instance. The young boy who played Simon was not a very experienced actor, but he had this thing inside of him that allowed him to do that cathartic scene toward the end of the film.
Oh, I was so moved by that scene.
I knew it would make or break the movie. But of the two young leads, that boy was not the better actor, the girl who played Alice was. She was amazing and capable of a much wider range. It's a mix. Some adult actors can only do certain things that they are suited for and others are chameleons. It's the same with kids.
So how did you pull those intense emotions out of that kid?  
It's a process. When we started rehearsing, his father came to me and said, "Philippe, I have to tell you something. My brother committed suicide a year ago. And Emilien was very close to him." Every time we rehearsed that scene I could see that the boy was suddenly transformed. So I told him, "We're not going to rehearse this anymore, we're just going to do it on the day of the shoot." Learning lines is not a problem for kids at that age, it's the emotions you have to worry about. When the day arrived, I asked Emilien if he was thinking about his uncle. He said he was. I could see that he was near tears and I asked if he wanted me to stop the cameras if he started crying. He said, "Oh no, no, don't stop, I want to go through this!" What you see in the film is the only take we did.
I know you've done documentaries that touch on immigration issues. Is that a special interest of yours?
Yes, it is. In 1992, I went around the world with this amazing television program. I had to do 20 short films in 26 weeks so I was the immigrant on that trip, I was the one not fitting in, trying to understand where I was, trying to meet people, and so on. When I came back to Canada, I found that I was very interested in people who came from other countries and I wanted to connect with them. But I didn't want "Monsieur Lazhar" to be didactic about the subject. Lazhar is an immigrant and a refugee, he went through some very tough experiences, but the film is really about this tragedy at the school and how this immigrant character reacts to that situation. To a large degree it's about seeing ourselves through the eyes of an immigrant.
Did you consider adding a religious element to Lazhar's character?
Yes, I did, but in the post 9/11environment, I worried that it might gobble up everything else. I thought people would expect it but I just didn't want to go there—that's another film.  
Do some circles in Quebec dwell on the same fear of immigrants that we have here in the States?
Less than in the U.S., but yes, we also have a lot of propaganda that comes from right-wing conservative politicians that the immigrants are going to take over or change the Canadian way of life.
I would imagine there are additional nuances in Quebec that we might not have here because of the two main cultures that are already co-existing in the province.
Yes, for sure, and with immigrants it comes back to that issue of language. People fear that as they assimilate they will choose to learn English and not French, and in Quebec there is so much concern about the survival of our French-speaking people.
Were there also elements in the film that touched on the conflict between French-Canadian vs. French culture?
Oh yes, absolutely, like in the scene where Lazhar is using Balzac for a dication. It's clearly over his students' heads and it's ironic that this guy from Algeria, a former French colony, is using this material and seems to have a bit of that attitude that some French people have that their French is the better, more correct French. In truth, I would argue that it's the same language, the same syntax, it's just a question of accent. You guys might have the same problem with the British!
Yes, that tension often exists between English people and Americans. You know, on the one hand, I had such sympathy for Mr. Lazhar—he's obviously doing such good things for those kids, and yet we find out that he told some pretty big lies to get into that classroom. It's tricky—I kept wondering if in real life we'd be better off if we ignored the red tape and just put people in the classroom who'd have the greatest impact?
Yeah, I think the answer to that is in your question. Lazhar is an accidental teacher but he was the right person at the right time for those kids and he needed to be there for himself as well. Why do we forgive him? Because we know he's a good man. He doesn't lie to make money or get ahead, he lies because he knows the children need him.
I have to ask about your Oscar nomination earlier this year. Were you surprised?
It was a total shock!
Did you go to the Academy Awards?
Oh, for sure, wouldn't you? That show is the most ostentatious event in the world, but it was such a beautiful experience. What a lesson that I could make this very personal film in French and get to the Oscars. There's no way that would've happened if I'd tried to imitate what Hollywood does. When you're there you see people like Brad Pitt and Martin Scorsese and you think, okay, we're not in the same ballpark at all, but here tonight, we all celebrate our shared love of film.
"Monsieur Lazhar" opens in select cities on April 13.