Beastie Boys, Oscilloscope Co-Founder Adam Yauch Dead at 47
In addition to his massive musical success, Yauch was also a respected film director and distributor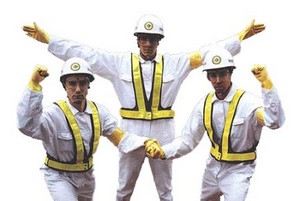 Being a founding member of the Grammy-winning hip-hop-meets-punk group Beastie Boys would be enough of a legacy for any one man. 40 million copies sold worldwide of albums like "Licensed to Ill" and "Paul's Boutique," with hits like "Hey Ladies," "Intergalactic," "Sabotage," "Fight for Your Right," "Brass Monkey," "No Sleep 'Til Brooklyn," "Triple Trouble," "Ch-Check It Out," and "Sure Shot" -- that alone would be enough to make the passing of Adam Yauch (a.k.a. MCA) at the age of 47 a tragic end to his recent battle with cancer.
But in addition to his music career, Yauch had also established himself well in the world of film with the 2002 creator of Oscilloscope Laboratories, responsible for distributing titles like the heartbreaking "Dear Zachary," "Meek's Cutoff," "Bellflower," last winter's "We Need to Talk About Kevin," and this summer's "Shut Up and Play the Hits." Yauch also directed the 2008 basketball documentary "Gunnin' for That #1 Spot" under his own name, in addition to helming the dizzying Beastie Boys compilation/concert flick "Awesome; I F**kin' Shot That!" and several music videos under the name Nathaniel Hörnblowér (many of which Criterion inducted into their Collection with a 2000 Beastie Boys anthology, and a few of which we've included below).
Yauch is survived by wife Dechen Wangdu and their daughter.
Rolling Stone
has more on the story.