Interview: Nicholas Hoult and Eleanor Tomlinson of 'Jack the Giant Slayer'
On fantasy worlds, made-up heroics and very real horses …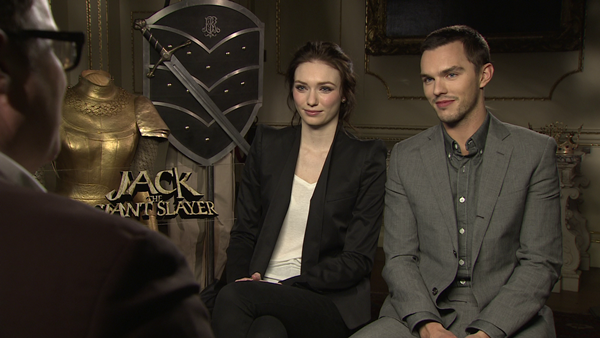 Eleanor Tomlinson plays a fairy-tale princess in "Jack the Giant Slayer"; Nicholas Hoult's title character, from more modest means, is the hero who winds up saving the day. We spoke with the duo in London about the challenges of big movies, the comforts of costuming and the very real challenge of very real horses.
MSN Movies: You of course play Princess Isabelle. But you, Mr. Hoult, play the title character. When you get a script that's called "Jack the Giant Slayer" and you're told you're reading for Jack, how intimidating is that?
Nicholas Hoult: It's pretty intimidating particularly with the scale of this movie. It was a big production with Bryan directing and the cast around him brilliant to work with and everything. But it's kind of like "Oh damn, well, I've got to do a really good job on this one, and everything else is going to be fantastic. The giants and special effects are going to be amazing so I've got to try and be a character that people can root for and support along the way and enjoy throughout, hopefully."
I mean I'm curious,  Miss Tomlinson when you're given the script and you're reading for it and Mr. Singer is telling you there will be giants and floating castles, he's got to sound like an over-caffeinated 12-year-old.
Elanor Tomlinson: (Laughs)
At what point do you take it on faith that he can deliver, or do you just know talking to him that he has a vision for the film?
Tomlinson: Bryan is so passionate; there is no doubt as to the fact that he will pull it off. That's what's amazing about him. He could tell you that you're going to have three heads and you'd go, "Yeah, okay. Cool." And it's fine. It's just that he has this vision and it's great about including you in that. He shows you exactly what he want, and he gets so excited about it, and that really gives you the spirit to go with him.
I'm sure everyone's asked you about working with the CGI giants. But more importantly there are a lot of horses in this film, when I think of horses as very large animals who don't necessarily want to give me a ride.
BING: Nicholas Hoult l Eleanor Tomlinson
Tomlinson: (Laughs)
Did you enjoy all the equestrian stuff for the film or is that just part and parcel of the stunt work?
Hoult: I didn't really enjoy … I'm not a very good horse rider, and I didn't really get along with most of the horses that were.
Tomlinson: Well, that's because you only sat on a horse about once in the film.
Hoult: They wouldn't listen to me. And my horse stood on my foot at one point, as well.
Tomlinson: (Laughs) Yeah, it was hilarious. We did a lot of equestrian training, which was great fun 'cause I love horses. I love horse riding, but unfortunately due to insurance reasons we weren't actually allowed to ride them that much in the film. So a lot of the stuff that you see is actually shot on an oil barrel with a saddle on it.
Insurance for you or the horses?
Tomlinson: (Laughs) It's for us.
Okay, just checking.
Tomlinson: But I would be worried for the horses...
Hoult: That's what they say, but the horses were much better trained. They were really great movie horses, and much better trained than us.
Tomlinson: Yeah they were. They were fantastic.
Costume-wise, I mean you have this great piece of battle armor you wear. You have that very High-street hoodie that somehow looks anachronistic but great. To what degree does this kind of production design and visual design and those sorts of things help you get in the mood for a film like this where tone matters so much?
Tomlinson: The minute you put on the costume, particularly for me, I mean I became a princess. I felt so special, particularly in the armor in the dress, you know. And then I loved my just my kind of my general adventure outfit as well because it just, it was sexy and yet there was a freedom to move that wasn't at all girly. It was exactly what Isabelle is. It was feisty, it was independent, and it was different from other princesses that we're seeing.
Hoult: Damn. I agree. I thought, (Laughs), I don't know about your costumes, but my costumes were great. And Joanna Johnston was fantastic. And the production design and the sets they built were really fantastic. To be running around in a giant's kitchen with knives like this, bigger than this, massive, and climbing all over I felt like a little "Borrower," and that was a lot of fun. Or like from "Honey I Shrunk the Kids."
Tomlinson: Yeah …
For more on "Jack the Giant Slayer," check out the MSN Movies video interview:
Want more Movies? Be sure to like MSN Movies Facebook and follow MSN Movies Twitter.