Patrick Stewart, Ian McKellen return to 'X-Men' franchise
Hope you didn't draw that timeline in ink!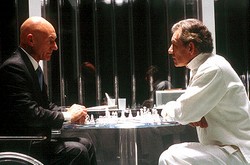 The screen incarnations of the "X-Men" comics have been a funny thing. Bryan Singer initially kicked things off by directing the first two hit films before bailing on "X-Men: The Last Stand" to make "Superman Returns." After that came the maligned spin-off "X-Men Origins: Wolverine," then last summer's prequel "X-Men: First Class," which will now be followed by a sequel... directed by none other than Bryan Singer.
Singer himself
announced on Twitter
today that the young cast of "First Class" -- James McAvoy (as Professor X), Michael Fassbender (Magneto), Jennifer Lawrence (Mystique) and Nicholas Hoult (Beast) -- would be returning for "X-Men: Days of Future Past." He then
revealed
that Patrick Stewart and Ian McKellen, the Professor X and Magneto of the first three films, would
also
 appear in the film.
To be fair, Hugh Jackman's Wolverine did make an appearance in "First Class," suggesting that the prequel would be less of a reset and more a simple precursor to the films that had already been made. Still, at this point, I find the established continuity of these things to be pretzel-like at best.
"X-Men: Days of Future Past" is currently lined up for a July 18, 2014 release.