Interview: Director Marc Webb of 'The Amazing Spider-Man'
'I asked Stan Lee: Why are all these superheroes orphans?'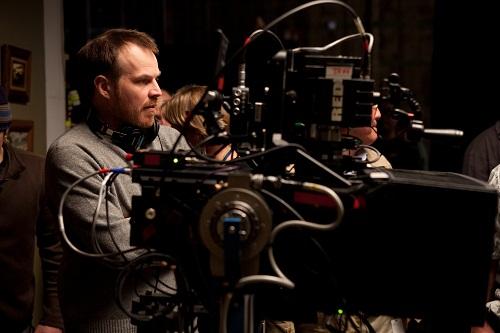 It may seem like a leap, going from the indie comedy of "(500) Days of Summer" to the wall-crawling action of "The Amazing Spider-Man," and yet, for director Marc Webb, the transition is one well worth making. With Andrew Garfield as his Peter Parker -- and the challenge of shooting in 3D -- Webb was tasked with re-booting Spider-Man's adventures for a new generation of moviegoers not that far removed from Sam Raimi's take on the character .. and revitalizing a character with a 50-year history for the 21st Century. We spoke with Webb in New York.
MSN Movies: "(500) Days of Summer" was a great film made on a very knowing scale, aware of what it was, taking place in an urban environment, and speaking to it, but motivated primarily by people. Somebody says to you, "For your next film, we're thinking of something very similar where you shoot in 3D for a re-launch of a fifty year old comic book character with lots of gravity-defying action." How do you make that leap? Never mind the audience and never mind the studio, how do you make that jump?
Marc Webb: My first interaction with it wasn't talking about the action. It was about the characters, about Peter Parker. I was really interested. What makes Spider-Man iconic is obviously flying through the air and there's that wishful filmic little kid who's fighting villains, who's fighting the bad guy. That's fun and great, but really for me is this kid Peter Parker. What makes Peter Parker Peter Parker is he's intensely relatable. He has these domestic dramas. He has a hard time asking girls out, and he's got to do his chores for Aunt May, and all that kind of stuff that makes it so real. That for me was the first thing I started discussing with the powers that be. That was the access point. Then I was like -- well, this is not that dissimilar from "(500) Days of Summer." This is a character-based thing. Then I started to think about the character from the ground up. From the moment he was born, who was this kid? It's like, well his, parents are scientists, but then his parents leave him behind. That's a huge, massive--
Very Dickensian ...
Yeah. It's interesting that you bring that up, because "Great Expectations" has this orphan mythology. There is something about orphans in Dickens, in it all the time, that is incredibly powerful. The first time I met with Stan Lee I asked, "Why are all these superheroes orphans?" He's like, "Well, I don't know." Stan Lee, who's read every Dickens book, he's like, "I just wanted to get them out of the house. It was easier to get them out of the house." I'm like, "Come on. You've got to give me some insight." I think ultimately it's a way to heighten a question of identity, like you don't know who you are. Which I think is something we all feel; we feel a little bit like an outsider. When you don't inherit an identity you have to define it on your own. All of these super heroes have that, I think, as a "Who am I?" It's something that we discussed. We said literally, in the last scene in the movie, there's the teacher, who's talking about "Who am I," and I felt like there was some traction in that. I thought that it was really interesting, this gap. In terms of the theme of the movie, I was like, okay, this kid -- his parents left him behind for whatever reason. He has this missing piece. He has this whole. He's got to fill that void, and then I thought about Curt Connors, and he has this arm that's missing. He's the literal embodiment of that theme. I thought there was this symmetrical thematic connection between those two, and how we choose to fill that void is how we define ourselves. Curt Connors doesn't maybe have the strength of character that Peter Parker does. That was an interesting thing. That was what I started thinking about before the action. To get back to your earlier question, it all expanded from that foundation.
It went character stuff first and then you went up from that, but you also hired the Armstrongs as your stunt team. How much did you learn from just watching Vic or hearing him tell stories around the lunch table?
He is a very fun, charming, lovely man and he's incredibly brave and ambitious, and he is a filmmaker by just who he is in the depths of his soul. I probably ultimately worked more closely with Andy Armstrong, his brother, who was the stunt coordinator. That was a relationship that started early out of the process, because I wanted to, particularly the first part of the movie, shoot the action in a more practical way, and those guys are really emphatic about doing things practically. One of the first things we tried to do was the sequence underneath that bridge. There's not a huge amount of screen time, but it was incredibly valuable for us, because it gave us a body language with which to inform the rest of the movie and the rest of the swinging. There was an imperfection in it, and there was a little bit of turbulence and velocity. There's a balance, and there's something about that physical behavior that I think informs the later CGI. I was really excited about it. I also think it helps the audience invest in that character early on.
This is a character with fifty-year long pop-culture history. Were you a fan, fanatic, indifferent, more of a DC guy?
I was a Marvel guy. I started reading comics when I was a kid. Marvel made the teenagers heroes, like "X-Men" and Peter Parker in particular. I was a fanatic when I was younger. Then I disappeared into other things, then I became a fan of comic book movies. Then I went back and looked at some of those comics. When I was growing up, I was a little in between "Spider-Man"-s Everybody knew about it; everybody read it, but I was probably more of a fan of "Groo the Wanderer" and some of that stuff. Then there was something about that symbol; the face that I knew was probably the first superhero that I really recognized. I don't know what it is, but there's something very powerful and inviting about the symbolism of that character.
And he's your friendly neighborhood Spider-Man. He's not creepy like Batman.
Yeah, Batman was scary.
Batman is like, "You've been bad," and Spider-Man is like, "I'm here to help you."
Yeah, that's interesting. I never thought about that. I think you're exactly right, though I love "Batman" too.
When you were a kid, who was your favorite villain?
In "Spider-Man," The Vulture, Green Goblin ... There was something about the Lizard character that I thought was really interesting, because he's his friend and he's his foe. There was something I felt very conflicted about. It was sort of compelling in a way, sort of scary, because it wasn't simple. I also liked just the way those two physically interact, I really liked. One of the fun parts about the movie was defining the physical interaction between the Lizard and the Spider. That's fun. Him wrapping him around, and the tail swinging, just the violence between those two characters was fun to explore. They're also in some way affected by the same science. I think that was an interesting part of their characters. That I liked. In the other comics, there were some things with Mysterio that I thought were really interesting. The Vulture again, the Green Goblin is obviously iconic.
When they say, "Okay, you have to have a huge statue of Norman Osborn, but we can't define whose face it is because that could be played or remade later" --
Well, they didn't say that. I said that.
So it's not like people are saying to you, "You have to leave all of these hooks that we can hang a franchise off of?"
No, not at all. When we were defining the universe, I remember having conversations with one of the writers, James Vanderbilt, very early on and we had a specific agenda. We wanted all crazy things to come from Oscorp. It's sort of the tower of Babel at the center of the city. It's this monument of vanity, and there's a back-story that we don't really reveal about Norman Osborn and that system inside that building. There is a mythology that I wanted to hint at, but I didn't want to totally indulge. That was a fun part of the process, was working out that.
And having Osborn be the man behind the curtain also works to make him strange in this film.
Yeah, you want people to be a bit more curious.
All of your actors have been praising how much time you gave them, for the character stuff, for the relationship stuff. I was inspired to ask about that, because of that great scene in the high school hallway, where Ms. Stacy asks Mr. Parker out. That's really awkward. How much of that is just winding the actors up and letting them go?
It's interesting, you have a scene on a page, and you're like, "Oh, this is a cute scene. It'll be fine." It's a very simple scene to shoot. Martin (Sheen) comes in does a little talk and then he goes. Then there's this moment, and I remember very specifically, they were doing the lines, and then we did another take, they were doing the lines and then Andrew starts to get a little bit nervous, and it's like, "Oh, you have a picture?" "Yeah, I was touching stuff up," "You were touching stuff up?" Totally improvised. Its these moments that evolve between actors that are incredibly charismatic and charming and a lot of my job, when you have people that are that talented is to step back and watch and make sure that those moments are incubated and that they feel the freedom to do that. Fortunately, both Andrew and Emma are incredibly gifted technical actors, but they're f**king funny. They're really funny, and they're very charismatic, and they're spontaneous, and they're very aware and open to engaging on that level. It makes it just really fun.
When you find out you're doing a "Spider-Man" film, jumping for joy. When you find out you're doing a "Spider-Man" film without J. Jonah Jameson, is that a little bit sad for somebody who loves the series?
You know, J.K. Simmons is from Montana, and my mom is from Montana. He used to perform at the Big Fork Summer Playhouse, which is where I used to do musicals every summer, so I knew who he was. I had seen him on stage as a young person. There was no conceivable way; I didn't want to compete with that performance. It was just too spectacular.
Now are you going to make that question somebody else's problem or are you still trying to figure out if you want to do number two?
It's been three years and it's an incredibly intense, really fun process. We'll see; who knows? I've got to finish this movie, and then we'll see what happens.  One day at a time. ...
("The Amazing Spider-Man" is in theaters ...)