Jessica Biel Joins 'Alfred Hitchcock and the Making of Psycho'
At this point, why don't they just remake the film?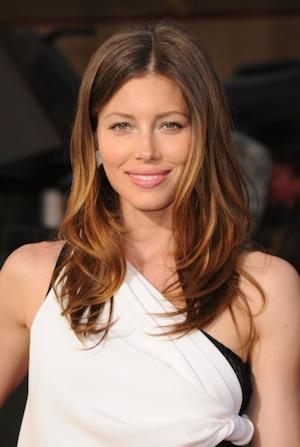 By seemingly any standards, Sacha Gervasi has assembled a terrific cast for his "Alfred Hitchcock and the Making of 'Psycho.'" Anthony Hopkins as Hitchcock himself. Scarlett Johanson as Janet Leigh. James D'Arcy as Anthony Perkins? Well, never mind about that. Now comes word, courtesy of
Deadline
, that Jessica Biel has signed on to play Vera Miles, who played Janet Leigh's sister in the original.
At this rate, why not just ditch the framing device and remake the original? Sacrilege! We can hear the cry of "Psycho's" legion of fans. "Gus Van Sant already tried a shot-for-shot remake," you might say. "One slavishly devoted to the original except in its use of color, and that failed spectacularly!" Fair point, but look at the cast! Anne Heche vs. Scarlett Johanson? Anne Heche, who's best known for "Volcano," that terrible late-period Harrison Ford movie we've forgotten the name of, and for being Ellen DeGeneres's one-time girlfriend? Please! Scarlett Johanson wins, no contest. An egregiously miscast Vince Vaughn vs. some weird unknown British dude? Give us the unknown British dude any day!
Anyway, our pipe dreams aside, all these casting notices have us extremely excited for the forthcoming film. We have no idea what kind of drama went on behind the scenes of the iconic horror flick, but... Hey, that's what this film is for! Why are we getting so ahead of ourselves? Having such talents as Hopkins, Johanson, and now Biel involved only stokes our interest.
What do you think, Hitlisters? Could a "Psycho" remake work with this cast? Could we still include Anthony Hopkins somehow, maybe by, say, making him play Norman Bates's mother? Or should I just give up on that, and let this project be what it is? Movies about filmmaking are hot right now—see also: "Hugo," "The Artist"—so... We didn't really have a point just there. We were just saying.

The remake with Vince and Anne is a movie I comfortably watch when I need to see something Familiar, it did actually have the exact same blocking and script as the original. I thought both actors used there skills to master their parts. Vince did exceptionally well personifying the Mommy dependency issues the character has and you could see it in his acting he is a LOT older then the original Anthony Perkins, but all in all still did a decent job. If you put both movies side by side and play them together they match perfectly. I like the idea of this movie because now I will get to know how they really felt about one another, animosity if any, who thought they should have gotten that part, etc. you know the things we don't hear about...The cast is an extra bonus I like seeing Ms. Scarlett Johanson, in any period piece she dose well and should have been old Hollywood, and I have grown respect for Jessica Biel I think she gets better and better as she goes Anthony has and will always be a wonderful actor like a diamond with many facets, so I eagerly await this pre-quill....

Some movies should be left alone.  Alfred Hitchcock's Psycho was a masterpiece all by itsself.  No remake could come close to it in any form.  It was bad enough to see the copy with Vince Vaugh and Anne Heche.  Next we will be remaking Casablanca, The Outsiders, The Guns of Navarone, ET.  Some movies should rest on its own merit because you can't improve perfection.

"Anne Heche, who's best known for 'Volcano,' that terrible late-period Harrison Ford movie we've forgotten the name of, and for being Ellen DeGeneres's one-time girlfriend?" You've never heard of "Walking and Talking"? "Donnie Brasco"? "Wag the Dog"? Scarlett Johansson is fine, but it hasn't exactly been her acting skills that have built her reputation.
Are you sure you want to delete this comment?