Hi-Ho Silver! First Picture of 'The Lone Ranger' Gallops On By
And Johnny Depp is sporting quite the look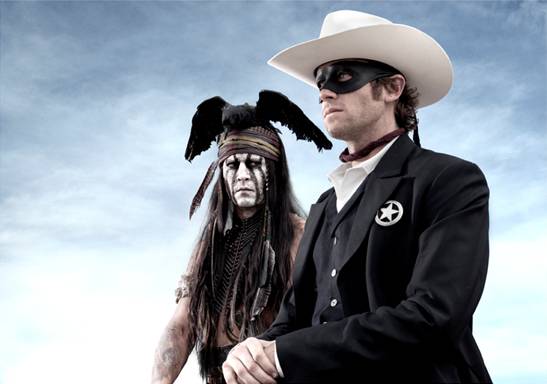 Gore Verbiniski's "The Lone Ranger" has had a tough trail to the screen, one marked by a reportedly bloated budget, a long-standing rumor that the final product would involve werewolves, and Disney ultimately scrapping the entire project. Until they didn't! After director Verbinski and producer Jerry Bruckheimer trimmed down the fat budget and managed to still keep most of their stars on board, the Ranger rode again, and the film started production just last week.

With that in mind, Verbinski, Bruckheimer, and Disney have wasted no time in releasing an official still from the film to give hungry fans a look at what Johnny Depp's Tonto and Armie Hammer's John Reid (aka The Lone Ranger) would look like in character. They look - well, they look like they're both sporting quite a look. Hammer's Ranger is much more dapper than the Rangers of the past - lawmen who didn't have time for a three-piece suit. And Tonto - whoa! That's a lot of accessories on one man. Is that an entire bird on his head? Yup, there are definitely some bold sartorial choices at play here.

"The Lone Ranger" will be released in May 2013.
What do you think of this first look?