Interview: Mira Sorvino Shines in Nancy Savoca's 'Union Square'
The Oscar-winning actress loved exploring the complexities of family ties in this moving ensemble piece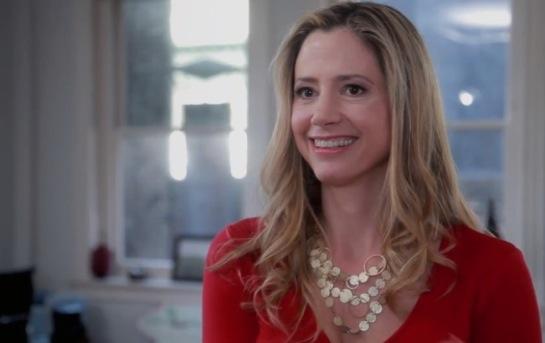 After bursting on the scene in the mid-1990s and winning an Academy Award for her portrayal of a kind-hearted prostitute in Woody Allen's "Mighty Aphrodite," Mira Sorvino didn't exactly "go Hollywood." While she starred in a few big studio films including the popular "Romy and Michelle's High School Reunion," Sorvino kept coming back to interesting parts in small-budget indies.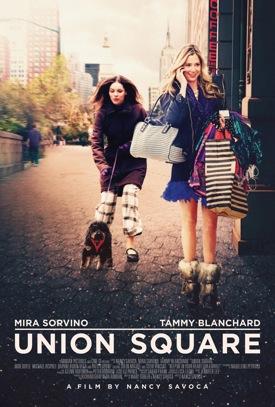 It would hard to find a film with a smaller budget than her new one, "Union Square," directed by Nancy Savoca ("Dogfight," "Household Saints"). Made for less than the cost of a day's lunch on a big-budget feature, Savoca's personal, expertly written story focuses on the reunion of two estranged sisters in Manhattan, one on the verge of getting married, the other on the verge of a nervous breakdown. Both Lucy (Sorvino) and Jenny (Tammy Blanchard) have been trying to create identities that differ from who they really are. During their tension-filled time together, Lucy tries to update her sister about their mother (Patti LuPone), but Jenny wants nothing to do with her old life in the Bronx. Over the course of a few days around Thanksgiving, the sisters learn a lot of surprising things about each other…and themselves.
I spoke to Mira Sorvino by phone from her apartment in New York. With four young children darting about, the actress kept apologizing for the hubbub in the background. "Sorry, this is as quiet a location as I could find!" she said. It didn't bother me in the least. I asked Sorvino how she got involved with this small but very powerful film.
Mira Sorvino: I've always loved Nancy Savoca's movies and when I read the script, I was just blown away by the piece and by the character. I knew I had to do it. I asked my agent, "Is there any money in it?" and he said, "No!" "Oh, so I'd be working for scale?" And he said, "Um…no." He then told me that the entire movie was being shot for about $90,000! (Laughs.) I asked, "This IS a real movie, right?" 
MSN Movies: You shot the entire film in just 12 days. How was that even possible?
I have NO idea! (Laughs.) The scenes were all shot in one of five locations and we were able to shoot sequentially which was fantastic because this is a very emotional film. We couldn't really judge how certain scenes were going to play out if we hadn't filmed them in order, it was a true luxury to shoot that way. Most of the scenes were shot in one apartment and we hardly ever left the set. We all cared so much about this piece, we were all committed to it emotionally and in a soul way so it just worked out—I can't tell you how!
It's astounding how far we go with these characters. We have very specific judgments of both at the beginning of the story and then we learn so much about them during the film that all of our perceptions change.
It's true. When I watch the film, I always feel taken away by the ride we go on with these people and I'm amazed at how real it seems. Even though I'm in the film, I feel like I'm watching these real people whose lives are playing out before my eyes. 
The dynamic between you and Tammy Blanchard is so fascinating to watch. Did you have time to bond as sisters before the shoot?
We hung out in the rehearsal process, Nancy kind of invited us into the emotional world of her forebears. She wrote it largely about the world that she came from. Tammy and I spent a lot of time together and all of us talked and shared stories about our lives. Nancy had me watch this short Rossellini film with Anna Magnani called "L'amore" where her lover breaks up with her over the phone. The first ten minutes of our film is a tip of the hat to that when I'm on my cell phone with my unseen lover and he's breaking up with me. It's completely different and I would never even attempt to imitate the beautiful, great, iconic Anna Magnani, but it was our little homage! Nancy also had us watch this documentary about three generations of an impoverished Sicilian family called "Children of Fate." Remember the scene where Patti LuPone is flicking the lighter at the children and scaring them? That came straight out of that documentary with this woman who's dying of lung cancer and who is still smoking and getting her lighter waaay too close to her son's face! So Nancy just kind of steeped us in all these references and then we took our own perspectives and lives and jumped off from there.
Patti LuPone only makes a brief appearance in the film but it's an incredibly moving sequence. What was it like shooting that scene with her?
It was great. I actually held the camera for that bit because it was supposed to be my character making the video so I thought, why not have me actually hold the camera since she's talking to me in the scene? It was really fun and Patti LuPone was amazing. There's something kind of intimidating about her which works perfectly for the scene. Intimidating but loving in her own way, not at all like the nice soft Italian-American grandmother you expect. Patti's such a great actress, I thought everyone's performance in this film was fantastic, Mike Doyle, Mike Rispoli, Daphne Rubin-Vega, they were all amazing. And Tammy, what a hard job she had, her character is so uptight and so miserable for the longest time and then she kind of thaws and comes to life. That transformation was just amazing to watch.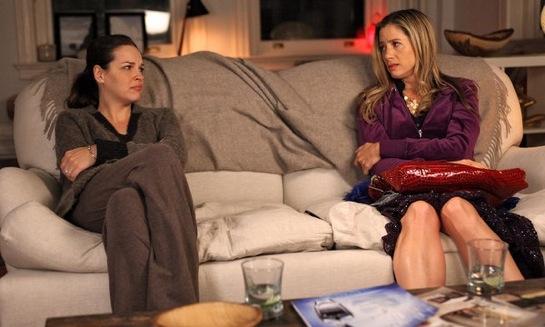 How would you describe Nancy's style as a director?

She's very nurturing, very encouraging in terms of improv which I adore. I love when a director feels she has enough confidence in her actors that she lets the characters start reaching for themselves. There were a bunch of unscripted moments in the film and I just love that, especially with a character like Lucy who's so uncensored and unfettered, it was great to be able to say whatever popped into my head!
Did you have a hand in coming up with Lucy's very specific look?
Oh yes, definitely! I always take pleasure in collaborating on the look of my characters with the costume, makeup, and hair people. That blue feathered skirt that Lucy wears was something I've had in my closet since, I don't know, 1992! (Laughs.) I pulled it out and thought it had just the right element of Lucy dressing up to be somebody she wants to be. She wants to be this flirtatious, hot number but she's really a lot more complicated than that.
My wife, who comes from a theater family, would kill me for saying this kind of thing to an actor, but a few weeks before I saw this film I was thinking, "Where is Mira Sorvino? How come we're not seeing her in more movies?" Was it a conscious decision to dial back your movie career because of other things going on in your life?
Ha! It's a little bit of Column A and a little bit of Column B. Column A is that I've actually done several movies that were these indies that unfortunately never really got to see the light of day. I did this movie that I was so proud of called "Like Dandelion Dust" that came out about a year ago, and nobody knew about it because they just had no money for advertising. So even though we won all these festivals and got great reviews, nobody knew it was in the theaters and nobody saw it which kind of broke my heart.
It makes me nuts how some of the best movies made these days have such a hard time getting out there.
Yeah, and believe me, a movie like "Union Square" was obviously done for the love of it—nobody did this to earn any money, nobody did this to feed the big studio machine, it was just art for the love of art! But to be honest, I think it's one of the best movies I've ever made so go figure! Of course, it never would have worked without a great mind like Nancy's at the helm. I think she wrote a very masterful piece. Even though these girls are from the Bronx and live in Manhattan, it's a universal story. It's about family, it's about your relatives that you've had a rift with and you think you can't stand but underneath there's this undeniable longing to have things be okay again, to love each other, and find a way for that love to be expressed. I think everybody grapples with that over the course of their lifetime with certain family members. We've all got death as the end destination, and if it comes sooner rather than later we never have the chance to make things right which is very sad. But to get back to your question—Column B is that I've had four kids in seven years so that also explains a little of my absence!
But you do have several more films about to come out, right?
I do! I made a film with Dermot Mulroney called "Trade of Innocents" that relates to my work combatting human trafficking. That will be out in September. I also have a film called "Perfect Sisters" that I did with Abigail Breslin, and a couple of others.
Can you talk about your work as a United Nations Goodwill Ambassador?
I have sort of a triple life. First and foremost, I'm a mother. I'm also an actor, and the third thing that I do with equal passion is I'm the United Nations Goodwill Ambassador for Human Trafficking, I've been working in that capacity since February of 2009 and I worked for Amnesty International before that. I've travelled all over the world talking to survivors of human trafficking and trying to give them a voice and influence government policy. This year I've been very active in the States trying to influence legislative action on a state level because right here in our own country we have a huge trafficking problem with underage commercial sex exploitation. We have pretty good federal laws concerning human trafficking but the problem is they don't reach a lot of the victims because most are local cases that are governed by state laws. Unless a case ends up going to the Supreme Court, it's not federal. We're working with organizations to try to write new legislation for all 50 states.
That sounds like such amazing work. Good luck with this film, I hope the widest possible audience sees it and that we see you back up on that stage at the Academy Awards! I still choke up when I remember your dad (actor Paul Sorvino) crying his eyes out when you were up there accepting your Oscar.
That was such a surreal moment, I felt like I was floating on some kind of cloud when it happened. It's an incredible memory!
("Union Square" opened today in select cities.)