Hugh Laurie to play 'Tomorrowland' villain
Will star opposite George Clooney in Brad Bird's upcoming flick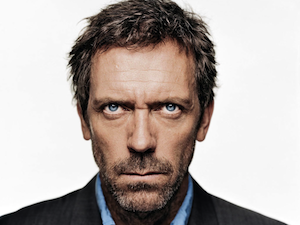 We don't know much about Disney's upcoming "Tomorrowland," but what we
do
 know is enough to get our hearts palpitating. The project, previously known only by the mysterious moniker "1952," will be directed by Brad "Mission: Impossible - Ghost Protocol" Bird, from a script by J.J. Abrams's protege Damon Lindeloff, will be vaguely sci-fi in nature, and may or may not be based upon Disneyland's Tomorrowland attraction. Although we hope not. George Clooney will star. And today brings the news, courtesy of
The Hollywood Reporter
, that Hugh "House M.D." Laurie is in talks to play the villain. One can only hope that Laurie uses his true, naturally villainous British accent, and really lets Clooney have it with his trademark dripping sarcasm.
What do you think, Hitlisters? Excited for "Tomorrowland?" Does Lindeloff's involvement on a project really speak well of it, at this point? "Prometheus" was kind of a massive disappointment, after all. Bird, on the other hand, made a smashing transition from animation—he directed Pixar's "Ratatouille" and "The Incredibles"—to live action with "Ghost Protocol," so it seems safe to hold him to a higher standard. As for the rest... Well, we'll have to reserve judgement until we all know more about the film. More details as they become available...
Are you sure you want to delete this comment?