Cannes Review: 'Killing Them Softly'
Brad Pitt and 'Jesse James' director Andrew Dominik re-team for a crime drama as strong as it is strained…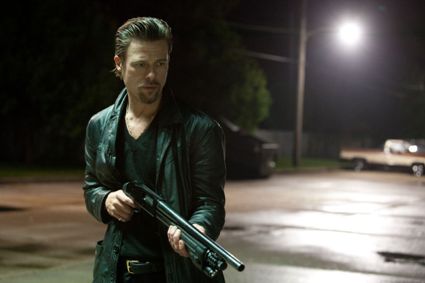 Rating: 2.5 / 5 stars

With "Chopper" and "The Assassination of Jesse James by the Coward Robert Ford," writer-director Andrew Dominik managed to both celebrate and de-mythologize two real criminals; with "Killing Them Softly," based on a novel by hard-boiled prose titan George V. Higgins, Dominik isn't turning reality into fiction, but, rather, trying to give fiction a bruising injection of reality. With the lead-up to the 2008 election and the fallout of the housing crisis blaring in the background, Dominik tells the story of a ill-advised robbery carried out by two desperate losers who decide to take down a mob-backed poker game. This violation of protocol -- of business as usual -- has ramifications, as enforcer Jackie Cogan (Brad Pitt) is dispatched to see if the game's manager (Ray Liotta) is in on the heist, and to otherwise make things right, which, in the money-over-morals world of "Killing Them Softly," means death.
None of the 2008 election-related material was, obviously, in Higgins' original 1974 novel (released as "Cogan's Trade"), and there's a legitimate question of if Higgins' story of crime-as-blue-collar​-business, with professionals and incompetents, trustworthy killers and dangerous petty crooks, can withstand having so much historical "relevance" retrofitted on to it. When Cogan doesn't like the envelope he's handed with his payment, his contact, a middle-manager between Cogan and the local criminal executive class played with dry offhand charm by Richard Jenkins, simply smirks: "Recession pricing." 
Of course, contrasted with the two schmucks who actually robbed the poker game -- Scoot McNairy's motor-mouthed nebbish and Ben Mendolsohn's lazy, nodding heroin junkie -- Cogan can't help but look like a professional. Pitt, as ever, is an actor trapped in a movie star's body and life -- he wants to do good work playing interesting characters, and all we want to do, it seems, is talk about his abs and his wedding plans. The fact is that Pitt specializes in parts and films far, far more risky than his equally well-paid peers. (Can you imagine Will Smith or Leonardo DiCaprio in "Fight Club?" Or "Benjamin Button?") With its strained symbolism played out in muscle cars, hotel rooms and bars where the walls are nicotine-stained with smoke and lost hopes -- America's a racket, and crime is just another kind of business -- "Killing Them Softly" doesn't give Pitt much room to do more than scowl and look terrific in a leather jacket with slicked-back hair.
That's not to say there aren't nice performances in "Killing Them Softly" -- Pitt still manages to get some nice scenes in with his co-stars, McNairy's caffeinated coward is a motor-mouthed weakling out of a '30s Warner Brothers gangster pic, and James Gandolfini plays a pro hitter brought in to do part of the job who isn't actually that much of a pro. Weighed down by uncertainty and worry, grasping for sensation, for life, with both clammy hands, Gandolfini's broken killer is repellent and fascinating. And Dominik is still a majestic technician; there's nothing here with the sensitivity and subtlety of "Assassination"'s slowly-spinning teaspoon signifying death, but a hit carried out from one car to another is shot with gritty, granular slow-motion omniscience, while Pitt's brief walk to the worst bar in the world has plenty of vivid detail in the background.
But the finale, with Pitt negotiating an honest day's pay for a day's dishonest work, while Obama's victory speech plays in the background and Pitt offers counterpoint ("Now, this guy's gonna say 'We're a community,' or some s&*t like that …") is both predictable and remarkably brusque. The film's final line, sure to be ruined by indiscriminate writers eager to quote its profane poetry, doesn't startle with its cynicism; it startles because you're left wondering why the film ends there, precisely, unless it's to rub our nose in the very important topics being discussed.  Other films -- "The Godfather," "Gomorrah," "Miller's Crossing," and "The Wire" (to stretch the definition) have turned crime fiction into both social commentary and sociology, examining society by seeing what happens when, and why, the laws that define it are broken. "Killing Them Softly" (the title comes as Pitt's Cogan explains that he doesn't like to kill people up close, where they cry and wail and beg; "I like to kill them softly, from a distance …") wants to be a big statement on capitalism and American culture wrapped around a crime film. It's too bad that Dominik, for all his evident talent and passion, couldn't keep his film from feeling like one-note commentary punctuated by gunfire.
("Killing Them Softly" is currently in competition at the Cannes Film Festival.) 
Are you sure you want to delete this comment?