Interview: Todd Solondz May Be His Own 'Dark Horse'
The iconoclastic filmmaker is back with a quirky and poignant comedy that is true to form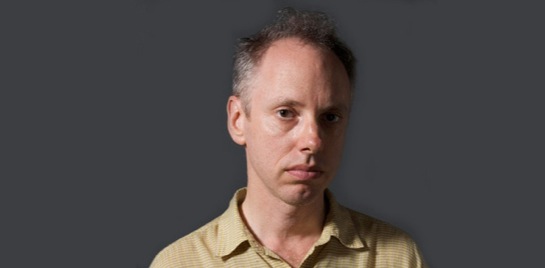 Most of my moviegoing choices are based on content that intrigues me, the presence of actors I admire, or genres that I particularly enjoy. But there is also a small group of filmmakers whose unique styles and sensibilities will get me to the theater whenever they have a new offering. I never missed a Robert Altman film, for example, even though I thought some worked better than others. I will go to every film that Woody Allen makes, even though I may forget some of them after my first viewing, and I would never in a million years skip a Todd Solondz film.
The fiercely independent director of films such as "Welcome to the Dollhouse," "Happiness," "Storytelling," and "Life During Wartime," is back with an exciting and uncompromising new movie called "Dark Horse." It stars New York stage actor Jordon Gelber as Abe, an emotionally stunted man in his thirties who still lives at home with his parents and hides his insecurities under layers of entitlement, bravado, and grandiose delusions about his abilities and charms. When he meets Miranda, a beautiful but equally damaged woman, he falls instantly in love…or so he thinks.
Solondz's films are not for everyone, as he is the first to admit. When I sat down with him just before the release of "Dark Horse," I attempted to speculate on the profile of his devoted following.
MSN Movies: Do you think the common denominator of people who love your work is that they are okay with a certain level of discomfort when they go to the movies?
Todd Solondz: Well, I think there are different audiences and that some people respond more strongly to some of my movies than others. For example, some like "Dollhouse" but not "Happiness," some may like "Palindromes," but not "Life During Wartime," it's ever-shifting—but, in general, I like to think it's an audience with an open mind!
While "Dark Horse" feels very much like a Todd Solondz film, I notice that you avoided some of the more controversial topics that have been present in many of your previous films. Was that a conscious decision?
Yeah, I just felt the need to liberate myself from the various taboos that have been associated with my films in the past. I approached this film very conventionally as a boy-meets-girl story. I suppose the film is part of what is characterized as the "man-child" genre that was made popular by Apatow and others even though I ultimately take it in a different direction. We have a character who's in his thirties and lives at home with his parents, a character who clings to the hopes and dreams of his youth.
I think Abe is so well drawn in all his gaping need, from his bright yellow Hummer to his obsessive toy collecting.
Yes, the collecting is a kind of attempt to stave off mortality. I'm fascinated by people who collect in this way. Abe is in a situation where he no longer owns the collection, the collection owns him. This phenomenon is not peculiar to this country—it exists in any secular prosperous, consumerist democracy. The Japanese even have a word for it—otaku. It's a kind of obsessive collecting that camouflages a certain kind of emotional need that's not being satisfied.
Did you have a hand in the production design for the film? I wanted to spend hours examining all the great details in Abe's bedroom.
I was involved but I needed help because I didn't grow up in this particular generation. But the actor and my production designer did so they were more adept at identifying the kinds of pop culture detritus that would be found there.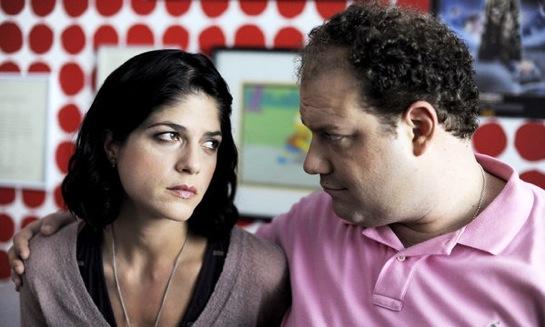 That amazing wallpaper with the giant polka dots…

Yes, I imagine when Abe was a child his mom chose that Marimekko wallpaper and put it up with the most genuine, beautiful sense of optimism any mother would have for her child. But now, decades later, it only underscores the poignancy of his condition.
I was so delighted to see the wonderful Mia Farrow playing Abe's mother. I didn't even think she was making movies anymore.
Well, in fact, when we met, I was very pessimistic about getting her for the film, because I knew she was very involved in Africa and Sudan and so forth.
Right. I follow her on Twitter and she is constantly tweeting statistics about how many people have been killed that day in Syria.
Yes, I knew she had these other priorities. And when we met she told me that she is, in fact, retired from acting, she hadn't even read the script. But her son, Ronan, is a big admirer of my work and he implored her, "Mom, please, you've got to do this movie!" So she did it and she was a total pleasure and delight to work with. Funny, smart, and a great storyteller—about all her husbands!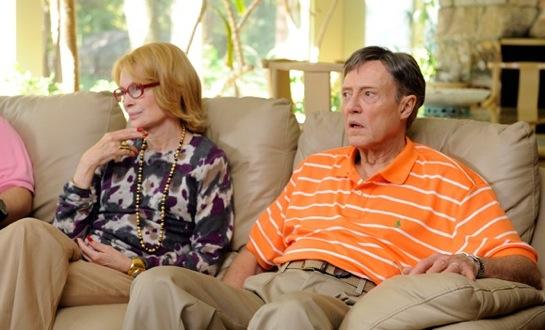 And Christopher Walken was so great as the dad.

The story with Chris is that he's at a point where he wants to play, in his words, "a human being." This part was very different from what he is usually offered, someone who is conservative, ordinary, a small business owner. He was very open to everything—the toupee, changing his eyes, and dressing him the way that we did. I felt very fortunate to have him.
It's funny how Farrow and Walken are so perfect in the part of these Jewish parents even though there was a time not so long ago when they represented the epitome of goyim (Gentiles) in the movies!
That's right—although I'm not aware of many people pausing to reflect on that reality! They're very relaxed and comfortable in the rhythm of the movie, I'm very happy about that.
I also thought Selma Blair struck just the right chord as Abe's damaged girlfriend, Miranda.
I love Selma, that's why I brought her back, I worked with her in "Storytelling."
This is sort of the same character, right?
Yes, about ten or so years later. She lives at home as well but for very different reasons. For me, what was interesting was how I could get Selma and this guy together, how could I make that believable? I think they have a real connection in the film—tenuous but real.
Donna Murphy is major revelation here in a sort of double role that is a real tour-de-force. How did she get involved?
She had auditioned for a couple of my movies in the past and I'd always wanted to work with her. She's a gift. She's known, of course, on Broadway, she's one of the few people who can get a musical financed, but she's not so well known on film.  She really got what I was looking for and didn't have to rely on certain clichés that the part could have succumbed to.
In the scenes between Abe and Donna Murphy's character, was it your intention to keep us guessing about what is real and what is fantasy?
Yes. Certainly when I'm in an audience, I like to figure things out myself, don't you? Maybe you don't get it at first but then you figure it out and it becomes more gratifying. Slipping back and forth from fantasy to reality is a bit unmooring for the audience, just as it shows how unmoored the character is.
I noticed some critics were angered by this device.
Often times when a person doesn't follow something, they like to point the finger and blame the author of the piece. They think I was lost because they were lost. But I actually don't think it's so complicated—this is a movie filtered through Abe's consciousness, it's a movie that serves to undermine the juvenile philosophy he espouses early on about how awful humanity is. And then there is the critical twist in that we see that there is, in fact, the possibility of grace, tenderness, and affection out there, it just may be in unexpected, surprising places. It's a question of our eyes being open to it.
When you're writing a film like "Happiness" with such controversial subject matter, are you thinking, "Oh, wow, people are going to go nuts when they see this!" or is that reaction something of a surprise?
When I wrote that piece I just wanted to be free to tell a story that I knew I wouldn't be able to tell if I hadn't just had the success of "Welcome to the Dollhouse." I wanted to take advantage of that and not censor myself so I got to explore things that would not have been possible otherwise. When the movie finally premiered, I could see it was having an impact which made me a little bit nervous, I suppose!
And then the film was dropped by its original distributor.
Universal found it "morally objectionable" so they wouldn't let October Films release it. However, they did enable a bank loan to take place so that it could be released independently. They set it up so that if the "morally objectionable" movie made any money, Universal would profit from it. I guess the only thing that's really morally objectionable in Hollywood is not turning a profit!
Your films are so unique and uncompromising. Have you ever been tempted to make a big-budget feature within the studio system?
Nobody is troubling me with that possibility! Look, my career is very consistent and smooth—each movie makes about half as much as its predecessor!
Does that make it harder and harder for you to find funding for your films?
We live in a time that doesn't make things very easy for independent filmmakers. There's just a lot less money for films like mine. If I were French, for example, there would be subsidies in place to help. But in this country there's nothing, it's all market-driven. That's why you can probably count on your fingers how many filmmakers in this country have careers making films outside of the studio system. If Claire Denis came here, she could have made one film, but then she would probably have done episodes of  "Sex and The City."
That's very depressing. So how do innovative, independent filmmakers survive?
Well, I teach at the Graduate Film School at NYU, that's my main source of stability.
But if you were offered a big studio movie?
I just don't think about it. There are some directors who approach their career with a plan like, "one for them, one for me, one for them, one for me." But life is short, I want to do everything for me! It's too difficult of an ordeal making a movie for me to sacrifice the time and energy on something that is not my priority.
Are you already working on another film?
Yes, I wrote a screenplay that takes place in Texas.
That sounds like a bit of a departure!
It is. God-willing, you'll get to see it some day. There's no way of knowing if "Dark Horse" will be my last movie or if I'll get the chance to make another one.
You probably say that after every movie you make!
It's not that I'm pessimistic, I just try to see things as they are so I don't get too disappointed.
"Dark Horse" opened today in New York and Los Angeles and will soon be playing in other cities.