Interview: Rapper Bow Wow stars in the new film 'Allegiance'
The military thriller also features Seth Gabel, Aidan Quinn, and Pablo Schreiber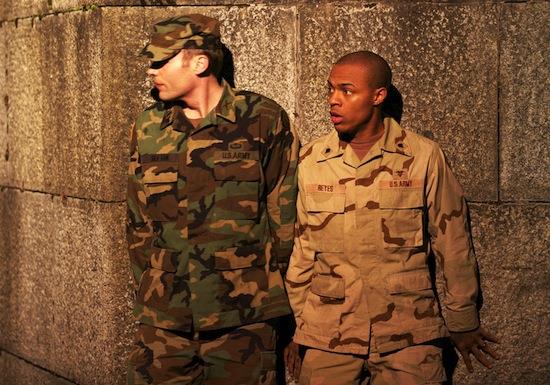 The sacrifices and pressures that our country's military personnel have endured for the past decade provides the backdrop for "Allegiance," a new film by writer/director and former Marine Michael Connors. What would you do if you were called to serve overseas for an 18-month stretch after receiving a serious medical diagnosis for your young child? This is the dilemma that medic Chris Reyes (Bow Wow) must grapple with on the eve of his deployment to Iraq. Another officer, Lt. Danny Sefton (Seth Gabel, "The Arrow," "Fringe"), who's about to receive a cushy stateside transfer, soon finds himself embroiled in the medic's personal crisis and decision to go AWOL. This thriller, which takes place in the hours just before a unit's deployment, was based on the director's own experience while serving in the military. "Allegiance" pays tribute to the 21 million veterans living in the U.S. today and was written, produced, and financed almost entirely by veterans. To increase the authenticity of the story, former Navy SEALS and Army Green Berets were enlisted to train all of the actors.

I spoke to 25-year-old Bow Wow (who, as Lil' Bow Wow, a protégé of Snoop Dogg, released his first album when he was only 13) by phone just prior to the film's release.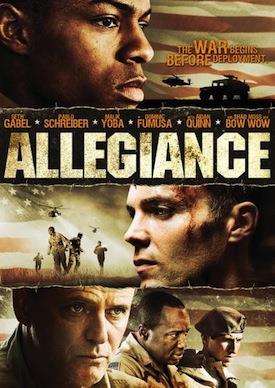 MSN Movies: Many of the films you've made so far ("Like Mike," "Johnson Family Vacation," "Madea's Big Happy Family") have been comedies. How did you get involved with this project?
Bow Wow: Basically they sent me the script and I really liked what I read. I could see the whole movie in my head as I turned the pages and told them pretty quickly that I wanted to do it. Everyone was really rooting for this project. 
Working that closely with the other guys in this film must have been a very bonding experience.
It felt like we were really in the army! We spent a lot of time together in one room, there was no favoritism of any kind for any of the actors. We thought, okay, let's do this for real and get down to the nitty-gritty. It was all very intense and had such a camaraderie that there were times where we didn't even feel like we were acting. It was all part of our lives at that point and I think that comes across on the screen.
The chemistry between the guys seemed very strong. Did that hold true off-set?
Oh yeah, man, and that's what you want to have for a movie like this, you have to really feel it. We hung out all the time while we were making the film. I remember taking my guys out to 40/40 which is Jay-Z's club and going to a lot of ball games together. That created the bonding that you see in the movie.
Your character's situation is so insane—I don't think anyone would judge the reasons why Reyes goes AWOL.
I know, man, and if you tell someone who's not in the military about his circumstances, having a child who's sick, everyone agrees that it's a messed-up situation. But, you know, if you put your name on that dotted line, you also made a commitment to another family, and there are huge consequences to pay if you go AWOL, or if you help someone go AWOL.
Did you shoot the film on an actual military base?
Yeah, we were in Brooklyn at a real army base, it was cool. We did a lot of night shoots and once we got outside in the subzero weather it got a little crazy but other than that I had a lot of fun!
Yeah, it looked freezing and you guys were not properly dressed for that!
Not at all. But think of the guys who are really training in weather like that and then have to go to countries where it's over 100 degrees!
Did making this film change your view of people who serve in the military or the National Guard?
Oh, man, they get my respect, my hat goes off to them. It's a huge commitment and it's crazy what they and their families have to endure while constantly putting their lives on the line.
I enjoyed your role on "Entourage" and it seems like you've been making more and more films. Do you plan to stay active in both acting and the music world?
Right now I'm taking over as host on BET's "106 and Park" so that's a big priority but so is my movie career. As far as music is concerned, I still go into the studio and mess around and I hope to put out a few records a year, a single here and there, but not any big albums at the moment. My label, Cash Money, has been very supportive of my career decisions—they're just happy to have me on board to represent the team and to open up these new doors. I'm trying to become a young CEO, to brand myself in television and movies. I'm just shifting things around a little bit, I'm not saying I'm quitting music or retiring but I'm at a very peaceful place in my life right now and doing work that I really enjoy.
Do you have other professional goals besides acting and music?
I'm coming for Ryan Seacrest—I want to be the black Ryan Seacrest for BET. I want to host, I want to produce, I want to do everything for the network. I think I can take this thing to the next level!
"Allegiance" is playing in New York and opens in Los Angeles on January 4. It is currently available on VOD.