Trailers for 'World War Z' and 'Warm Bodies' tease out next year's zombie apocalypse
Or are we not supposed to say the zed-word?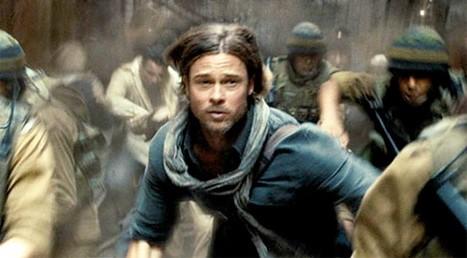 Somewhere between the rush for undead romances in the wake of "Twilight" and the breakout success of "The Walking Dead" on cable lies next year's renewed screen interest in zombies, and today's two trailers prove how very different those things can be.
Based on Max Brooks' popular post-apocalyptic novel, "World War Z" -- starring Brad Pitt and directed by Marc Forster ("Quantum of Solace") -- has gone through a notoriously troubled production, and while none of that is apparent from
this trailer
, it's hard to get excited for what is there, a vaguely chaotic pastiche of the rubbery-digital villains of "I Am Legend" and the father-knows-best adventure of Spielberg's "War of the Worlds." Initially due out this Christmas, "WWZ" is now scheduled for June 21st, 2013, and we'll see then how it's actually turned out.
On the opposite end of the tonal spectrum is "Warm Bodies," based on Isaac Marion's book, about a teen zombie named R (Nicholas Hoult) who, against all instincts, develops romantic feelings for human Julie (Teresa Palmer). As the trailer below demonstrates, there's naturally much more humor to this one, and director Jonathan Levine's track record ("50/50," "The Wackness") bodes well. "Warm Bodies" opens on February 1st, 2013, for those couples looking to see something a little more literally gushy that Valentine's Day.

Well, they did it.  They ruined World War Z.  The zombies are not slow, moving corpses.  They are CG, fast, and act like those "zombies" in the Will Smith movie "I am legend."  Thanks, Brad Pitt, for taking an excellent zombie novel and completely taking away the zombies described in the book.  What crap! 
Are you sure you want to delete this comment?