Anne Hathaway reminds us she's got chops and pipes in opening monologue from 'Saturday Night Live'
Don't forget - 'Les Miserables' opens on December 25!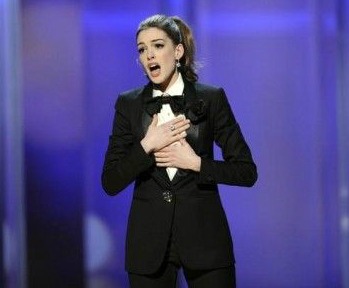 While television usually isn't our bag around these Hitlist parts, there's something to be said for the enduring charm of NBC's "Saturday Night Live," especially when it features big movie stars hosting in service to piquing audience interest in their latest big screen endeavor. (Truth be told, we typically catch up on most of our "SNL" needs with Mike Ryan of the Huffington Post's weekly 
SNL Scorecard
, which you should start reading right now.) Such is the case with last night's episode, which featured "Les Miserables" star Anne Hathaway as host (and, it has to be noted, musical guest Rihanna, who performed her first number against a green-screened backdrop that looked very much like a series of screensavers burst from the braid of Salavador Dali). 
While Hathaway has hosted the show before (twice, actually) and proven to be quite funny (few people have forgotten her Katie Holmes impression, which she trotted out again last night), with such a heavy new project to push, how would the singing-happy star interest a laugh-happy audience in spending their holidays with "Les Miz"?
Well, by singing, of course. But singing in a way that could almost convince fans that perhaps "Les Miserables" is less heartbreaking than it actually is and more suitable to a funny and charming spoof that features the entire cast of "Saturday Night Live" singing about their one-day weekends. Rest assured, "Les Miz" is still wrenching, but singing "SNL" stars are still funny.
Now, when exactly are we going to get that Hathaway-starring Judy Garland biopic?
Did you miss "SNL" last night? Then check out Hathaway's opening monologue (sing-a-logue?) after the break, thanks to
NBC
.
"Les Miserables" opens on December 25. Happy holidays?