Final 'Red Dawn' trailer brings July 4th to Thanksgiving
Why was this film delayed for so many years?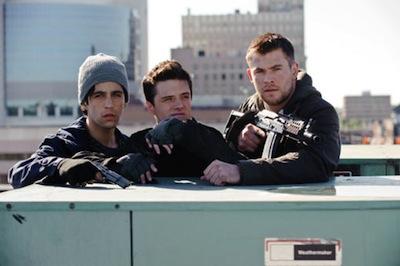 Great news, everybody! The hotly anticipated Chris Hemsworth-led remake of "Red Dawn" is finally coming out next week, on November 21st.
There are those—not many, but still—who may remember that the film was
supposed
 to come out in November of 2010, way back when Obama was, er, still President, the War on Terror was a real thing, and America lived in constant fear of foreign invasion. What happened? Why such a long delay? Well, MGM's final woes—the company went in and out of bankruptcy, sort of like the Chrysler of Hollywood studios—might've had
something
 to do with it. Hopefully it'll work out for all parties involved, though, as stars Chris Hemsworth ("The Avengers") and Josh Hutcherson ("The Hunger Games") have emerged as huge box-office draws in the meantime, 
The differences betwixt this and the Patrick Swayze-toplined original are made striking clear in the film's final trailer, posted below: the Americans are vaguely Australian now, courtesy of Hemsworth's sorta shaky accent, but, uh, never mind about that; the Russians and Cubans are now North Korean; and, of course, the Wolverines are now the Wolverines. Beyond that, "Red Dawn" promises to contain even more gratuitous explosions, misplaced patriotism, and unintentionally ironic portrayals of "insurgents" than the original.
What do you think, Hitlisters? Check out the trailer below, and let us know in the comments...