Interview: Jane Fonda on 'Peace, Love, and Misunderstanding'
The two-time Oscar winner talks about her new movie, gets teary-eyed about her dad, and does a killer Katharine Hepburn impersonation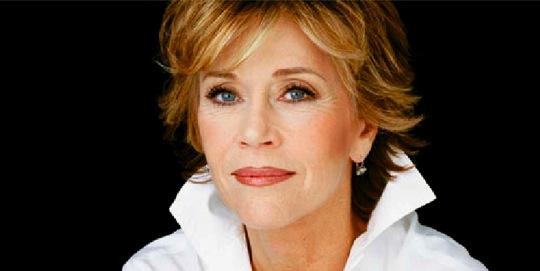 I can't pretend to be blasé about meeting Jane Fonda. I have admired her work my entire life, from lighthearted fare such as "Barefoot in the Park," "Cat Ballou," and "Barbarella" to career-making performances in films such as "Klute," "They Shoot Horses, Don't They?" and "Coming Home." Fonda has made only a handful of films in the past two decades so it's always worth celebrating when she's back on the screen. In her new film, "Peace, Love and Misunderstanding," directed by Bruce Beresford, Fonda plays Grace, a former hippie who never left Woodstock since giving birth to her daughter during a Jimi Hendrix solo at the famous festival there. That daughter, Diane (Catherine Keener), grew up to be an uptight New York attorney who has no patience for her free-spirited mom. The two have been estranged for years and Grace has never even met her grandchildren (Elizabeth Olsen and Nat Wolff). After her marriage disintegrates, Diane finally brings her kids up to Woodstock for a visit. Grace is thrilled, but she and her daughter still have a long way to go.
I recently sat down with three other journalists for an informal chat with Fonda. She had just completed shooting several episodes of the upcoming Aaron Sorkin HBO series, "The Newsroom," playing a media mogul not that different from her former husband Ted Turner. "Just guys!" she said playfully as she approached our all-male group. At 74, Jane Fonda is still incredibly beautiful. When one of the journalists commented on how great she looked, she gave what I'm guessing is her stock response (but one that is funny—and probably true): "Great genes and lots of money!"
Because of her protests of the Vietnam War, people tend to think of Jane as a 1960s radical and assume that she was living a hippie lifestyle, like her character in this film, but that was not the case. During the 60s, Fonda was married to French director Roger Vadim and was living a very different kind of life in France.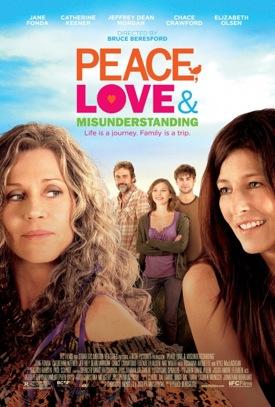 MSN Movies: I know you were not a hippie back in the 1960s at all so I was wondering what parts of Grace you most related to?
Jane Fonda: Being a grandmother! I have two grandchildren. My first-born, the boy, was 13 on Memorial Day, and the girl is nine and a half. The idea that Grace has never met her grandchildren and one of them (Elizabeth Olsen's character) is approaching 20 was very poignant to me.
I love films that make you feel good when you come out and, in my opinion, there's not enough of them these days. And I like films that make you laugh and are emotional. I've never played a character like Grace. I know that some people do gain some wisdom as they got older so she's sitting there with all this knowledge and wisdom that's accumulated and she has nowhere to put it. Then the grandkids show up and she can dump it on them even though they don't really want it. I thought that was funny—dispensing all that wisdom that was a bit questionable!
I know that many people tend to idealize the 60s and what they were about. Do you look back at that time as being magical or do you think it is all a bit overrated as some historians now feel?
I lived in France during the 60s. I was there from the early 60s until 1970, so my view of the 60s is more global. It was a time of tremendous transition not only for America but for the whole world. The 60s may be idealized in the movie from a cultural point of view, but the decade was all about discord and a big generational split that was very painful. In that sense I can relate to it because when I became an activist, which was a little later, that split happened between me and my father. He had fought in the Second World War, and just couldn't understand the realities of Vietnam. He was opposed to the war which for him meant that you voted for Lyndon Johnson because he said he was going to end the war. My generation was like, "You really believe he's going to do that?" I don't idealize it, but I do recognize the importance of that decade. If anything, I think the 50s have been more idealized as a time when families were together and everything was okay and there were only good wars. Oh, and by the way, there was tons of racism and people were supposed to fit into tidy little stereotypes or else they became outcasts! To me, the 50s continue to be more glorified than the 60s. I'm old enough now that I don't really idealize any period!
Do you see any big cultural shifts going on today with young people like there were in the 1960s?
I think the Internet and technology in general has changed everything. We can see it overseas even more with the Arab Spring and so forth. Every decade has its own form of change. In my day it was drugs and the pill and a war and now it's technology and globalization.
You seem very involved with those technological changes with your blog and online presence.
I think it's really important. I never used a computer until I was 58. I was married to Ted Turner then and one day he threw my computer across the room! (Laughs.) He still doesn't use one! I'm a public speaker, and I'd write speeches, rewriting as I go, so I was constantly cutting it apart and then scotch taping it all together. My speeches ended up looking like Greek scrolls! Finally somebody showed me how to cut and paste on a laptop and that changed everything. I never could have written any books! So at 58 I got into that and then when I turned 71, I was about to return to Broadway for the first time in 47 years and I met a guy in Atlanta who convinced me to start blogging. I thought it might be interesting to write about how New York has changed, how I feel about it, what it's like to go back on the stage, about my father who's with me all the time—all of it! It was all so new to me, I'd say something on my blog and get immediate feedback, then I'd go on stage and get immediate feedback, suddenly my life became very immediate! I was worried about blogging because I study Zen Buddhism and I believe in being in the moment. I thought it was going to keep me from being in the moment but what I discovered was the opposite. So when the play ended I decided to keep doing it and I have a pretty big following now.
How do you compare the Occupy movement with the activism of the 1960s?
One of the things that's really interesting to me is that there are no leaders. During the Vietnam War, there were all these organizations and they all had leaders, most of them men—I married one, Tom Hayden! There were these male leaders of the movement, and now there aren't and people get really disturbed about that but I think it's what's so beautiful about it. Today it's not so ideological, you can't always get a grip on it, but it's making a difference. That feeling that people need to band together and make their voices heard hasn't gone away.
I recently watched "Klute" which still feels so contemporary, and the night before saw your father in "The Grapes of Wrath" which is one of my favorite films of all time.
Oh, mine, too!
The similarities between you and your dad are just stunning.
Oh, listen, my son is an actor, his name is Troy Garrity. He went to the American Academy of Dramatic Arts, and the first play that I went to see him in—he's on stage and there's a moment where he hesitated and turned, and it was my dad! And Troy was only five when my dad died, so where does that come from? It's absolutely fascinating. I was already a mature actress when he died, and I look a lot like him, so it's more understandable, but for this kid who had never seen my father in a movie, how do you explain it?
What do you feel you learned about acting from your dad?
Consciously? Nothing! I could never get him to talk to me about acting. Ever! I produced "On Golden Pond" for him and after our big scene together, I still couldn't get him to talk to me. But I learned about life from watching his movies, like "Grapes of Wrath," "Twelve Angry Men," "Young Abe Lincoln," it's what made me who I am, those roles he played! In some ways, I learned more from Katharine Hepburn. I'm older now than she was in "On Golden Pond" which really staggers me, because I feel so different than I thought she was then.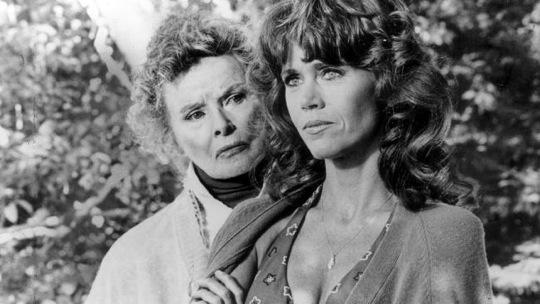 Do you think aging is different these days than it was in her day?

Yes. I think more older people, women in particular, are healthy because they've stayed physically active and I feel I have something to do with that which I feel good about! Hepburn was pretty active, but I also think remaining in relationship helps. I'm in love, I live with my lover, and I don't think she had had love in her life for a long time. But she sure taught me a lot. One of my favorite chapters in my book is the one about "On Golden Pond." Even though I made the movie for my father, the person I really learned from was Katharine. You know the back flip story, right? I had no intention of doing the back flip in that scene—I don't like cold water, I don't like to go over backwards, I don't know how, so they had a stunt double all lined up. Then Hepburn said to me (Fonda adopts perfect Katharine Hepburn voice), "You're not going to do the back flip?" I knew I had to do it! My dad could have cared less if I did the back flip but it mattered to her. It took me a month and a half to learn how to do it, I went out on the raft every day and did it over and over again and wouldn't make it and finally I made it one day and crawled out on the shore and she'd been hiding in the bushes watching—I'm not kidding!—and she came over to me and said, "You've taught me to respect you." It mattered to her that I forced myself to do it.
From what I remember, you two got off to a pretty tenuous start?
The first thing she said to me was, "I don't like you!" One day, early in the filming, I was looking in a mirror, combing my hair and getting ready for a scene and she came up behind me and said, pointing to my image in the mirror, "See this? This is your box, this is what you present to the world. What do you want this to say to the world?" I didn't even know what she was talking about, I didn't know how to answer her, but that question lodged in me for decades. I finally realized what it was, it's the issue of self-consciousness which I always thought was bad, but it really means being conscious of self, how do you present yourself to the world? And shouldn't you take responsibility for that? I didn't. I paid no attention to how I looked, how I dressed, or anything like that, and she knew it and it made her angry! She wanted me to pay more attention, she wanted me to have style. She did, and for her it really worked, but it took me decades to understand what she was saying. She was so interesting…prickly but interesting!
One last story about that: All three of us were nominated for Academy Awards for the film and they won and I didn't. She called me the next day and said, "You'll never catch me now!" For a second I didn't know what she meant, and then I realized if I'd won and she hadn't we'd be tied at three, but now she was four and I had two. She was right, there's no way I'll ever catch up with her! Such a character!
I have to ask about "Klute" which I think is such a great film. How did you find the character of Bree?
I asked Alan (Pakula) when I got to New York about ten days before shooting if he could arrange for me to spend some time with call girls and madams. I did, and it was eye-opening, I'd go with them to their johns, I'd be with them when they were cutting their cocaine, the whole thing, and when it was over I want to Alan and said, "I can't do it, I can't play this character! You know, during the entire process, not one john looked at me twice, winked at me, nothing! I'm so not that, I just can't do it! You've got to hire Faye Dunaway!" He just laughed. So I thought okay, I have to do this, so then I thought of those thousand-dollar-a-ni​ght call girls in Paris, the kind of women that Dominique Strauss-Kahn said he didn't know were call girls! Very beautiful, very intelligent, high-end women who could do other things but chose to do that. I studied why women would do that who had other skills, I think Bree was sexually abused and that changes everything. So I was able to do her, and the script was wonderful. The only thing I changed was all the psychiatrist stuff. Originally in the script the psychiatrist was a man and I said Bree could never talk to a man like that. She'd come on to him, she'd try to sit on his lap or something, but she couldn't talk to him so we made it a woman. Alan and I agreed to keep all those scenes until the end when I was really inhabiting Bree and it was all improvised, it was really fun to do.
Do you think the phenomenon we hear about and see in this movie is true—that progressive people's children tend to be more conservative?
Not really, but I was worried about my own daughter. Oy! She's very feisty and I remember saying to her at one time because I was away so much,  I said, "You're probably going to rebel against me and become a Republican!" And she looked at me and said, "I may become a Republican, but if I do, don't think it has anything to do with you!"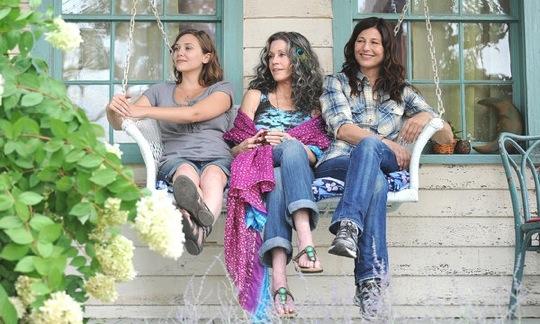 Great answer! Can you say something about working with Catherine Keener and Elizabeth Olsen—such a great portrayal of three generations of women?

Keener realized that I didn't really know anything about hippies, so she brought me music, she just surrounded me with the music that I need to let envelop me, and she brought me documentaries about Woodstock which were really important. I have a scene when I say to Jeffrey Dean Morgan that my water broke when Jimi Hendrix was playing "The Star-Spangled Banner!" Before the documentary, those were just words, and then I saw him play—of course my water broke when he was playing "The Star-Spangled Banner!" I mean, oh my God, how powerful that was! Catherine helped me understand the context that made Grace who she was. Elizabeth Olsen, she had never done a movie, she was very intellectual, went to Julliard, and from the very first reading I thought, she's really got something. She had said to me that she wasn't really interested in movies, it's theater she loves, and then I saw the rushes and thought, yeah, that'll last about five minutes! The camera just loves her, she has a great voice, she's going to have a long career. And so nice! Everyone on this film was nice, really people you'd want to hang with, and Bruce (Beresford) was just wonderful to work with. He's a real yeoman like my dad was. You know, no ego, no diva, just a solid working director who really likes people.
How did you like shooting your episodes of "The Newsroom?"
It's just perfect television, it's absolutely brilliant. I think it's going to have a huge impact on people, on the news, and maybe on the election. It's going to be very controversial and it's just totally amazing, I'm so proud to have a small role in it.
Any final thoughts on "Peace, Love, and Misunderstanding?"
The theme of forgiveness is a very important theme for me. Writing my book allowed me to learn how to forgive. I think it's one of the most important things in life, and I loved the theme of forgiveness and compassion that the movie has. I've seen it with audiences who always come out feeling good. And my granddaughter fell in love with Nat Wolff who I think steals the movie!
"Peace, Love, and Misunderstanding" is currently playing in select cities.
Are you sure you want to delete this comment?