Interview: Andrew Garfield of 'The Amazing Spider-Man'
'My one scene with Emma was about 2 percent written, and then 98 percent bulls**t ...'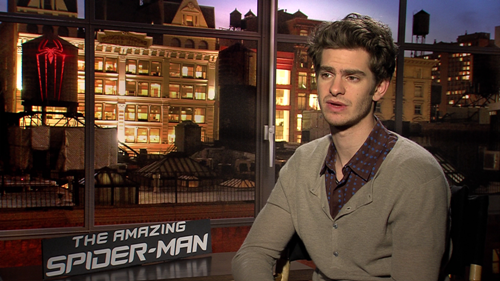 Rumpled, laid-back and gangly -- in short, every inch the awkward teen he plays in "The Amazing Spider-Man" -- Andrew Garfield laughs talking about playing Peter Parker, and seems to be taking the biggest role of his life -- after standout turns in "The Social Network," "Never Let Me Go" and "Red Riding" -- in stride. We spoke with Garfield in New York about auditioning, the legendary stunt team who made him look like a super-hero and how much he got to play fast and loose with the script. ...
MSN Movies: You were apparently a huge fan of "Spider-Man" as a kid. There's a legendary picture of you in the outfit at age 3 for Halloween ...
Andrew Garfield: Legendary ...
When word came they were thinking about starting this up again, how exactly did you wind up being Peter Parker?
I auditioned like any other actor might, and then I thought 'Well, that was a waste of time." Then they called and said, "We think you're too old, but maybe screen tests." I thought, "Okay. I think I might be a little too old as well."  I can act like a teenager, because sometimes I feel like a teenager, so I screen tested and they said, "Hey, we think you could maybe do it." I was like, "Are you sure? Okay."
This all sounds very noncommittal. I'd like to think there was a bit more excitement.
(Laughs) No, it was a very cool and exciting time.
The scenes with you and Ms. Stone, the hallway stuff, the high school stuff, they're great. They have this real awkward energy to them.
Good.
What ration of that was written to just you two bouncing off of each other as actors?
It was about two percent written, and then ninety-eight percent bulls**t. Yeah, I think we improvised a lot. There were some good skeletons (under) that scene. It was a good, "We start here, and we have to get here and then there," and then we just managed to find our way through it, which was fun. Marc allowed that in a really nice way. We got to mess around. It was really nice.
The stunt team and the second unit and a lot of the stunt work was handled by the Armstrong family ...
(Enthused) ... Yeah ...
... including Vic and Andy -- the Armstrongs, who did everything from "The Lost Ark" to the "Bond" films. Does your inner movie-lover get hairs on the back of your neck standing up when you realize that?
Yeah, unreal. I spent a lot of time with Andy Armstrong, who is the stunt coordinator for the movie, and Vic's brother. Andy became a father figure to me in the way that he handles his stunting and the people around him, and how much he cares about his job. He's just a really good man and a good father. To hang out with those guys was just pure joy and they're just geniuses in their field. I spent a lot of time with Vic as well, who's also fantastic.
Which is harder: A superhero physique, which is all lean and tight, or the round looseness of American vowels?
The round looseness of Amuhrican Vowhels? I find everything a challenge in life. I find anything, I find sitting here talking to you a challenge. Both those things were hard work. I cheated a little bit, because my dad is American, but I had a fantastic dialect coach, Liz Himelstein. We did a little trip to Queens and recorded some teenage high school boy's voices. We kind of stole from bits and bumps around that. With the physicality aspect I worked with a great trainer, Armando Alarcorn, who I have a love-hate relationship with. We worked pretty hard to achieve what we wanted to achieve, which was that Bruce Lee kind of lean, strong body.  ...
('The Amazing Spider-Man' is open today ...)