Videodrone New Release: The 'Rush' of 'Retribution'
The simple pleasures of 'Premium Rush' and 'Resident Evil: Retribution'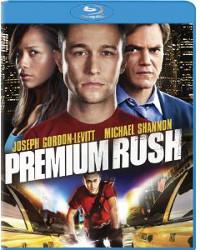 Arriving on Blu-ray and DVD on Friday, December 21, are a pair of modest genre pictures that, at least for me, made the year in movies more fun.
"Premium Rush" (Sony), starring Joseph Gordon-Levitt as a daredevil bike messenger and Michael Shannon as a gleefully corrupt cop desperate for the package in his satchel, and "Resident Evil: Retribution" (Sony), the fifth film in the video-game movie franchise, deliver exactly what they promise, and a little more.
In "Premium Rush," Gordon-Levitt, fast becoming the cinema's most reliable utility man in high-concept movies, plays bike messenger Wilee as a blithely adventurous adrenaline junkie who craves the challenge of single-gear biking through downtown New York traffic sans brakes. His spills are just part of the dues. Michael Shannon harnesses his sardonic side, biting back a grin as he spits out deadpan quips, as the amoral cop who has more than his career on the line as he chases Wilee through back alleys and shortcuts to retrieve the film's maguffin.
"Premium Rush" puts its promise right in the title: a rush. It's not just the camera shooting through the streets or the kinetics of urban chases. David Koepp, who directs as well as writes, uses graphics as animated exposition and narrative momentum, turning the screen into a virtual Mapquest and Wayback machine to speed across the city and rewind the film to fill in backstory. But the rush is really in the old school stunts: wheels on the road, bikes jumping in the air, cars squealing through intersections.
Continue reading at Videodrone
For more releases, see Hot Tips and Top Picks: DVDs, Blu-rays and streaming video for week of December 18