When the Oscar Winners Come Home 2013: A Viewer's Guide
Our guide to what's available now and when the rest are coming to home video
The winners have been anointed by Oscar. Now how long before you can take them home? Here's our calendar of releases, plus a list of those already available for your home viewing pleasure.
The awards were spread around this year, with the top prizes (acting, writing, directing, film) split among six films. Most of those are not yet on home video, but one very significant winner is.
Taking home the top prize was "Argo" (Warner), arrived on Blu-ray, DVD, On Demand, and digital download the week before the ceremony. Its fortunes on home video -- disc or streaming -- are sure to get a boost. In addition to Best Picture, "Argo" won Oscars for Chris Terrio's adapted screenplay and for film editor William Goldenberg (who was competing against himself; he also was up for editing "Zero Dark Thirty").
We were reminded that Affleck (while overlooked in the director category this year) was on the podium once before, sharing a screenwriting Oscar with Matt Damon for "Good Will Hunting." And speaking of Affleck's legacy, don't forget this first two films he directed, both of them intelligent, engaging dramas: "Gone Baby Gone" and "The Town." All three are available on Blu-ray, DVD, and digital download.

"Skyfall" (MGM), the 23rd official Bond movie, came away with Oscars for Adele's theme song (the best Bond song in years and the first ever to win an Academy Award) and for Sound Editing (shared with "Zero Dark Thirty"). It's currently available on Blu-ray, DVD, On Demand, and digital download.
"Brave" (Disney), Best Animated Feature winner and Pixar's first adventure centered on a female hero, arrived in 2012 on Blu-ray, Blu-ray 3D, and DVD, and can be rented at Redbox. And while "Paperman," the winner of the Best Animate Short Oscar is not yet on disc, it will be included on the upcoming release of "Wreck-It Ralph" (Disney), due on disc and digital on March 5.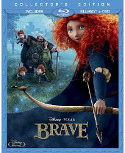 And Best Documentary "Searching For Sugar Man" (Sony) arrived earlier this month on Blu-ray and DVD.
"Life of Pi" (Fox), which picked up four Academy Awards -- Best Director Ang Lee (his second, after "Brokeback Mountain"), plus cinematography, original score, and visual effects -- is due out on Blu-ray and DVD on March 12, but it is available for a limited time on digital HD.
Coming soon:
"Django Unchained" (Anchor Bay), which earned both screenwriter Quentin Tarantino and supporting actor Christoph Waltz their second respective Academy Awards (in the same category, in fact), is due on Blu-ray and DVD on April 16.
"Les Miserables" (Universal), winner for Best Supporting Actress Anne Hathaway as well as Sound Mixing and Make-up/Hairstyling,​​ comes out on Blu-ray and DVD on March 22.
"Zero Dark Thirty" (Sony), which shared the Sound Editing award with "Skyfall," is due on Blu-ray and DVD on March 19.
"Anna Karenina" (Universal), which picked up an award for Costume Design, is slated for February 19.
Not yet announced for home video: "Lincoln" (winner, Best Actor Daniel Day-Lewis and Production Design), "Silver Linings Playbook" (Best Actress Jennifer Lawrence), and "Amour" (Best Foreign Language Film).
For more releases, see Hot Tips and Top Picks: DVDs, Blu-rays and streaming video for week of February 26