There's No Place Like Home: Judy Garland's Ruby Slippers Are L.A.-Bound
With help from Leo DiCaprio and Steven Spielberg, the beloved "Wizard of Oz" artifact will be part of the new Academy Museum of Motion Pictures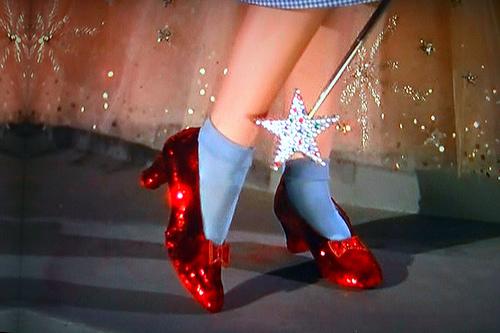 I was excited to learn last year that the Academy of Motion Picture Arts & Sciences was entering into a partnership with the Los Angeles County Museum of Art to turn the old May Company building on Wilshire (currently LACMA West) into the Academy Museum of Motion Pictures. It's about time that this town had a proper museum to house the Academy's one-of-a-kind collection of priceless movie memorabilia and artifacts. Now comes word that one of the most prized movie artifacts of all time will be joining that collection.
Just days before its big Oscars telecast, the Academy announced that it has acquired a pair of the iconic ruby slippers that Judy Garland wore in "The Wizard of Oz." Funds for the purchase (the price was not disclosed but it must have been huge) came from a variety of sources including actor Leonardo DiCaprio and director Steven Spielberg.
"The ruby slippers occupy an extraordinary place in the hearts of movie audiences the world over," said Bob Iger, president and CEO of The Walt Disney Company and chair of the capital campaign for the Academy Museum of Motion Pictures. "This is a transformative acquisition for our collection."
"Leo's passionate leadership has helped us bring home this legendary piece of movie history," added Academy CEO Dawn Hudson. "It's a wonderful gift to the Academy museum project, and a perfect representation of the work we do year-round to preserve and share our film heritage."
Happily for fans of movie history, this particular pair of ruby slippers is the best one out there. They are in excellent shape and were likely used in close-up shots. There are four known pairs of ruby slippers that survived. They were all stored on the MGM lot until the faltering studio sold off its massive collection of costumes and artifacts at a huge public auction in 1970. One of the pairs ended up in the Smithsonian. Another pair (with an Arabian theme that never made it into the final film) was purchased by actress Debbie Reynolds. Because of money problems and lack of success in establishing her own museum, Reynolds finally auctioned off that pair last year to a private collector for a whopping $627,300. The pair the Academy just bought was sold and re-sold over the years to private collectors and had only been seen by the public a handful of times.
These pristine ruby slippers will likely be one of the museum's most popular exhibits, on display for generations of movie lovers to come. In an extra bit of serendipity, the building that will house the slippers is a landmark Los Angeles structure that opened in 1939, the same year that "The Wizard of Oz" was released.