The Hitlist Live-Blogs the 84th Annual Academy Awards, The Pre-Show
The can't-miss blogging event, starring Kate and Danny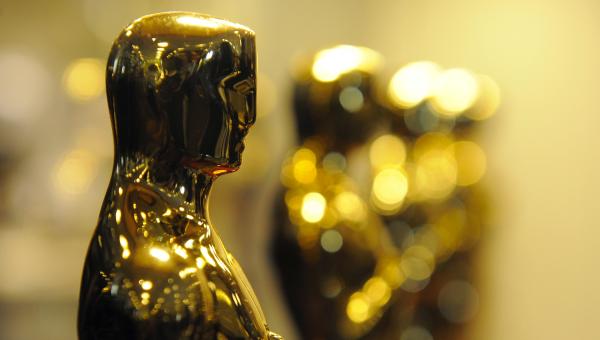 It's the biggest night in Hollywood, the most important evening of all, the event that fourteen months of movies and anticipation have led to - the 2012 Academy Awards. Since 1929, the Oscars have recognized and honored the (arguably) best of film. The ceremony has changed over the years, sprouting from its earliest incarnation as the invention of Louis B. Mayer, convinced that such an awards ceremony would puff up the motion picture industry's image to the rest of the world and help smooth out labor disputes. Little did Mayer know that his idea would morph into the most prestigious film award ceremony in the world.
This year's Oscars features nine Best Picture nominees, as it's only the third year in which the Academy has instituted new voting rules that would allow for as many as ten nominees. The nominees show just some of the depth of talent and breadth of theme that are represented at this year's Oscars. That award will, of course, be announced last, but there's plenty of fun to be had until we learn just which film the Academy deems the best of the year.
Starting at 4PM PST, Danny Miller and I will be live-blogging the Oscars for your amusement and (hopefully) education. Be sure to chime in with your comments on who should win, who looked best, and which acceptance speech made you smile. 
Live blogging will begin at 4PM PST.
4:01 - Kate: Live blogging is a go! We're stationed on the official ABC pre-show, hosted by Robin Roberts and, apparently, a number of screaming fans.
4:02 - Danny: Hi, Kate! Have you seen a lot of the Red Carpet action so far? What do you think?
4:03 - K: Hey, Danny! I've watched just about ten minutes and I am already confused about all the screaming fans and ABC's apparent multitude of hosts. How about you?
4:05 - D: Wow, Octavia Spencer looks fantastic. Good thing she's definitely going to win...
4:06 - K: Agreed! She looks amazing. 
4:06 - D: I'm confused by all the hosts but most of the actors look good. Sweet that Jonah Hill bought his mom. I saw him tweeting in the middle of the night that he couldn't sleep, he was way too excited.
4:07 - K: Look at how lovely Maya Rudolph looks! I usually don't go too ape for Oscar fashion, but I am so impressed right now.
4:09 - D: Maya Rudolph looks INCREDIBLE, good for her for not wearing too much make-up. But Tim Gunn gets on my last nerve...
4:10 - D: Dear God, did you see that Sasha Baron Cohen is there as his "Dictator" character? Could anything be less funny or more obnoxious?
4:10 - K: A giant groan just went up at my Oscar party when he popped up.
4:13 - D: I HEART Jessica Chastain. But I'm not in love with that dress...
4:12 - K: For a second, I thought Jessica Chastain was Nicole Kidman, mainly thanks to that dress and that long hair. Not nuts about any of it, but she's so goregous. 
4:14 - D: Kate, who are YOU wearing?
4:15 - K: So nice of you to ask! I am currently wearing dark demin Gap 1969 jeans, a white tank, and a white tee from H&M. Super glam. What look are you sporting tonight?
4:16 - D:  I'm ALSO wearing The Gap, circa Marlee Matlin's Oscar win...
4:16 - K: It's an American classic!
4:18 - D: Yikes, I hope the actual awards show doesn't have this many commercials.
4:20 - K: Agreed! I'm, as ever, hoping for a brisk show.
4:20 - D: Oh my God, Grace Kelly's son, Prince Albert of Monaco! If only Grace were still around, was she not the most beautiful Oscar winner ever?
4:22 - K: Now that's someone who would bring some real class and gravitas to the event.
4:22 - D: Ha, good luck with the "brisk" part! Emma Stone looks pretty but all that red reminds me of Nancy Reagan. Is she Republican?
4:23 - K: I am not enamored of the bow, but I really love the rest of it.
4:24 - D: What do you think of Rooney Mara's dress, Kate? I'm undecided. But loved her "Girl with the Dragon Tattoo."
4:25 - K: Much like Stone, I like the bottom of it, but not so much the top. It's always halfsies on dresses with me.
4:26 - D: Are you excited about Billy Crystal? I bet he'll do a great job.
4:27- K: I think he'll be amusing, but safe. 
4:28 - D: I predicted that Meryl Streep would win, but I'm backtracking toward Viola Davis.
4:29 - K: I'd hate if Streep won for "The Iron Lady," she gives a predictably solid performance, but it's far from her best and far from the best of the year.
4:29 - D: Wow, Viola Davis looks totally different at every awards event. Absolutely stunning.
4:30 - K: She just cut it! What a fun way to mix it up.
4:30 - D: I would never begrudge Streep anything, but I sort of agree with you.
4:31 - D: I am a member of Team Michelle Williams but she doesn't stand a chance tonight.
4:31 - K: She's so lovely. She charmed everyone in the press tent at the Spirit Awards last night, including me.
4:32 - D: Yay, there's Captain von Trapp! Where are Julie Andrews and the children?
4:32 - K: Another stand-out from the Spirit Awards! What a lovely man, and what a lovely performance.
4:33 - D: "Mominees?" Oy...
4:33 - K: Mominees! And giant posters! Let's just get ready to cry now.
4:34 - D: Wow, Clooney's mom looks young. Good genes in that family!
4:34 - K: I just thought the same thing! Also, Oldman's mom, what a gem.
4:35 - D: I just teared up for the first time, God help me!
4:36 - K: Me, too! Oh, Melissa McCarthy is moving me.
4:39 - D: For a long time I thought McCarthy was going to win, but I'm sure it will be Octavia Spencer.
4:39 - K: Agreed.
4:40 - D: Kristin Wiig looks really nervous. Not that I can blame her.
4:41 - K: She and Mumolo look great. What a pair.
4:41 - D: Is that Tina Fey's real hair? She looks beautiful.
4:42 - K: I just looked up and saw it! WHOOA! Looks phenomenal.
4:43 - D: Colin Firth is very handsome. Is that his wife?
4:44 - K: It is! Very attractive couple.
4:44 - D: I miss the "Fashion Don'ts!" People are looking too good tonight. Yawn.
4:45 - K: Oh, it's still early.
4:45 - D: I love the "Modern Family" kid but he is EVERYWHERE...
4:46 - K: I just growled at the TV when Dujardin showed up. Lovely man, still reeling from his win over Michael Shannon at the Spirit Awards last night.
4:46 - D: Jean Dujardin can barely get a word out. Oh-la-la.
4:47 - D: Agreed, Kate, I loved "The Artist" but it should have been banned from the Spirit Awards. Come on, already!
4:47 - K: The press tent was pretty much in agreement that he should not have won over Shannon. Also? Dead silence when "The Artist" won Best Feature - and that was a loud, involved press tent.
4:49 - D: Don't even get me started on all the great indies that went completely ignored this awards season.
4:50 - K: Interestingly, Lauren Ambrose was nominated for a Lead Female Spirit Award last night for a film that no one I know has seen.
4:51 - D: I haven't seen it either--but I love Lauren Ambrose.
4:52 - K: She's also really fun in "Sleepwalk With Me," a Sundance flick from this year based on comedian Mike Birbiglia's book (he stars as a version of himself).
4:52 - D: Oy, Jennifer Lopez looks like an award statuette!
4:53 - K: Consensus at my Oscar party: why is she here?
4:53 - D: Yikes, why does Nick Nolte suddenly look 100?
4:53 - K: Gasps up at the party! People thought it was a sleep-deprived Anthony Hopkins!
4:56 - D: Va-va-voom on Penelope Cruz. Was she in any movies this year?
4:56 - K: I know she's filming "Nero Fiddled" right now. Not wild about the hair.
4:58 - D: And if you're Penelope Cruz, forgive me, how about some cleavage? (Sorry!) She has a sort of Grace Kelly thing going on with that look.
4:58 - K: It's an old-fashioned look, for sure. She could do better! We know she can!
4:59 - D: Wait, I just threw up a little in my mouth with that commercial for "The Bachelor." He's giving her a copy of that stupid necklace from "Titanic?" Yeesh.
5:00 - K: They need any gimmick they can get!
5:01 - D: Cameron Diaz should be banned from the red carpet after that "Bad Teacher" film this year.
5:02 - K: I have never been a big Diaz fan, but she gets a pass from me forever for "There's Something About Mary."
5:03 - D: I love Jason Segal's earnestness. He seems really happy to be in the movies!
5:04 - K: Me, too! He also really does love the Muppets, so I am so glad he got to make that film.
5:04 - D: What's with Bradley Cooper's mustache?
5:04 - K: What is this dark room that Jess Cagle is interviewing people in? So many questions!
5:05 - D: Gwyneth Paltrow can't look bad but no on the hair.
5:05 - K: I also don't get why she's wearing just one earring.
5:07 - D: Glenn Close looks great! My wife is groaning, she can't stand her.
5:12 - K: Oh, Brad Pitt, cut the hair.
5:07 - K: Not into the dress and jacket, but her hair and makeup are stunning.
5:07 - D: I think Jess is interviewing people from the Jimmy Kimmel studios across the street. The question is...why?
5:08 - K: Oh, "Hunger Games" commercial! Danny, did you read the books?
5:09 - D: No, but I want to. My daughter is explaining the plot to me right now. I hope the movies are good.
5:09 - K: The books are solid. My understanding is that they have changed a number of minor plot points for the film, which I hope doesn't get in my way of enjoying them.
5:12 - K: Oh, the hair, Brad!
5:13 - D: Cut your hair, Brad Pitt!
5:13 - K: Hair-hating jinx!
5:14 - D: What? Sandra Bullock looks like she's just stepping out to go to Trader Joe's...
5:14 - K: "It's called sexy times tonight!" I think Bullock is having a stress breakdown from being back at the Oscars.
5:17 - D: This pre-show is a little long...and awkward!
5:17 - K: Props to everyone who just announced that they are rooting for their own films.
5:19 - K: Look at that "John Carter" commercial with a quote from my Film School Rejects boss, Neil Miller! Woo!
5:20 - D: But wasn't it weird that Maya Rudolph was rooting for Octavia and not Melissa?
5:21 - K: Oh, wow, yes, good point. Oops!
5:22 - D: Wow, Natalie Portman looks gorgeous! I can almost forget her performance as Queen Amidala!
5:22 - K: Back to the dark room with Jess Cagle!
5:24 - D: What did you think of the Tom Hanks movie? I didn't love it.
5:24 - K: Oh, I really didn't like it. Found it tone-deaf.
5:24 - D: Brian Grazer needs to go easy on the hair gel.
5:24 - K: And that very, very large bow tie!
5:25 - D: They're reduced to interviewing Don Mischner? START THE SHOW!
5:26 - K: The man looks like a real-life Muppet. Charming.
5:27 - D: Whew, that's over! See you at our live-blog of the main show, Kate!
5:27 - K: I am still catching my breath!
Join us over at the main show portion of our live-blog - right here.
Are you sure you want to delete this comment?