New on Netflix Instant: A James Bond Streaming Festival
Plus John Wayne, Bruce Lee, David Lynch, Mr. Spock, and more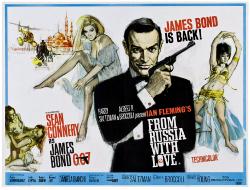 It's a James Bond festival on Netflix Instant, including two of the greatest Bond outings ever. Sean Connery stars in "From Russia With Love" (1963) 007's second and perhaps finest outing, which features a blonde, buff Robert Shaw as Bond's most ruthless nemesis. Lotte Lenya and Pedro Armindariz co-star in this sleek, high energy trip through the Iron Curtain, which concludes with a non-stop chase across Europe. Handsome, self-effacing Australian model George Lazenby made his only 007 appearance in the underrated "On Her Majesty's Secret Service" (1969). It features great ski chases, a wild, careening car chase on icy roads, and the only time Bond married the babe (Diana Rigg – who could blame him?).
After a brief retirement, Connery returned for his final "official" appearance in the "official" Bond series with "Diamonds Are Forever" (1971), a tongue-in-cheek adventure in Las Vegas where he battles Blofeld (this time played by Charles Gray), a pair of fey, sardonic henchmen, and bikini-clad karate killers named Bambi and Thumper. Roger Moore took over from Connery (after the interim appearance of one trick 007 George Lazenby) and "The Man With the Golden Gun" (1974) is his second appearance, which pits him against master marksman and million dollar assassin Christopher Lee, one of Bond's most charismatic villains, and his memorable sidekick Herve Villachez. It gets a little goofy but watch for the great corkscrew car jump. Jaws (Richard Keil) returns in "Moonraker" (1979), a "Star Wars" inspired outer space adventure, but this goofy, misguided sci-fi extravaganza uses him as comic relief. Gorgeous effects can't overcome a bland set of heroes and villains.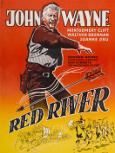 Two classic westerns with The Duke are now available. Montgomery Clift made his film debut opposite grand old icon John Wayne in "Red River" (1948), Howard Hawks' 'Mutiny on the Prairie' cattle drive epic, and the opposition of acting styles is electric: laconic elder statesman Wayne versus intense upstart method actor Clift. Hawks' style leans more to Wayne: measured, easy-going, he seems to let the characters take the story along with them, but he's a shrewd storyteller with a great tale to tell.
John Ford punctures the heroic myths he helped create in "The Man Who Shot Liberty Valance" (1962), starring John Wayne as a gunfighter who sacrifices his frontier for civilization and a far-too-old James Stewart as the naïve tenderfoot lawyer from the East. It's one of the great westerns and Ford's most ambiguous portrait of the lies that built the west: "When the legend becomes fact, print the legend."