Videodrone Classic: The 'Body and Soul' of John Garfield
Two American classics from Garfield and Abraham Polonsky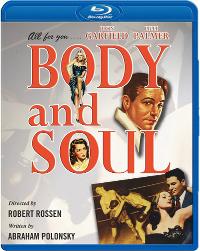 John Garfield was at the height of his fame and his talent when he made "Body and Soul" (Olive), one of the great boxing dramas and arguably the definitive boxing noir of talent and drive corrupted, and "Force of Evil" (Olive), a more quietly subversive and corrosive film noir of family, business, and brutal competition. Both films have been on DVD before but are now available on Blu-ray as well as in newly-remastered DVD editions from Olive.
"Body and Soul" (1947), directed by Robert Rossen, stars John Garfield as scrappy Brooklyn boy Charley Davis, an ambitious street kid who fights his way to the top of the fight game. Charley, who watched his father die by a stray bullet after working himself to a husk in a two-bit candy store in a Brooklyn slum, is determined to be a success at all costs. "Every man for himself," is his motto, and the compromises he makes in the name of fame and fortune alienates his friends, family, and loyal girlfriend (Lilli Palmer), who plays an interesting role: a cultured, continental young woman who has lived all over Europe yet is, like, Charley, a poor but plucky girl with no money. The difference between them is that she works her way through art school, determined to make her own way in the world, while Charlie  hasn't any patience for that kind of sucker's game.
Rossen, directing from an Oscar-nominated screenplay by Abraham Polonsky, takes us into a world of smoky fight clubs, crooked promoters, and crime bosses controlling calling the shots on title fights, including who wins on a given night. William Conrad co-stars as Charley's promoter, sidelined when Charley signs with the New York gangster who runs the fight game, and Joseph Pevney (future director of many episodes of "Star Trek") is memorable as Charley's best friend and manager, who warns him against making deals with the mob. The finale admittedly backs away from the darker implications of the ---- in the final minutes, a familiar bow to the Hollywood desire for a "happy ending" against all onscreen evidence, but otherwise it is both a powerful morality tale and a bare-knuckle drama of the American dream gone sour. The boxing scenes, shot with a handheld camera and a documentary immediacy, were a major influence on Martin Scorsese when he made "Raging Bull." 
Continue reading at Videodrone
For more releases, see Hot Tips and Top Picks: DVDs, Blu-rays and streaming video for the week of July 31