[UPDATED] High-octane synopsis revealed for 'Fast & Furious 6'
With pulse-pounding trailer to come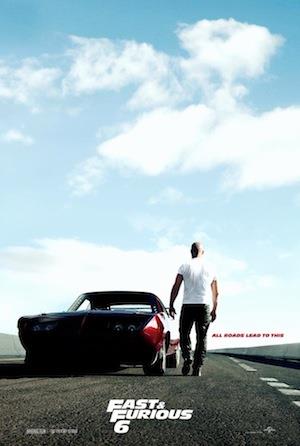 Somewhat incredibly, the "Fast & Furious" franchise is careening towards its once-improbable
sixth
film in the guilty pleasure series, one that will continue to expand the globe-trotting adventures of a mismatched pack of (mostly good) criminals who have a need for speed. This time around, Vin Diesel, Paul Walker, and pals will take on Europe (someone ready the autobahns ASAP) for an even bigger spectacle than 2011's "Fast Five," with higher stakes, a bigger cast, and some truly shocking twists. 
Oh,
fine, 
yes, the "Fast & Furious" films are silly, but they really are pure entertainment. And now they even include the acting (and sweating!) talents of The Rock! You just have to love them.
Universal Pictures has now provided a long-form synopsis of the new film and - surprise! - it includes a lot of familiar faces, a hinted-at return, and super-fast driving action. You know, like any good "Fast & Furious" film! Check out the full synopsis below:
Vin Diesel, Paul Walker and Dwayne Johnson lead the returning cast of all-stars as the global blockbuster franchise built on speed races to its next continent in "Fast & Furious 6." Reuniting for their most high-stakes adventure yet, fan favorites Jordana Brewster, Michelle Rodriguez, Tyrese Gibson, Sung Kang, Gal Gadot, Chris "Ludacris" Bridges and Elsa Pataky are joined by badass series newcomers Luke Evans and Gina Carano. 
Since Dom (Diesel) and Brian's (Walker) Rio heist toppled a kingpin's empire and left their crew with $100 million, our heroes have scattered across the globe. But their inability to return home and living forever on the lam have left their lives incomplete. 

Meanwhile, Hobbs (Johnson) has been tracking an organization of lethally skilled mercenary drivers across 12 countries, whose mastermind (Evans) is aided by a ruthless second-in-command revealed to be the love Dom thought was dead, Letty (Rodriguez). The only way to stop the criminal outfit is to outmatch them at street level, so Hobbs asks Dom to assemble his elite team in London. Payment? Full pardons for all of them so they can return home and make their families whole again. 

Anxious for more "Fast" action? The film's first trailer will debut during the Super Bowl, and we'll be sure to update you on that when it arrives. UPDATED: The trailer is here! Check it out after the break.
"Fast & Furious 6" opens on May 24, 2013.


I am so tired of all the criticism that the Fast and Furious films get!!! Idiotic films like Lord of the Rings and Startrek can have a million boring sequels, but a great film like this gets criticized to death when they ALWAYS deliver!!!! Well I'm a die hard F&F fan so keep them coming because we will keep watching.... These are my Twilight and Startrek obsessions!!!!!
Are you sure you want to delete this comment?