Here's the trailer for that Tommy-Lee-Jones-as-General-MacArthur film we all forgot about, 'Emperor'
Also starring Matthew Fox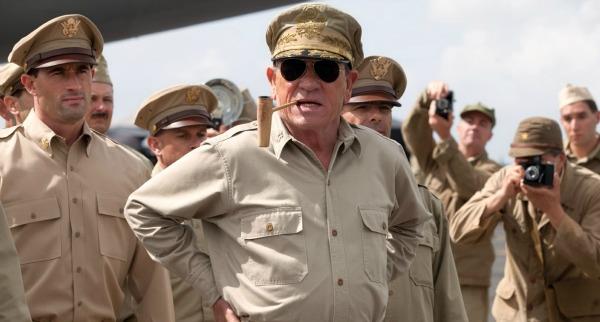 Did you know that Tommy Lee Jones is starring in a new film that features him as General Douglas MacArthur that comes out in mere months? No? Good, neither did we. In Peter Webber's "Emperor," Jones plays the storied American general during one of the most tumultuous times of his career - the end of World War II.
The film is billed as "an epic story of love and understanding set amidst the tensions and uncertainties of the days immediately following the Japanese surrender at the end of
World War II." MacArthur isn't the only star in the film, however, with Matthew Fox stepping into a very important role as General Bonner Fellers, MacArthur's protege and an expert on Japan who MacArthur enlists to help with helping him decide what should happen to Emperor Hirohito.
Bing:
'Emperor'
|
Tommy Lee Jones
But, of course there's a twist to the film - the film also tells "the story of Fellers' love affair with Aya, a Japanese exchange student he had met years previously in the U.S. Memories of Aya and his quest to find her in the ravaged post-war landscape help Fellers to discover both his wisdom and his humanity and enable him to come to the momentous decision that changed the course of history and the future of two nations." So, yes, love and understanding and politics.
Director Peter Webber, though not a household name just yet, previously directed films like "Girl With a Pearl Earring" and "Hannibal Rising," so he certainly knows his way around a period piece. At the very least, "Emperor" looks to captivatingly portray a very specific time and a very specific place, and that can only help a project such as this.
Check out the first trailer for Emperor, thanks to
Yahoo! Movies
and
ComingSoon
, after the break.
"Emperor" opens on March 8.

Want more Movies? Be sure to like MSN Movies Facebook and follow MSN Movies Twitter.