Interview: Leslie Mann of 'ParaNorman'
'No one's given me a tiny version of my character, but I'd love it. Could you ask for me?'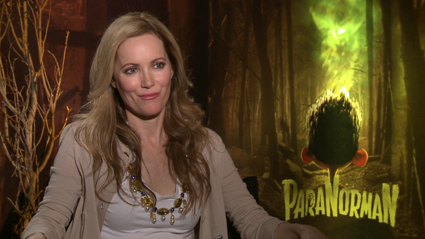 Even in a brief interview, Leslie Mann is winning and warm -- and while she may be best-known for blue-language comedies like "Knocked Up" and "The 40-Year-Old Virgin," she's also a frequent voice-over actress, with recent parts in "Rio" and, of course, "ParaNorman." We spoke with Mann about playing "long-suffering" women, rough language, her fave horror films and more.

MSN Movies: Talking with Leslie Mann about "ParaNorman" which she plays Mrs. Babcock, the long-suffering and loving mom of Norman…
Leslie Mann: Am I long-suffering again? Goddamn it, really?
Well, first of all…
They always call me' long-suffering!' Gosh darn it.
It's because you do exasperations so well, jeepers.
(Sighhhhh)
But second of all, since you've already broken the salty language barrier…
I've got to change; I have to work on that. (Laughs)
You've already broken the salty language barrier. We know you from films like "Knocked Up"…
Yeah.
Films like "The Change-Up"…
Yeah.
When you're doing animation, do you to adjust a mental key to go, "I cannot swear in this like I normally do"?
(Laughs) It does feel a little bit, especially, yeah, I mean, yes, it is. It is a little different. I'm used to just like, "Blahh," letting it all fly and…
In animation you're like, "Golly goshdarn muffin."
Goshdarn, yup. (Laughs)
Another great thing is from what I do understand, there were some recording sessions with the cast together. Did you have that luxury or were you just in the booth solo?
I was in the booth solo, but I also got to work with the great Jeff Garlin, and that was awesome. That was so fun.
Is there just like a thousand hours of you two doing different iterations of the scene?
No, because they didn't make us, they didn't like -- a lot of times they make you work like really long hours and it's like grueling and lots of energy and by the end of it you just want to…
By the end of the day, you're like, (artificially chipper) "We have to find that bird."
(Laughs) Exactly. But on this thing, Chris (Butler, co-director) is so great he's just laid back and just kind of let us have our fun and then let us go and didn't you know. And it worked out perfectly, I think. You didn't need to work so hard.
A lot of this film is about the love of old horror films and a lot of the film's inspired by it. Mr. Smit-McPhee mentioned he was a fan of "Friday the 13th" and Miss Kendrick is a fan of "The Bad Seed." What I'm wondering is when you were around Norman's age, what was your favorite horror film? What horror film made you go, "Ah! This is out there and it's interesting."
Well, it would be the Friday the 13th movies.
Did you watch them at an appropriate age?
What year did the first one come out?
I can't recall.
Well if I'm 21 right now ... (Laughs)
You absolutely are.  You saw the first "Friday the 13th" at negative 24.
Wait, which is the one where they took the screw and they went up, there's a monster under the bed and the screw went up through the chest?
There's an arrow stabbing through the bunk bed…
No arrow, there was a screw, like, "Errr" and it just came up…
Well, we could talk about this day, but the reporter in the hallway who was supposed to be up next is trying to kill me with his brain right now…
(Laughs) I'm sorry. Okay, wait, "Friday the 13th."
Do you get a little tiny version of (your character) to take home as celebration for all of this?
Oh, that would be so awesome. Nobody's given me one, but I would love it.
Have you thought about asking them?
Can you ask for me? 'Cause I don't want to ask...
I don't work for you, Miss Mann…
(Laughs)
("ParaNorman" is in theaters today.)