TCM Classic Film Festival Adds Exciting Events
Movie lovers from around the world will be descending on Hollywood for the April 12-15 festival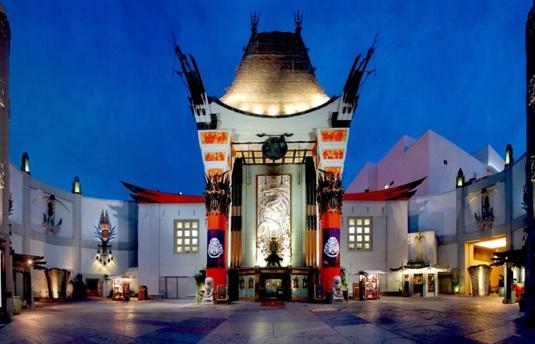 If you are a fan of classic movies as I am and have any way to get to Hollywood the weekend after next, you do NOT want to miss this year's TCM Classic Film Festival. It's the third year that Turner Classic Movies has put on this amazing event, which takes place on Hollywood Boulevard at several landmark venues including Grauman's Chinese and Egyptian Theaters, magnificent movie palaces that once hosted star-studded movie premieres, as well as the Hollywood Roosevelt Hotel, site of the very first Academy Awards presentation. The opening night gala on April 12 features a screening of the 40th anniversary restoration of Bob Fosse's "Cabaret" with stars Liza Minnelli and Joel Grey in attendance.
That's followed by three full days of moviegoing with celebrity guests being added all the time. The latest additions include Mel Brooks, John Carpenter, Robert Towne, Ileana Douglas, Michael Murphy, Ron Perlman, and Todd Oldham, in addition to previously scheduled guests such as Debbie Reynolds, Kim Novak, Kirk Douglas, Shirley Jones, Robert Wagner, and many, many others. TCM host Robert Osborne will be there to introduce many of the films, along with Ben Mankiewicz, Leonard Maltin, film historian Cari Beauchamp, and Vanity Fair's Matt Tyrnauer. The more than 70 classic films will be screened concurrently at four different theaters from early in the morning until about midnight each day.
Here's the just-released schedule—the only hard part will be deciding which films to see. I guess I'll dine on popcorn for the duration—there's no way I'm going to miss a single slot, even if I need an eye transplant by Sunday night. I'm just hoping that my two-year-old still recognizes me at the end of the festival and that my wife doesn't file abandonment charges.
The films I'm especially looking forward to include "Sullivan's Travels," "The Searchers," "Wings," "Elmer Gantry," "Funny Face," "The Longest Day," "The Thomas Crown Affair," "Marathon Man," "A Night to Remember," Seconds," "The Women," "Annie Hall," "Rosemary's Baby," and "How the West Was Won," presented in its original ultra-widescreen Cinerama format at the nearby Cinerama Dome. Of course many of these films screen at the same time so I may have to clone myself within the next two weeks. Festival passes are rather pricey but you can also buy individual tickets just before the events, space-permitting.
Check out all of the recently added events after the break:
• On opening night of the festival, the Hollywood Roosevelt Hotel will be the site of a poolside screening of the lavish Cole Porter musical High Society (1956), starring Grace Kelly, Frank Sinatra, and Bing Crosby. 
• Actresses Maud Adams and Eunice Gayson will attend a 50th Anniversary screening of the James Bond classic Dr. No (1962) and participate in a conversation about being "Bond Girls."
• Filmmaker Mel Brooks will be on hand to introduce his brilliant parody Young Frankenstein (1974).
• Filmmaker John Carpenter will introduce his favorite film, the seminal horror classic Frankenstein (1931).
• Actress and filmmaker Illeana Douglas will return for her third TCM Classic Film Festival, this time to present Counselor-at-Law (1933), starring John Barrymore, Bebe Daniels, and Douglas' grandfather, Melvyn Douglas.
• Actress Carla Laemmle will participate in a screening of Dracula (1931) as that film's only surviving cast member.
• Filmmaker John Landis will introduce the horror sequel Son of Frankenstein (1939).
• Three design giants will join TCM's celebration of Style in the Movies, with Bob Mackie appearing at a screening of Cecil B. DeMille's Cleopatra (1934), Barbara Tfank discussing the Otto Preminger drama Bonjour Tristesse (1958), and Todd Oldham basking in the opulence of The Women (1939) and Auntie Mame (1958).
• Michael Murphy will introduce the visually compelling sci-fi thriller Phase IV (1974).
• Walter Mirisch will talk about Fall Guy (1947) at a screening of the first film he ever produced.
• Actor Ron Perlman will introduce one of his favorite films, the Preston Sturges classic Sullivan's Travels (1941).
• Oscar-winning screenwriter Robert Towne will join Robert Evans for a screening of Roman Polanski's Chinatown (1974).
• Actor William Wellman Jr. will help celebrate the 85th anniversary of Wings (1927), directed by his father.
• Don Lynch, author of two books on the sinking of the RMS Titanic, will discuss the tragic story at a screening of A Night to Remember (1958).