Interview: Josh Brolin of "Men in Black III"
'When you're doing it, you just think "This is really bizarre, man."'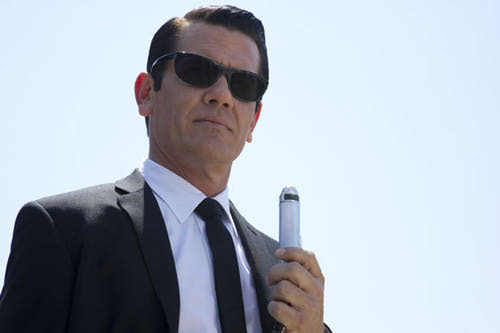 As a new-addition shot-in-the-arm for the third film in the "Men in Black" series  -- playing, thanks to a time-travel plot, the younger version of Tommy Lee Jones' truculent Agent K -- Josh Brolin gets a change to cut loose co medically like he hasn't had in a while. In the midst of a career resurgence that began with "No Country for Old Men," Brolin's on-screen silence and stone face is exchanged, when talking about the film, for a laid-back drawl and easy laugh, We spoke with Brolin in L.A. about imitating your co-worker, working in 3D and his what am I doing here moments while making the mega-millions sci-fi comedy.
MSN Movies: Is this the best paycheck you've ever gotten per word, because you got to do the whole Tommy Lee Jones "Yep." "Nope." thing?
Josh Brolin: Per word, so therefore there wasn't a lot of dialogue and I got paid nicely per world? That's interesting. I've never thought about that. It was a decent paycheck, but it was more the part. The part was fun and kind of freaky, and (I had) abject fear getting into it and wanting to please these guys, and not wanting to screw up the whole series. Yeah, I think I earned my pay is what I'm trying to say, even though there were few words.
You worked with Mr. Jones on "No Country for Old Men." Is that when you started watching him a little bit? How much did you pick up from his films?
I watched him as a fan. I've done "No Country" I did "In the Valley of Elah" with Tom. I've spent a lot of time. I did promotion with Tommy. I don't know if I would watch him. That would be creepy if I didn't have a reason. But once I did this, then you start thinking, "Oh when I spent time with Tommy is there anything that he did that I can utilize in this movie?" Then you start driving yourself absolutely insane watching "Rolling Thunder," watching the younger movies of "Eyes of Laura Mars" and all these movies he did as a youngster. I think watching "Men in Black" is the most help I got from anywhere.
Right, because it's not even so much that Agent K is him. It's very much him projecting a character.
You're right, because not many people say that. They think, "Oh you're playing young Tommy." No, it's Tommy playing Agent K, which is very different from Tommy in "Three Burials" or Tommy in whatever other movie. Yes, you're right. Thank you.
Have you had a chance to see the film in 3D? The whole Barry Sonnenfeld camera in 3D, is that a lot of fun for you to watch?
Brolin: A lot of fun. I've been a Barry Sonnenfeld fan. "Get Shorty" is one of my all time favorite films. I've seen it a million times. "Men in Black" the first one -- and not just because of this movie, even before that -- I saw it a million times. He's done a lot of films. He does those close-ups, those wide, kind of distorted close-ups that work perfectly in 3D, especially the 3D now, which is a different 3D. You feel like you're kind of inside the movie as opposed to this kind of evasive thing of getting things thrown at you and all that, which I couldn't stand personally. I like this in 3D. It makes the film look great.
When you're rolling around on a computer-simulated version of the Apollo 11 launch rig fighting a comedian wearing four hours worth of makeup, do you look around and think, "How did I get here, exactly?
Brolin: Oh, I do that often.
Every film, there's always that moment?
… But this one I think more so, because you're on Cape Canaveral, there's green screen all around, and you're jumping … and it's funny. To me it's funny. When you see it, you actually get really into it in the movie, but when you're doing it, it's just like, "This is really bizarre, man. This is really bizarre." When you see Rick Baker's aliens walking around and you're doing a scene, and you see the girl who's Will's makeup artist has decided to be an alien for the day, and you go, "I know her. Look at her, she has red eyes and green hair …" It's all pretty fun. I like the imaginative quality that these guys live in.
("Men in Black III" opens this Friday.)