Interview: Olivia Thirlby of 'Nobody Walks' on Art, Sex, and Redemption
Ry Russo-Young's new film, co-written with Lena Dunham, also stars John Krasinski and Rosemarie DeWitt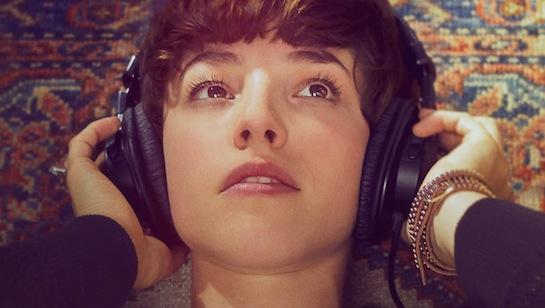 When 23-year-old Martine (Olivia Thirlby) comes to stay with Peter and Julie (John Krasinski and Rosemarie DeWitt) and their two children, it's soon clear that nobody is going to walk away from this visit unchanged. Peter has agreed to help Martine create a soundtrack for an avant-garde video installation but things quickly get out of hand. Is free spirit Martine "to blame" for this dalliance and all the trouble it causes or is Peter the responsible party? And what role did Julie play in facilitating the moral ambiguity? Such questions may erupt into spirited post-screening discussions among people who see this introspective film which won a special jury prize at Sundance.

Though she's made a splash in many indie films ("Juno," "The Wackness," "Margaret"), Olivia Thirlby recently starred opposite Karl Urban in her first bona fide action film, "Dredd," playing a tough genetic mutant with psychic abilities. I spoke to the intelligent actress last March following the release of the moving "Being Flynn" with Paul Dano and Robert DeNiro and sat down with her again in Los Angeles to discuss "Nobody Walks."
MSN Movies: I have to say that I really loved "Being Flynn" and was totally bummed when it hardly did any business and disappeared from the theaters so fast. Is that just the luck of the draw with small indies?
Olivia Thirlby: I know, it's so sad. And it's not just the small indies! "Dredd" was critically acclaimed but it totally tanked at the box office.
Really? I thought that film was a huge hit!
It was a huge hit, but only amongst those who've seen it! (Laughs.) Oh well, I really enjoyed making both of those films and think they have a lot to offer!
And now you're back in another small film, this one directed by Ry Russo-Young and co-written by her and Lena Dunham (of HBO's "Girls").
Yes, I did "Nobody Walks" right after "Dredd." Well, actually, I got off the plane from Capetown where we shot "Dredd" and tested for "Being Flynn" that same day. Then I came out to L.A. to make this film right after that so it was all very back to back.
What so interests me about your character Martine in "Nobody Walks" is how clueless she is about her own sexuality. I know some people see her as some kind of temptress but I saw her as a person who simply has no idea how her actions affect other people.
I agree with you. I don't think Martine has any guile, I don't think that she's out to hurt people or to cause drama. But at the same time, she doesn't seem to have the wherewithal or experience to realize what has caused a lot of drama in her life in the past. She's so sexual, she has such a sexual power, but she hasn't figured out yet how to use that in a constructive way for her own good!
Do you think there are a lot of people who are that naive about their own sexuality? 
I think that Martine is very much a child of the modern world. She's comfortable with sex, it's not just some compartmentalized part of who she is. She has no problem having sex with her friends, having that be a normal part of friendship without a lot of repercussions. I think that's what a lot of young people are doing these days, and I think that Martine is just too naïve to see the red flags, to get that she's doing with Peter is not okay, that it's not going to work out, and is going to create a lot of problems. Still, in my opinion, and this could be a bias toward my own character, but I think Peter is the one in this film who's making the most mistakes. He's the one who chooses very deliberately to have an affair right in front of his wife. He doesn't seem to be able to control his lust for Martine, and Martine's tragic mistake is that she isn't able to pick up on the fact that this is not the right moment to be casually sleeping with a friend!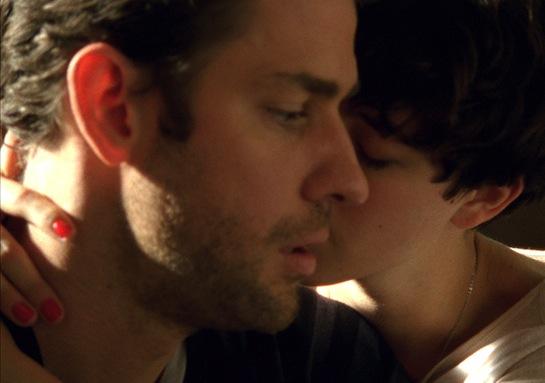 But at a certain point she does seem to realize things have gone too far.

Yes, she does try to back off—as soon as Peter's energy starts to make her uncomfortable she tries very hard to draw a line in the sand but by that point it's a bit too late to make a graceful exit.
I felt for her character and her own lack of awareness. But I know others whose response to her was more like, "what a slut!"
Yeah, me, too! One of the things I really like about this film is that it's not afraid to present you with these interesting characters and then give you grounds to hate them!
I was really intrested in the relationship between Martine and Julie's daughter who, in some ways, probably reminds her of herself. She sort of becomes her protector.
Oh, India Ennenga was amazing in that part. Watch out world, here she comes! I think that's the one relationship where Martine is thrown into another morally ambiguous situation and we finally get to see how she can act correctly, that she is able to judge what's okay and what's not okay. I think that's her big redemptive moment in the film.  
I have a feeling that five years from now Martine would look back on her experience with Peter and Julie and just cringe. "What was I thinking?"
Oh, absolutely! But another reason why this isn't a traditional home wrecker story is because of Rosemarie DeWitt and the way she plays the part of Julie. She's not going to let this infidelity and embarrassment jeopardize her whole marriage, she's way more mature than that. She knows a big line has been crossed but she's not screaming or crying or cursing Martine's name. She just does what she needs to do to protect her children and family.
I think the key line that defines Julie and Peter's relationship is when she says to him, "Just don't embarrass me."
Exactly! And it's that ambiguity that really leaves room for a lot of the problems that arise. Instead of saying, "Don't you dare," she says, "Don't embarrass me," and I think Peter takes that to mean that he just needs to be discreet. But then he can't control himself and he really takes liberties with that.  
I loved the use of sound in this film. The scenes when Peter is helping Martine create the unusual sounds for the film seem way more intimate than the scenes when they're actually going at it!
It's true. For Martine it is way more intimate!
Were you guys really creating all those sounds on the set?
Yes! We did a lot of them that didn't even make it into the movie. We shot all this footage of me eating Cheetos in a tree, lots of stuff with shoes and walking and footsteps , we did so much really cool foley footage. There was a scene where Peter and Martine trespass into a neighbor's backyard and record them on the telephone, but that didn't make it into the film either.
What's your take on Martine's art and the odd insect movie that Peter's helping her with?
I think Martine is a brilliant visual artist, for me that had to be a part of that character—she's one of those people who's so gifted that she doesn't even know what she's making, she just needs to make something. I also think her art represents her taking swings at her sexuality which I think is fascinating. You get a little back story about her former relationship and her previous work which was also very sexual, and then there's this weird bug film that also somehow seems very sexual! So when I played her I had to believe that her art is completely unique and that a big part of what Peter sees in her is that she's very potent creatively.
And the polar opposite of his regular gig on big-budget movies.
Exactly. For him I think Martine represents youthful vitality and freedom that for whatever reason in his life has grown very stagnant.
I'm sure some of the criticism that a film like this will get is that "nothing happens." How do you respond when you hear comments like that?
If you want a really plot-driven film, this may not be for you. But that's the wonderful thing about film, there's so much variety! This is a quiet film, a film that shows you things about the subtle dynamics between people.
What's it like coming off a huge film like "Dredd" into a tiny film like this?
Oh, I love making independent films, it's such a special, magical thing because you collaborate with a small group of people and everyone's pitching in. You'll see producers setting up the lunch table and the sound guy driving a van. We're all really there because we want to be. On the other hand, it definitely doesn't pay the bills so I feel really blessed, like I have the best of both worlds. I love the combination of the two!
 "Nobody Walks" is playing in select cities and is available on VOD.