Kristen Stewart on 'Snow White' and Sword Fighting
'Twilight' actress discusses her extensive training for the role in the brothers Grimm fairy tale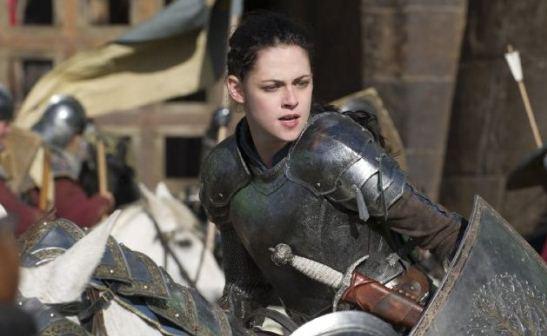 By Parade.com
Kristen Stewart dons armor and an impressive glower to play Snow White in "Snow White and the Huntsman" but there was some surprising movie magic involved.
More on Parade.com: Kristen Stewart as Blade Runner in "Snow White and the Huntsman"
"Everything looks like I am this full-on, semi-swashbuckling type of fighter," Stewart told Parade. But looks can be deceiving. Though she had extensive training (from fight choreography to horseback riding), the actress admits that the action on the screen was somewhat a trick of smoke and mirrors.
Bing: More about 'Snow White and the Huntsman' | More on Kristen Stewart
"They started me off with a cardboard sword and a foam shield," Stewart said. "It was so much fun. I can't even tell you." After her training, they continued the weapons swap. "We had so many different versions of the sword that all looked the same," she said. "We had the real sword, the plastic sword, the rubber sword, and the cardboard sword. But don't tell anyone that [laughs]."
More on Parade.com: Kristen Stewart: "I Hated Edward"
Still, Stewart endured some serious battle wounds. "Dude! I was so ripped, my arms were so ripped," Stewart added. "It was fun but I would look down and not recognize myself. My knuckles on my left hand underneath the shield were absolutely wrecked. They were so swollen. You push a lot of people with that shield so the back of my left hand was totally screwed the whole time."
She also did one better on an injury received during her "Twilight" days. "I broke my thumb on "Breaking Dawn" but on this [movie] I pulled the crap out of it, which is a worse injury too. It looked like it got run over by a semi-truck."
More on Parade.com: Kristen Stewart and Robert Pattinson's Romance
Stewart was a trooper though and pushed through the pain. "I did the majority of my active material, and I'm not being dramatic, in severe and excruciating pain." Spoken like a true fairy tale heroine!
Related: Who's the Most Evil Queen of All?
Want more Movies? Be sure to like MSN Movies on Facebook and follow MSN Movies Twitter.
"Snow White and the Huntsman" opens in theaters on June 1.