Interview: Chazz Palminteri, Andie MacDowell, and Rainey Qualley of 'Mighty Fine'
The actors formed a close bond during the making of this poignant period piece about a Jewish family that moves from Brooklyn to New Orleans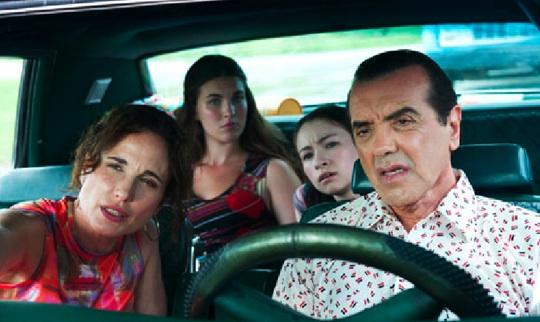 In the heartfelt family drama, "Mighty Fine," directed by Debbie Goodstein, Chazz Palminteri plays Joe Fine, a charismatic Jewish businessman in the 1970s who relocates his wife, Stella (Andie MacDowell), a Holocaust survivor, and his two daughters, Maddie (Rainey Qualley, MacDowell's real-life daughter) and Nathalie (Jodelle Ferland), from Brooklyn to New Orleans. Joe has fantasies of a better life for his family, but his hair-trigger temper and uncontrollable rages threaten everything, as does his tendency to live far above his means. I sat down with Palminteri, MacDowell, and Qualley in Los Angeles.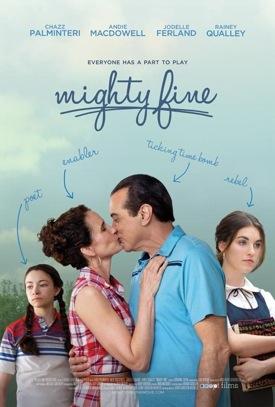 MSN Movies: There are many lighthearted moments in this film but Joe's rages cause a lot of damage to the people he loves so much.
Chazz Palminteri: Yeah, he was trying very hard but he clearly had a mental illness. Back then, they couldn't really diagnose bipolar disorder. And a guy like that never went to therapy. In the 70s? Please! Joe thought that was just for crazy people!
Rainey Qualley: He tries to be a loving father but he just couldn't control his anger. He takes things out on his family because that's who he's close to.
Andie MacDowell: Thank God things are different today and people can get the help they need more easily. There shouldn't be any shame to it—it's like having cancer, no one chooses that kind of disease.

More on Bing: What are Critics Saying?
I have to admit you three are not the first people I'd think of when casting a movie about a Jewish family. On the other hand, Chazz, we all know there's a fine line between Italians and Jews!
Chazz: Oh, absolutely! I've played a Jewish guy before and I don't think it's very different!
Andie: A lot of people think I look Jewish! My character is a Holocaust survivor and I've always felt connected to that in some way. My dad was in World War II and when I was four, I discovered this book he got during the war that showed explicit black-and-white photographs of people in the concentration camps. I think that gave me a lot of empathy at a very young age for Jewish people.
I thought you really nailed the accent. The last time I heard such an authentic Polish accent was from Meryl Streep in "Sophie's Choice."
Andie (laughing): Good lord, don't compare me to Meryl, please!
Were you and Rainey looking for a movie to do together?
Andie: No, not really, I hadn't even thought about suggesting her. I knew how important it was for Rainey to make it on her own and not be in my shadow, but we went to a play together one night and the casting director for this film happened to be there. They hadn't found anyone yet who they felt was right for Maddie so she said she'd like to have Rainey read. She went in and did a great audition. They all loved her and said she was the best person they'd seen.
Rainey, were you at all reluctant to have your first film be with your mom?
Rainey: Before we started filming I may have had a tinge of apprehension. You know, I guess like any mother, my mom tends to feel she knows the right way to do something! But it turned out great—she was there when I needed her to give me advice and help me along the way, but she also gave me a lot of space and let me figure things out on my own. It was really ideal to have my mom there for my first movie!
So you resisted the urge to give each other notes over dinner?
Andie: I don't think I'd do that with anyone! The minute you start judging somebody else's performance, you better turn around and start looking at your own! We were very professional on set.
How did you all bond as a family?
Rainey: When we first got there, Chazz took us all out to lunch. That was our first bonding experience, and from then on, he was such a gentleman to us.
Chazz: I took them all out like any father would do. We talked, you could see right away that we were becoming a family. I treated Rainey and Jodelle like they were my kids and Andie like she was my wife! That was very helpful to me.
Rainey: He took my mom on a lot of dates.
Andie: Don't call it "dates," honey, he's married! We had dinners—his wife knew all about it!
Rainey: Yeah—nothing weird!
Andie: But he did wine and dine me, which was great—it helped us develop the dynamic for our characters.
You could sense the great love that Joe and Stella had for each other, despite all the craziness.
Chazz: She had such gratitude because he saved her and brought her to this country. She doesn't want to rock that boat, but in a way she's enabling him whereas Maddie is 17 and really striking out.
Andie: The scene in the bedroom was pretty critical for understanding why she tolerated so much, but it was clear that she really adored him. They actually had a beautiful chemistry even though he was raging so much of the time. I think that's how it often happens, unfortunately, and why it's so confusing for people. My mother was manic-depressive, so I grew up around that. I know what it's like to live in a very co-dependent family and be the one who's always trying to keep the peace. I hope this movie helps people who have bipolar family members, and that it helps create dialogue among people who come from dysfunctional families.
Rainey, did your mother ever try to talk you out of pursuing an acting career?
Rainey: Well, even now she reminds me that there are other options, that I can still do something more normal!
Andie: She begged me to bring her to Hollywood when she was a little girl but I thought it was just a kid talking. I wanted to give her a more normal childhood, I didn't know she was really serious about it. But I was wrong—she really wants it!
Were you aware of how famous your mother was when you were growing up?
Rainey: Until I was nine, we lived in Montana in the middle of nowhere. I knew my mother was an actress and I visited her on set occasionally, but for the most part it didn't really affect me. But then, when I was older, we moved to North Carolina and I started noticing that when we'd walk through an airport, for example, everyone would stop what they were doing and turn to look at my mom.
I think they'd stop and look at your mom even if she weren't an actress!
Andie: Aww, that's very sweet!
Rainey: As far as our relationship goes, she's just my mom, it doesn't really matter what she does.
Chazz, I understand your kids are also actors. Would you like to do a movie with them at some point?
Chazz: That would be very exciting! But it would have to be something that they were really suited for. I always tell them, because you're my kids, some people will think that it's easy for you, but it's not, it's actually harder—you have to be that much better than anyone else who tries to get a part.
Did you ever discourage them from acting?
Chazz: Never. There will be enough people telling them that they can't do it so I'm happy to be in their corner. If you don't support your kids when they have a passion for something, two things can happen: 1) they'll make it and they'll resent you, or 2) they won't make it and they'll resent you! You might as well just support them, they'll stop if they realize they can't do it. My daughter, who's 10, has been in four shows at the Westchester Broadway Theater, and my son, who's 16, is one of the leads in "Legally Blonde" right now. He also has his own rock band. They're both really talented so let them do what they want! 
What's next for you guys?
Andie: I'm working on a TV series called "Jane by Design" right now, which is really fun. I just moved here. Believe it or not, I've never lived in Los Angeles. I'm basically a small-town girl who hates to drive!
Rainey: I'm auditioning as much as I can, and I also write music so I'm recording some demos.
Andie: She has an amazing voice! The last song in the movie, over the titles, that's Rainey singing!
Chazz: I have a few movies coming out including a children's movie I made for my kids called "The Oogleloves in the Big Balloon Adventure." I've written another play, called "Human," which just got optioned for Broadway. We're working on it now, it'll probably open some time next year.
I just watched the HBO series "Enlightened" starring Laura Dern and her mom, Diane Ladd. They've also made five or six movies together. Andie, any chance you and Rainey will follow in their footsteps?
Andie: Ooh, we'll have to think about that! That's a great example to follow, I love both of them so much!
("Mighty Fine" is playing in select cities.)