Interview: Jay Chandrasekhar and Kevin Heffernan of 'The Babymakers'
In this "fertility comedy," Tommy and his friends rob a bank…a sperm bank!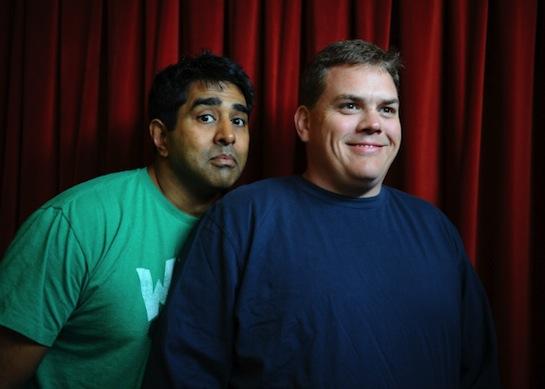 Jay Chandrasekhar and Kevin Heffernan are two members of the five-man Broken Lizard comedy troupe. Responsible for five features including "Super Troopers" and "Beerfest," the guys have also been striking out on their own with great success. Chandrasekhar has made a name for himself as a TV director, helming multiple episodes of shows such as "Arrested Development," "Community," and "Up All Night," and Heffernan, after directing the Broken Lizard film, "The Slammin' Salmon," recently sold a pilot he wrote with troupe-mate Steve Lemme.

"The Babymakers," directed by Jay Chandrasekhar and featuring both Chandrasekhar and Heffernan in supporting roles, is not a Broken Lizard film, but it shares a bit of the troupe's sensibilities. In the story, written by Peter Gaulke and Gerry Swallow ("Ice Age 2: The Meltdown"), Tommy Macklin (Paul Schneider) and his wife Audrey (Olivia Munn) are trying to have a baby. When Tommy learns, to his horror, that he may be "shooting blanks," he recruits his friends to help him rob a sperm bank where he'd made a deposit years earlier. Of course, things don't exactly go as planned! I spoke to Jay Chandrasekhar and Kevin Heffernan in Los Angeles.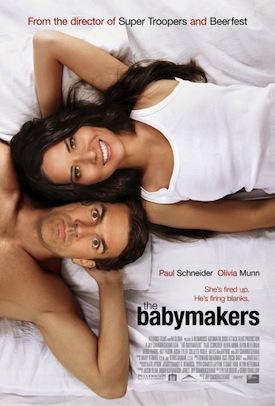 MSN Movies: In the interest of full disclosure, I should tell you that my wife and I went through some fertility stuff several years ago (prior to the birth of our three-year-old!) so I especially enjoyed seeing parts of that ordeal skewered in this film! I always thought the horrors of the "privacy room" was well suited for broad comedy!
Jay Chandresekhar: Oh good! I was nervous about that because I know it can be a very difficult and painstaking process. I wondered if people who have been through it would appreciate the humor in that situation!
Kevin Heffernan: Pete Gaulke, my buddy who co-wrote the film, went through that whole thing with his wife. He piled up all these funny stories over several years, until they finally had a boy. So it was pretty autobiographical, except for the sperm heist!
I love the throughline in the movie of everyone giving Tommy and Audrey advice. It's the only time in your lives when you'll have family members, friends, and total strangers offering up opinions and suggestions about your sex life!
Jay: (Laughs.) Right! Everyone's going to have some secret remedy or great idea!
Did you ever consider making this a Broken Lizard movie? It has some of the right ingredients, including a bunch of guys involved in a pretty crazy situation.
No, Broken Lizard movies have to be about those five guys. My goal with this movie was to make something a little more real even if we incorporated a bit of the vibe of what we did before.
Kevin: This story gets silly and broad, but it has all these these true-to-life moments. That's what I liked about the script—at the heart of it is this really major thing happening to this couple.
Jay: For me, I wanted it to be a kind of transition movie. I'm a big fan of shows like "The Wire" and "Breaking Bad" and I wanted to make something more real.
You guys have been working together for over 20 years now which is pretty amazing. Do you think this desire to focus on more realistic storylines comes from getting a little older?
Kevin: Oh, I think so. When we were younger we were writing movies about beer—now we're all married and have kids!
Jay: Not that we won't do some more Broken Lizard movies. We'd still like to make "Super Troopers 2" at some point, and maybe "Potfest!"
Kevin: Yeah, we still have some of that in us!
Is it awkward for the other guys in your troupe when you make a movie that they're not in?
It can get a little weird sometimes, but we all have our own projects so we don't expect to do everything together.
Jay: You can look at it like a rock band who stays together but then the different people put out solo albums!
And how about the fact that some of you have had more success or are more famous than others?
When you've known someone since you're 18 years old, you don't think you're more or less famous than me, you just think of him as a brother! And when we do shows together, we're all equal—there's not some of us who get more attention than others. It's not like Eddie Murphy on "Saturday Night Live!" Creative groups just don't work if you have any kind of hierarchy.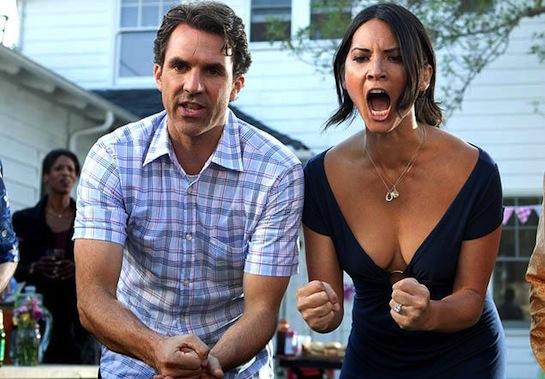 You've got a really great cast in this film. I think I join many when I say I'm a little bit in love with Olivia Munn.
Kevin: Oh my god, she's awesome! We've known Olivia for a while and when we first had the script we didn't even think of her as a possibility. I guess in the original script the wife was more demure.
Jay: Olivia has this top-level standup comedy mind. She doesn't do stand-up but you put her in a room with funny people and she's just fast and brutal and dark and hilarious. She told me she wanted to be in the movie and at the time it was a stretch because the studios don't want to put anyone in a movie until they've already been in a hit movie!
This was before her success in "Magic Mike" or "The Newsroom?"
Yeah, but finally I just said, "Fuck it, you're great! Let's go for it!" and it really paid off—she's dynamite!
Kevin: She brought this whole other element to the part. Then she had all this success—now we probably couldn't even get Olivia Munn!
Jay: Olivia and I are developing another film called "Shotgun Wedding" that will be tailored to everything that is so great about her. She's sharp and dark and funny. And beautiful, of course, but with some nice trouble behind it—a real edge!
When you were all students at Colgate in 1990, did you ever dream you'd have this kind of success in Hollywood?
Oh, God no, never—it's totally crazy! Who could have thought? But once you get inside the system, people start asking you what you're going to do next. First you think, "Oh, you're going to let me make another movie?" Then you finally realize that you're not on the outside anymore. "Hey, I'm one of the people!"
Kevin: I went to law school after college. But then we all migrated to New York and started performing. I remember I was supposed to take the bar exam that summer just when we got the chance to make our first feature. I told my parents I wasn't going to take the bar exam and they were pretty upset about it.
I can imagine. It's not like the odds were great that you'd be able to make it in showbiz!
Not at all! But then we had this success with our first movie and it went on from there Just for the record, though, I did finally take the bar exam and I passed!
How do you feel about the film coming out on demand at the same time it hits the theaters?
Jay: I think were in a moment of transition distribution-wise. It's just so expensive to get a movie in a theater these days. And watching a movie on an iPad is beautiful. Not the same as a movie theater, but it's great!
Kevin: Millennium Entertainment does a good job of both, though, I think we're opening in 10 cities to start. I told my parents in Connecticut that they may not see me in a theater, but they can see me right in their house!
What, they won't drive to New York to see their son in a movie?
Oh, no! I invited them to a screening but they just said, "Nah, we'll watch it on TV!"
("The Babymakers" is playing in select cities and is available on demand.)