Box office weekend: Vampires take over the world!
The finale of the Twilight series has the eighth biggest opening weekend of all time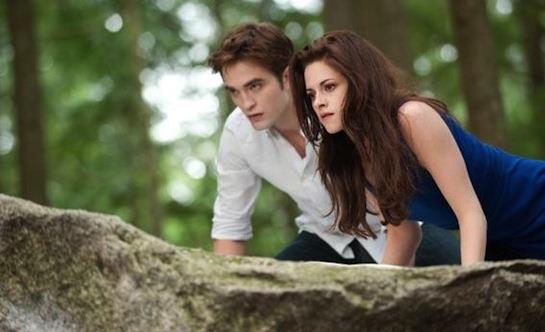 Holy Volturi—did Jacob Black imprint himself on half the population of North America or are there really that many Twi-hards willing to wait in endless lines to see the final film in the Twilight Saga? As expected, "Breaking Dawn, Part 2" catapulted into the box office stratosphere during its opening weekend, despite the licks it took by critics and non-initiated moviegoers. Americans were divided into two camps this weekend: those rejoicing at the prospect of seeing their beloved Edward, Bella, and Jacob reach some kind of closure, and those rejoicing that they'll never have to sit through another Twilight movie again. P.S. to the second group: Keep dreaming—with those kinds of numbers, I doubt that Hollywood will let the vampires and werewolves go in peace just because they've filmed all of Stephenie Meyer's books. Expect to see some kind of sequel or reboot at some point. Perhaps focusing on Renesmee Cullen, aka the creepiest child in the movies since Rosemary's Baby.


To the surprise of no one, "The Twilight Saga: Breaking Dawn, Part 2" completely dominated the North American box office this weekend, earning a crazy $141M (at 4,070 mostly sold-out theaters). Add that to the $199.6M the film picked up in foreign markets and behold the $340.6M the film has managed to acquire in just a few short days. In its second week, "Skyfall" provided an alternative to hottie vampires and werewolves. The latest James Bond film brought in a healthy $41M (at 3,505 theaters) for a new domestic total of $160.9M. Moving into wide release, Steven Spielberg's "Lincoln" sped up the chart to #3, with $21M in ticket sales (at 3,622 theaters) while the #4 film, "Wreck-It Ralph," added $18.5M (at 3,622 theaters) to its now $121.7 domestic total. "Flight" dropped to #5, with $8.8M (at 2,612 theaters).

At #6, "Argo" added another $4M (at 2,210 theaters) to its new domestic total of $91.9M while the #7 film, "Taken 2," only managed to come up with $2.1M (at 2,063 theaters) and a new domestic gross of $134.6M. "Pitch Perfect" came in at #8, earning $1.2M (at 1,122 theaters) for a domestic total of $61M. Following close behind at #9, "Here Comes the Boom" added $1.1M (at 1,350 theaters) to its $40.9M domestic gross while the #10 film, "Hotel Transylvania," made $942K (at 1,248 theaters) for a domestic total of $142.7M after eight weeks, about the same amount the #1 film has made in its opening weekend!
With Thanksgiving coming this week, the big new releases will come out on Wednesday. The major contenders include Ang Lee's unusual 3D epic, "Life of Pi," the testosterone-infused​ remake of "Red Dawn," DreamWork Animation's stunning "Rise of the Guardians," and bravura performances by Jennifer Lawrence and Bradley Cooper in David O'Russell's "Silver Linings Playbook." Lots of excuses to get away your family members after stuffing yourselves during the holiday. But don't worry, Twi-hards: those madcap Cullens and their scary baby aren't going away any time soon.