Anthony Mackie Contemplates 'Captain America: The Winter Soldier'
'The Hurt Locker' star would play Falcon, one of the first African-American superheroes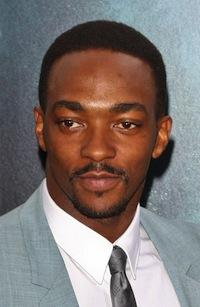 Sam Wilson, also known as "The Falcon," was one of Marvel's first mainstream, African-American superheroes. Popularized in the 1970's—when he was Captain America's ostensible partner—Wilson derived his power from a special suit that enabled him to fly and gave him supernatural strength. Sound familiar? He also had the inexplicable ability to communicate telepathically with birds. Which makes him sort of like a cross between Iron Man and Namor, the Submariner, only on land and not as cool. (Communicating with birds? Really?)
According to
The Hollywood Reporter
, Anthony Mackie, one of the breakout stars of "The Hurt Locker," is currently in negotiations to play Wilson in Marvel's upcoming "Captain America: The Winter Soldier." Which would seemingly imply that Mackie will become Chris Evans's new sidekick, thereby helping him to defeat his
old
 sidekick, Bucky, who inconveniently died in the first film but will presumably be resurrected and somehow turned into the evil, titular "Winter Soldier" for the Russo Brothers-directed sequel.
Does Anthony Mackie deserve a better, more dignified role than "The Falcon?" Wouldn't Luke Cage or The Black Panther have been cooler? Couldn't Mackie also convincingly play a younger Nick Fury, if Marvel ever deigned to explore that particular character's origins? And shouldn't one or more of those characters merit their own, stand-alone movie?

First off the Falcon was a good superhero. Second ,if you read the cap books like i did you would know as fas a strong hero and a black hero at the time ,the writing in  the books was superb. never did they make Falcon out to be any stearotype for that time. the only thing i hate is everone puts down his powers .think about this .when he talks to the birds dont you think he can find almost anything he needs to find in the city .DUH , the birds are all over the city .so unless you have read the series and such .dont talk about something you dont know ........ btw yes i think he could play a strong panther.
Are you sure you want to delete this comment?